Multi File Port Monitor v1.5.2.1604
Multi File Port Monitor v1.5.2.1604 MFILEMON is a print monitor for 32 and 64 bit MS Windows (2000/XP/2003/2008/2012/Vista/7/8/10). It automates "print to file" jobs choosing the filename according to a pattern. It can redirect data to an external program (e.g. Ghostscript, to produce PDF). Features Rich file naming scheme supporting many run-time variables, including auto-increment counters Can redirect print jobs to an external process Can "run as" a regular user (e.g. to access network resources) Log facility for debugging rel. 1.5.2 oct 31, 2017 ------------------------ * Added external program wait timeout * Added flag to hide or show external program * Widened configuration dialog * Fixed various "run as" bugs Click here to visit the author's website.

2,251
Oct 24, 2019
Lorenzo Monti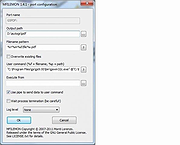 Print.Test.Page.OK v1.77
Print.Test.Page.OK v1.77 Print.Test.Page.OK is an alternative portable test page printout for all Windows operating systems. Key functions in Print.Test.Page.OK ◆ Test page printout ◆ Windows color palette as a print test ◆ Customizable gradient test ◆ Indirectly improves print quality Other options and specifications ◆ Very small program ◆ Low CPU usage ◆ Optional translation function ◆ Portable ◆ Multilanguage A simple example of using the alternative test page printout Start the program. The first time you will be presented with the standard test page. Currently I have prepared two test pages, but I will expand it if requested by the user. The most important thing with color printers is, of course, the color, which can also be properly tested and assessed to quickly identify any deviations, to detect defective toner cartridges or ink / printer cartridges and to send them back with an existing warranty! You can also print high-resolution images, but clear colors and gradient tests are much better to detect any errors in the print. Sometimes there are also simple dust particles that can be quickly remedied on a laser printer or inkjet printer. Its equipped with two test pages and color gradients so that you can test the printer colors at any time, regardless of whether it is a color laser printer or a modern inkjet printer. You can quickly start the test page printout with the "Print" button. New in version 1.77 // 15 November 2020 • Improvements and some Tests • New languages for alternative test page print: Filipino, Malay and Indonesian • Many thanks to A. Lincoln for the Filipino language. • Many thanks to Indonesian Super Girl for the Indonesian language. • Many thanks to Washington for the Malay language. This download is for the 64bit version. If you need the 32bit version, download here. Click here to visit the author's website.

480
Nov 15, 2020
Nenad Hrg