Always scroll to the bottom of the page for the main download link.
We don't believe in fake/misleading download buttons and tricks. The link is always in the same place.
---

Fix Print Spooler v1.3

Easily repairs the Windows Print Spooler Service.

Have you ever run into the situation where you try to print something and nothing happens? You wait for it to print, but the job doesn't go through? There are a ton of reasons why a print job may not actually print, but one of the common causes is that the printer queue has a stuck print job. You may need to clear the print queue of stuck print jobs. Print spooler service is a service which gives the print command to printer. It is manage the multiple print commands and gives to the print one by one when last print is done. Printer spooler service works with two system files spoolss.dll / spoolsv.exe and one service. Users wants to take print out however they getting the error message "Print spooler service has stopped please restart the service, the local print spooler is not running. please restart the spooler"

Clear and reset the print spooler manually

1. Use the keyboard shortcut Windows + R,it will open the Run command box immediately and then Type "services.msc" and press Enter.

2. Select the Standards tab, and then double-click Print Spoolers service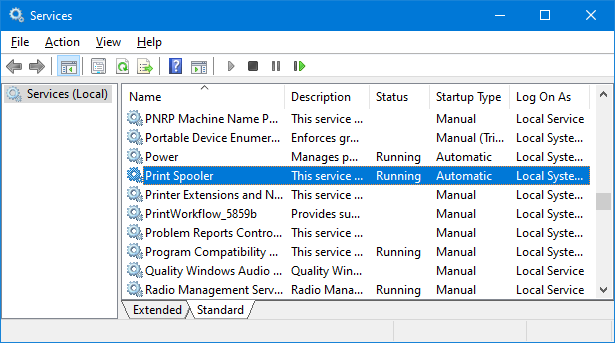 3. Select Stop, and then select OK







4. Use %WINDIR%\system32\spool\printers command in the Run command box and then delete all files in the folder.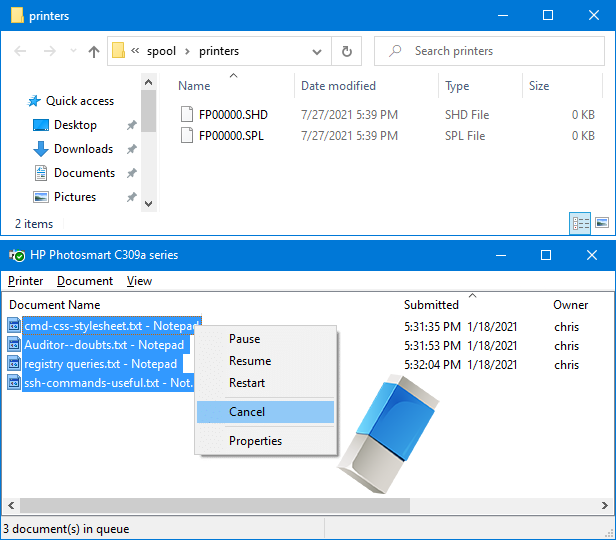 5. Find Print Spooler in the list of services then Right click Print Spooler and select Start, select Automatic in the Startup Type box, and then select OK. The print spooler queue is now cleared. Print the file again

Print Spooler, a native, built-in Windows service that is enabled by default on Windows machines. "Print Nightmare" is a bug in the Windows spooler service that under some circumstances can result in an attacker being able to remotely run code on a Microsoft Windows system as the local SYSTEM user. You can temporarily disable the Windows Print Spooler service to mitigate the vulnerability until a proper fix is released.

Clear and reset the print spooler with one click

Fix Print Spooler is a Portable freeware Application , it can reset and clear the Print Spooler queue and "%systemroot%\System32\spool\printers\" folder and then restart the spooler service. You can also use it to disable the Windows Print Spooler service to ptotect your system against print nightmare vulnerability.

How to use Fix Print Spooler Application

After download extract it and run the appropriate exe file. Fix Print Spooler software has a minimalistic interface.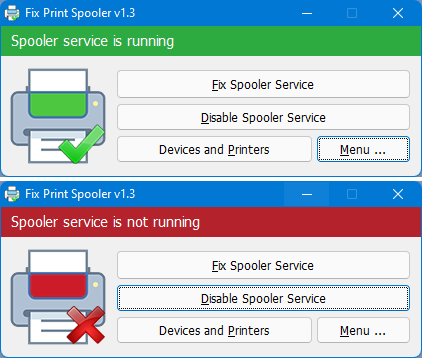 To fix Print Spooler queue errors just use Fix Spooler Service button . You can disable Spooler service with second button. Fix Print Spooler Program has Command Line support , to see all the supported parameters use Menu – Command Line Info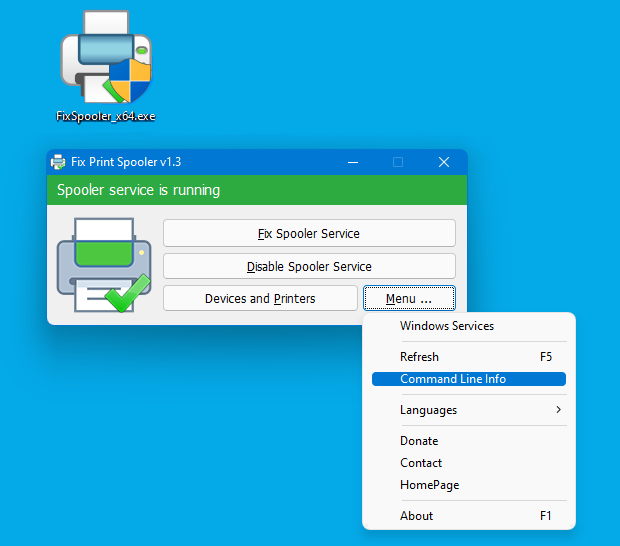 It will open All supported Cmd parameters window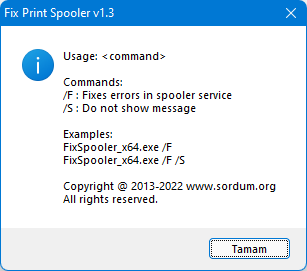 Supported operating systems:
Windows 11 , Windows 10 , Windows 8.1 , Windows 8 , Windows 7 , Windows Vista , Windows Xp – (x86 & x64)

Supported languages:
English ,Turkish , German , Russian , Korean , Hebrew , Hungarian , French , Polish , Italian , Slovenian , Greek

Hashes:
File: FixSpooler_x64.exe
MD5: a869fd1690a8fb8cbef275445d4f52df
SHA1: eeaffd17c299f2e984bbd74fab865fcebe8b79fd

File: FixSpooler.exe
MD5: eee997c907345ffe5c6fa8a9cadd0149
SHA1: bea36d1df77698ca82bb678c4114546db3dce6c5

Changes:
January 20, 2022
1. [ADDED] – Language support.
2. [ADDED] – Some code Improvements




Click here to visit the author's website.
Continue below for the main download link.