Always scroll to the bottom of the page for the main download link.
We don't believe in fake/misleading download buttons and tricks. The link is always in the same place.
---

Zint Barcode Generator v2.11.1

An open source barcode encoding library supporting over 50 symbologies.

Encodes data into any of the following: Australia Post barcode, Aztec Code, Aztec Runes, Channel Code, Codabar, Codablock-F, Code 11, Code 128, Code 16K, Code 2 of 5 (Including IATA, Datalogic, ITF14, Deutsche Post Leitcode and Identcode), Code 32 (Italian Pharmacode), Code 39, Code 39+, Code 49, Code 93, Code One, Data Matrix (including DMRE), DotCode, Dutch Post KIX, EAN, Grid Matrix, GS-1 DataBar (including stacked and composite symbols), Han Xin, HIBC, Japan Post, Korea Post, LOGMARS, MaxiCode, MSI, PDF417 and Micro PDF417, Pharmacode, POSTNET, PLANET, QR Code and Micro QR, Royal Mail 4-state (RM4SCC) and Mailmark, Telepen, Ultracode, UPC-A, UPC-E, UPNQR and USPS Intelligent Mail.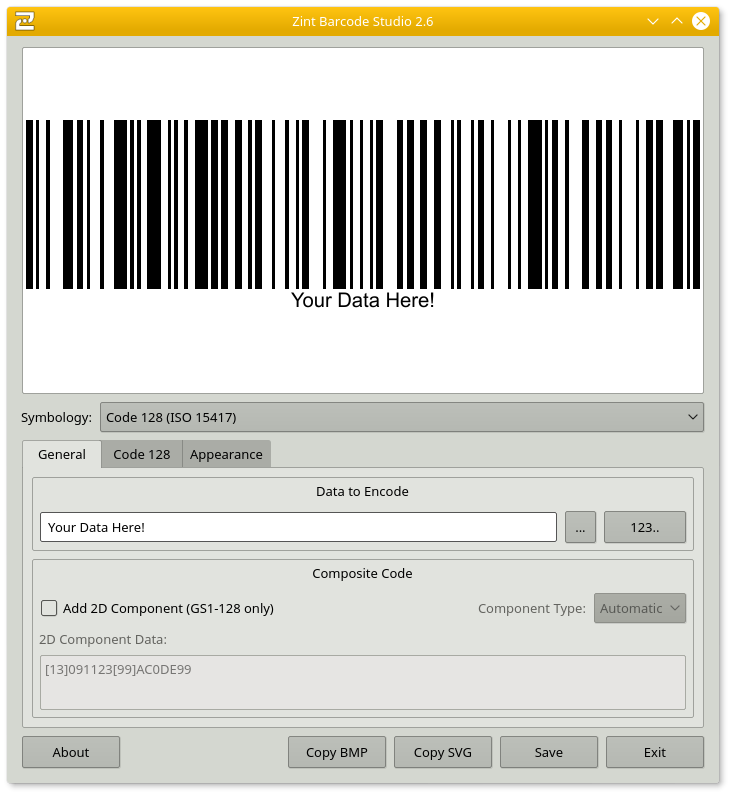 Automated ECI switching to support all Unicode characters and automated FNC1 character insertion in GS1 mode. Save to PNG, BMP, TIF, GIF, PCX, SVG, WMF and EPS. Includes CLI, GUI and API for calling from other applications.

Changes
2.11.1 (2022-08-22)
GUI: sequence export dialog: add Postfix field for filename (#252)
- eci.c: replace libiconv-adapted code with own implementations so
as to fully comply with libzint's BSD license
- GUI: CODE39/EXCODE39: show/hide HIBC check digit option
- RMQR: update to ISO/IEC 23941:2022 - R13x77 numeric cclens change 8 -> 7
- QRCODE: use stricter interpretation of ZINT_FULL_MULTIBYTE, excluding
certain trailing bytes
- GUI: foreground/background colours -> text boxes and icon buttons, add swap
button, independently movable picker (NULL parent), preview colour changes,
preview Data Window changes, add clear data (del) buttons, add zap button
and Factory Reset menu option, various other fixes
- GUI: make acceptable for macOS; add iconset for macOS, install
- manual: update macOS Homebrew install info; add README.macos
- GUI: export window: add no. of sequences to results label
- frontend: batch: for @ use + instead of * on Windows as * not allowed
in filenames
- Add new symbology BC412 (SEMI T1-95)
- backend: use alloca() (z_alloca()) for both Unix and Windows
- GS1: new AI 4309 with latlong checker, new currency code 925
- GUI: add automatic info feedback to "Automatic" combo item of size/row/height
comboboxes
- PDF417: encodation now simpler and closer to ISO/IEC 15438:2015 Annex N
algorithm, props Jeff Skaistis
- Add new symbology CEPNet

Bugs
----
- frontend/test_args.c: don't use WIFEXITED(), WEXITSTATUS() on Windows
- libzint: fix some confusing error messages introduced by segment stuff
- GUI: remove unnecessary tabMain min size (better layout rendering on
Windows/Fedora)
- library: check symbol->primary for escape sequences also
- GUI: error message GS1_MODE -> GS1 mode
- GUI: sequence window: fix initial clear button status
- GUI: NO_PNG: allow for Qt not parsing #if's in slots
- frontend: batch mode: fix default "~~~~~" output (github issue #65)
- vector: ensure separators don't overlap with other rectangles so that
they render correctly when have RGBA alpha channel
- GUI: update_preview() after Data Dialog return to ensure preview in sync
- PDF417: fix invalid numeric -> byte shift transitions, MR #151, props Jeff
Skaistis
- PDF417: fix extraneous text latch after a byte shift, MR #151, props Jeff
Skaistis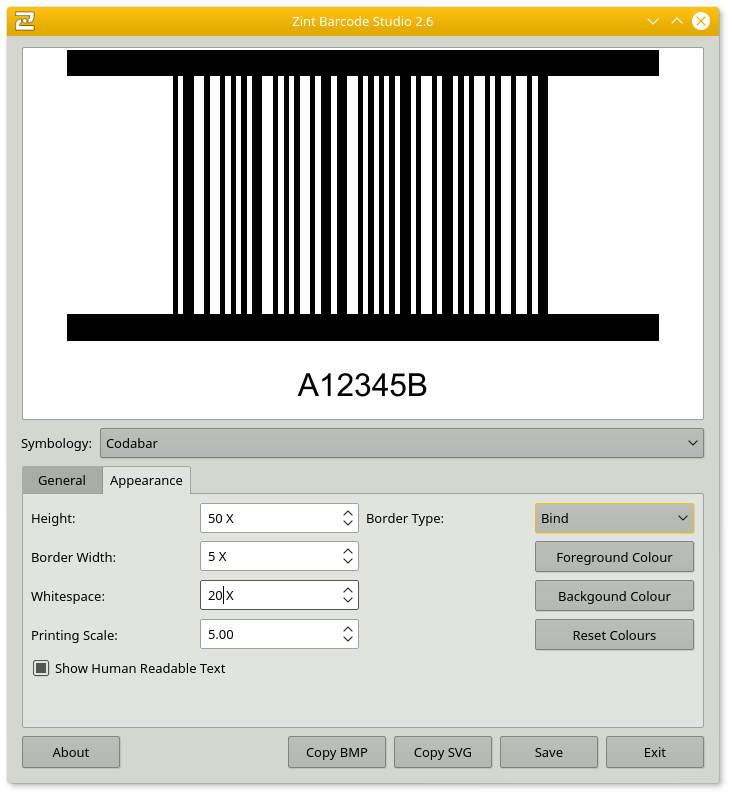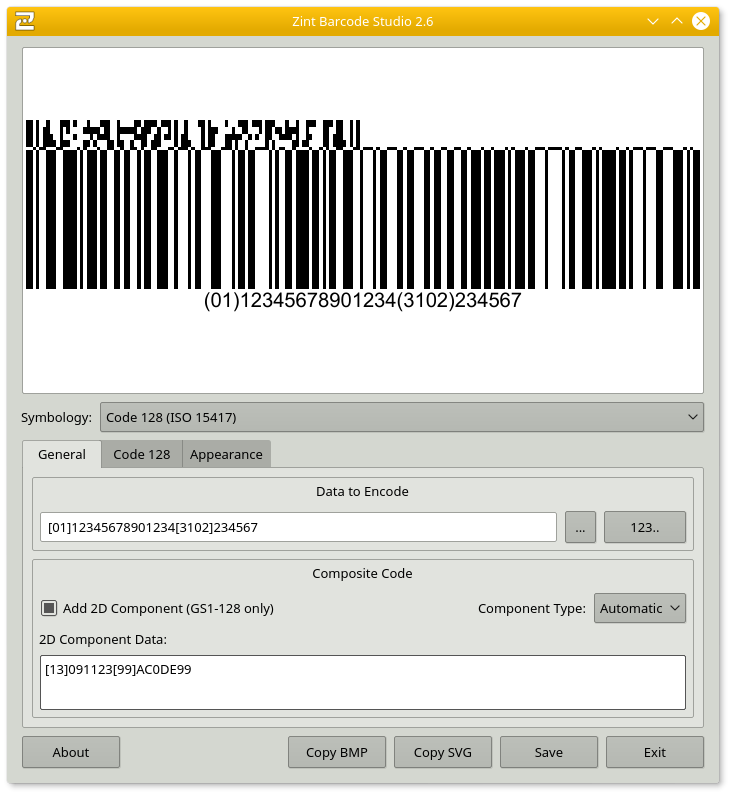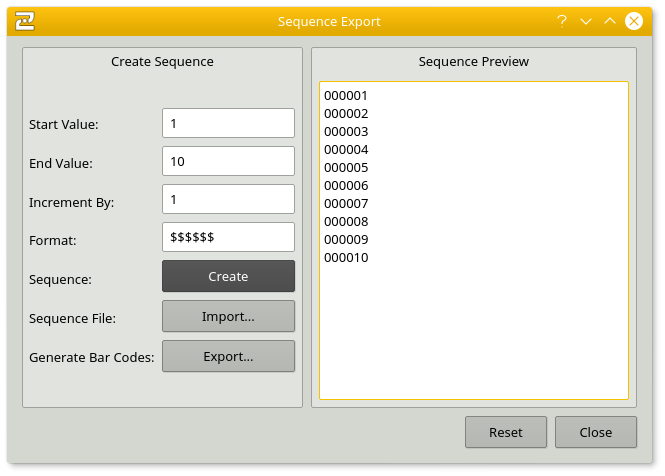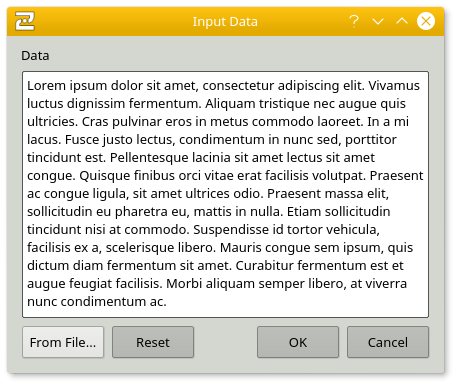 This download is for the Windows version.
If you need the Linux version, download here.
If you need the user manual, download here.


Note: For Windows, unzip the file and run qtZint.exe, NOT zint.exe




Click here to visit the author's website.
Continue below to download this file.