Alternate QR Code Generator v1.780
Alternate QR Code Generator v1.780 A simple program to generate QR codes (quick response codes). You can modify the size, color and error correction level for QR codes to be generated. Generated QR codes can be either saved as images or copied to the clipboard for the usage within other programs. The program can also be run from command line using parameters. Supported operating systems: Windows NT 4, 95, 98, Me, 2000, XP, Server 2003, Vista, Server 2008, 7, 8, 8.1 Languages included: English, german, french, spanish, polish, slovak, danish, czech, italian, chinese, russian, japanese, hungarian New in Alternate QR Code Generator 1.770 (April 23rd, 2018) Korean translation updated by JaeHyung Lee,

3,262
Oct 23, 2019
Alternate Tools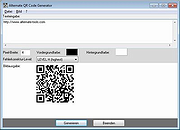 Bytescout BarCode Reader v11.0.0.1959
Bytescout BarCode Reader v11.0.0.1959 Bytescout BarCode Reader is able to open and read barcodes from image files (PNG, JPG, TIFF, GIF, PDF) and extract barcode value as text (you can select and copy extracted value). BarCode Reader can be used to read barcode from Web camera. Main program features: read barcode from images, TIFF and PDF with this freeware application; new barcode types supported: GTIN-8, GTIN-12, ITF-14, Code 93, MSI, GTIN-14, including MicroQR Code (2D), HanXinCode (2D) Ė NEW! improved support for barcode reading from noisy images (lot of images works without the need to enable noise removal); PDF support improved; improved 2D barcodes reading. Requirements for Web-Camera Devices: resolution 640◊480 or higher; Ability to change the focus (in MANUAL FOCUS mode). Usually such web camera devices have a ring around lenses which can be used to adjust the focus. Web camera devices with ability to change focus: Microsoft LifeCam VX-1000, Logitech QuickCam Pro 9000, Labtec Webcam 2200 and any other with manual focus support. Why itís important to have Manual Focus in a Web Camera? Manual focus is required to get sharp image of the barcode. With autofocus web camera devices usually are not able to take sharp photo of the barcode. you should put the image with the barcode 2-3 inches before the web-camera; make sure you have a sharp image and the barcode is not cut on the picture. Click here to visit the author's website.

1,441
Mar 06, 2020
ByteScout