Bytescout BarCode Reader v11.0.0.1959
Bytescout BarCode Reader v11.0.0.1959 Bytescout BarCode Reader is able to open and read barcodes from image files (PNG, JPG, TIFF, GIF, PDF) and extract barcode value as text (you can select and copy extracted value). BarCode Reader can be used to read barcode from Web camera. Main program features: read barcode from images, TIFF and PDF with this freeware application; new barcode types supported: GTIN-8, GTIN-12, ITF-14, Code 93, MSI, GTIN-14, including MicroQR Code (2D), HanXinCode (2D) Ė NEW! improved support for barcode reading from noisy images (lot of images works without the need to enable noise removal); PDF support improved; improved 2D barcodes reading. Requirements for Web-Camera Devices: resolution 640◊480 or higher; Ability to change the focus (in MANUAL FOCUS mode). Usually such web camera devices have a ring around lenses which can be used to adjust the focus. Web camera devices with ability to change focus: Microsoft LifeCam VX-1000, Logitech QuickCam Pro 9000, Labtec Webcam 2200 and any other with manual focus support. Why itís important to have Manual Focus in a Web Camera? Manual focus is required to get sharp image of the barcode. With autofocus web camera devices usually are not able to take sharp photo of the barcode. you should put the image with the barcode 2-3 inches before the web-camera; make sure you have a sharp image and the barcode is not cut on the picture. Click here to visit the author's website.

2,680
Mar 06, 2020
ByteScout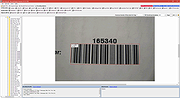 Zint Barcode Generator v2.10.0
Zint Barcode Generator v2.10.0 An open source barcode encoding library supporting over 50 symbologies. Encodes data into any of the following: Australia Post barcode, Aztec Code, Aztec Runes, Channel Code, Codabar, Codablock-F, Code 11, Code 128, Code 16K, Code 2 of 5 (Including IATA, Datalogic, ITF14, Deutsche Post Leitcode and Identcode), Code 32 (Italian Pharmacode), Code 39, Code 39+, Code 49, Code 93, Code One, Data Matrix (including DMRE), DotCode, Dutch Post KIX, EAN, Grid Matrix, GS-1 DataBar (including stacked and composite symbols), Han Xin, HIBC, Japan Post, Korea Post, LOGMARS, MaxiCode, MSI, PDF417 and Micro PDF417, Pharmacode, POSTNET, PLANET, QR Code and Micro QR, Royal Mail 4-state (RM4SCC) and Mailmark, Telepen, Ultracode, UPC-A, UPC-E, UPNQR and USPS Intelligent Mail. Automated ECI switching to support all Unicode characters and automated FNC1 character insertion in GS1 mode. Save to PNG, BMP, TIF, GIF, PCX, SVG, WMF and EPS. Includes CLI, GUI and API for calling from other applications. Read the full manual here. Version 2.10.0 2021-08-14 ========================= **Incompatible changes** ------------------------ - Add halign (horizontal align) to struct zint_vector_string NOTE: backward incompatible text drawing for UPC/EAN - Change height and row_height array to floats NOTE: may cause changes in heights Changes ------- - Move project history/version from manual.txt and backend/README into this file - Command line switches -d or -i for code data may now be at any position. - Add rotation for vector formats - Change double to float for performance in many internal places - Ticket 197: optimize raster scaling for 0.5 substeps; ignore raster scaling < 0.5 as pixels lost. - Ticket 197: add output option to bypass time-intensive buffer_plot() (OUT_BUFFER_INTERMEDIATE) - Reduce BMP size by using 1 bit per pixel (except Ultracode) - New warn_level field, WARN_FAIL_ALL - Add GS1NOCHECK_MODE to input_mode (note was ZPL compatibility mode WARN_ZPL_COMPAT to warn_level) - Remove version info from zint.h and put in zintconfig.h via zintconfig.h.in - ...

680
Oct 28, 2021
Robin Stuart