Always scroll to the bottom of the page for the main download link.
We don't believe in fake/misleading download buttons and tricks. The link is always in the same place.
---

Defender Control v1.7

Easily disable/enable Windows Defender in Windows.


Defender Control v1.7
Sordum Team | January 25, 2021 | 199 Comments

Defender Control App

Since Vista,Windows Defender is included with Windows . It's a small piece of software that runs in the background to help protect ,your computer from malware (malicious software) like viruses, spyware, and other potentially unwanted software. Some spyware protection is better than none, and it's built in and free! But… if you are already running something that provides great anti-malware protection, defender will probably wasting precious resources , there's no need to have more than one application running at a time.

The problem with all Defender versions in Windows Vista and above is it's integrated into the operating system and installs by default with no visible or hidden option to uninstall. Many people are looking for ways to disable or remove it from their system as they prefer to use other software , for example on Windows 8 and 10 you cannot turn off Windows Defender completely anymore , A click on Settings in Windows Defender opens the control panel for the program in the new Windows Settings application. You can turn the program's real-time protection off temporarily, but if it's off for a while Windows will turn it back on automatically. It is unclear why Microsoft made the decision to change the behavior of Windows Defender in this regard. What is certain however is that it will annoy users who want to disable it permanently on the computer they are working on. Defender Control is a small Portable freeware which will allow you to disable Windows Defender in Windows 10 completely.

Defender Control v1.7 – What's New – (Monday, 25. january 2021)

1. [FIXED] – Defender control doesn't work properly when Tamper Protection is active
2. [FIXED] – ID Protection prevent to use Defender contol on multiple pc (ID Protection removed)
3. [FIXED] – GUI Font is too small
4. [ADDED] – The / q parameter has been added. Status information can be obtained with Exit code
5. [ADDED] – Some code improvements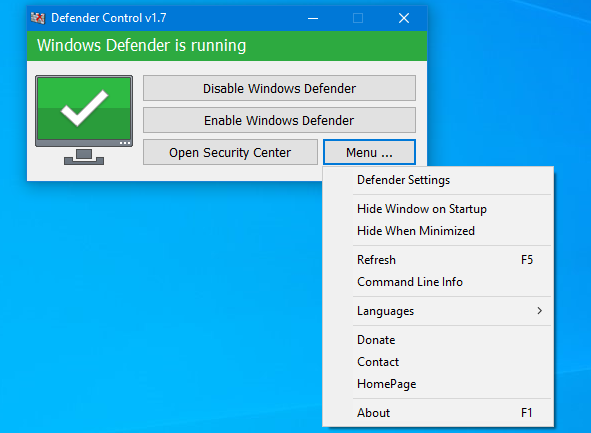 Why should you use it :

1. During copying big data from Pc to Usb or vice versa , disabling defender can decrease the Total Copy time
2. Users may experiencing conflicts between Defender and their antivirus application
3. Some antivirus programs ask the user to manually turn off or disable Windows Defender in Windows 10 …
4. If you've got it enabled, chances are Windows Defender will start each time you boot your PC . If you're short on resources, have your own methods of dealing with spyware or have simply come to the conclusion that Windows Defender is not for you then you might want to disable it.

How to use Defender control:

Download Defender control and unzip it then run the program , you can see your Windows defender status on the Program interface :

1. Green – Windows defender is running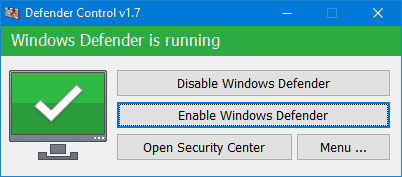 2. Red – Windows defender is turned off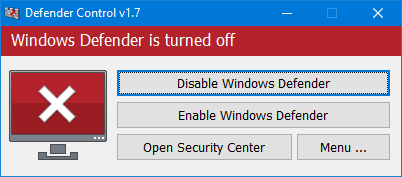 3. Orange – Entweder Windows defender can not be started oder Real-Time protection is turned off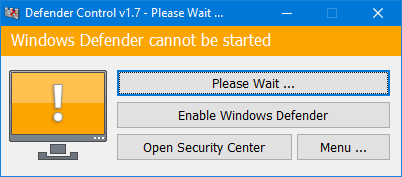 To Disable – Enable Windows defender please click the appropriate button , you can also Launch Windows defender or Windows defender settings (Under the menu button) with one click. Defender Control has CMD (command line) support. The screenshot below shows the available parameters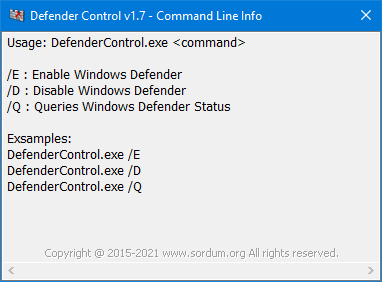 DefenderControl.exe /Q Parameter Output :

0 = Windows Defender is running.
1 = Windows Defender is turned off.
2 = Real-time protection is disabled.
3 = Windows Defender service is not available in the system.

NOTE: If Windows defender "Tamper Protection" is turned on , Defender Control requires the TrustedInstaller service to bypass protection and turn off the defender. Therefore If there is a problem with the TrustedInstaller service, Defender Control Application may not work prorely.Sometimes program may need to wait 3-5 second to turn windows defender on or Off and you may see the Orange interface during this period.

NOTE: Defender control , shuts down the defender ,Therefore ; There may be false positives on Virustotal. If you use the program continuously please use Defender injector to add "Defender control" to white list.

Supported languages: English , Turkish , German , Russian , French , Korean , Chinese (Traditional) , Chinese (Simplified) , Italian , Slovenian , Japanese , Polish , Bulgarian , Spanish , Arabic , Czech , Thai , Hungarian , Swedish , Greek , Portuguese (Brazilian) , Hebrew , Vietnamese , Persian , Romanian , Thai , Finnish , Dutch (Nederlands), Ukrainian , Dutch (Dutch), Serbian , Estonian , Azerbaijani , Lithuanian , Uzbek , Tajik , Latvian , Lithuanian

Supported Operating Systems: Windows 10 , Windows 8.1 , Windows 8 , Windows 7 , Windows Vista (32 and 64-bit).

File: DefenderControl.exe
MD5 : 139464919440e93e49c80cc890b90585
SHA1: 0237408cdb74ad6b8d340cdf0d03c1b1f820ce17
SHA256: ce3a6224dae98fdaa712cfa6495cb72349f333133dbfb339c9e90699cbe4e8e4





Click here to visit the author's website.
Continue below for the main download link.