Defender Control v1.5
Defender Control v1.5 Easily disable/enable Windows Defender in Windows. Since Vista,Windows Defender is included with Windows . It's a small piece of software that runs in the background to help protect ,your computer from malware (malicious software) like viruses, spyware, and other potentially unwanted software. Some spyware protection is better than none, and it's built in and free! But… if you are already running something that provides great anti-malware protection, defender will probably wasting precious resources , there's no need to have more than one application running at a time. The problem with all Defender versions in Windows Vista and above is it's integrated into the operating system and installs by default with no visible or hidden option to uninstall. Many people are looking for ways to disable or remove it from their system as they prefer to use other software , for example on Windows 8 and 10 you cannot turn off Windows Defender completely anymore , A click on Settings in Windows Defender opens the control panel for the program in the new Windows Settings application. You can turn the program's real-time protection off temporarily, but if it's off for a while Windows will turn it back on automatically. It is unclear why Microsoft made the decision to change the behavior of Windows Defender in this regard. What is certain however is that it will annoy users who want to disable it permanently on the computer they are working on. Defender Control is a small Portable freeware which will allow you to disable Windows Defender in Windows 10 completely. Why should you use it : 1. During copying big data from Pc to Usb or vice versa , disabling defender can decrease the Total Copy time 2. Users may experiencing conflicts between Defender and their antivirus application 3. Some antivirus programs ask the user ...

2,158
Nov 20, 2019
Sordum.org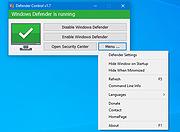 Defender Injector v1.1
Defender Injector v1.1 Regardless of whether you choose Windows Defender Antivirus, or, a third-party antivirus solution you need to be sure these products are not scanning critical File and folders because Occasionally Microsoft Security Essentials or Windows Defender cause problems with some Files and folders. Typical issues include slow performance , deleting some necessary files or erratic operation. To work around these problems you can add the this kind of files and folders to the list of exceptions. In Windows 10 , there is a new app called Windows Defender Security Center . The app, formerly known as "Windows Defender Dashboard", has been created to help the user control his security and privacy settings. You can add any trusted file, file type, folder, or a process to the exclusions list with the following steps ; 1. Open settings Application 2. Choose Update and security 3. Open Windows Defender Security Center 4. Select Virus and threat protection 5. Click Virus and threat protection settings 6. Click Add or remove exclusions 7. Under Add an exclusion, select the files, folders, file types, or process. As you see adding exceptions manually through the graphical user interface would be time consuming, tedious and, prone to human error therefore we have coded a portable Freeware to simplify the whole process. How to use Defender Injector After downloading, extract the zip file to your desired location, then double click the "dInjector.exe" file . To Add an exclusion to Windows Defender list , just drag and drop any file or Folder on the software GUI , you can also use File or folder buttons To remove listed file or folder whether you can select the item on the list and use remove button (Trash can) or you can right click on it and choose "Delete selected" feature You can also Add defender Exclusions feature to your context menu , to ...

1,804
Nov 13, 2019
Sordum.org