Always scroll to the bottom of the page for the main download link.
We don't believe in fake/misleading download buttons and tricks. The link is always in the same place.
---

Virtual WiFI v3.2.1

Virtual WiFI is a free program for Windows that has the main objective to create wireless(Wi-Fi) hotspots hosted by the wireless adapter board (if the device supports this kind of operation). Using the program you can create two types of Wi-Fi networks:

A simple local network or ad-hoc - that can be used as a way to connect computers in order to transfer files for one computer to another, or to share software(services, programs) or hardware(eg. printer) resources of a computer with other computers from the network.
A local network with internet access - used as a way to share an Ethernet LAN, wireless, or 3G / 4G /5G modem internet connection to all the devices from the network, keeping all the benefits of an ad-hoc connection - sharing files and resources. For example it's possible to share the internet of a LAN (Local Area Network) or USB modem connection with up to 100 computers, tablets, smartphones, etc.

The program can create and manage Wi-Fi hotspots and shows the devices that are connected to the network, identified by IP and MAC addresses. Other features are:

Simple and easy to use;
Available in multiple languages: English, Romanian, French, Polish, Vietnamese;
Detects fastest internet connection automatically;
Share the internet connection of the computer with all types of portable devices (smartphones, tablet, smartwatch, smart TV) that has wireless capability;
Can be use as a substitute for the internal GUI interface 'Create an ad hoc network' existing in Windows Vista and 7, but not in newer versions, such as Windows 8, 8.1 and 10;
No need of keeping 'Virtual WiFi' active in memory - once a hotspot is created, the window of the application can be closed without halting the wifi network; the hotspot can be stopped either by relaunching the program and pressing the stop button or automatically at the system shutdown;
Provide what a lot of other similar program do not: can set a manual IP address for DHCP (by checking the box 'Self assigning IP address...', from 'Settings' tab), in case in which the Windows OS cannot properly configure this service; so, if you have problems to create a valid hotspot with other program or using Windows interfaces/commands, then you should definitely try Virtual WiFi.

About virtual routers

Wireless technology is the most practical way to interconnect a wide variety of devices, such as computers, smartphones, tablets, smart TV's and many other types of devices. The most important advantage of wireless technology for personal computers is that gives the possibility to connect a large number of devices with no need to use special adaptors or cables.

Until a few years ago, in order to create a wireless network, also known as WiFi network or hotspot, a physical router was required. Afterwards, the producers of wireless adapters had embedded the capability to create hosted wifi networks, and this fact lead to a wide connectivity not just between computers, but also between computers and other devices. The wireless adapter card that has the capacity to host a Wi-Fi network could therefore be seen as a virtual wireless router.

The operating systems and software developers took use of this new feature, which is both hardware and software, and as a result there are many third party programs and internal interfaces included in the OS for managing virtual WiFi networks.

History of Virtual WiFi - What has been changed

Version 3.2.1 - 09/06/2017

New:

Feature: Option to automatically restart a hotspot that was stopped unexpectedly, for example due to computer sleep, unavailability of the shared connection, etc.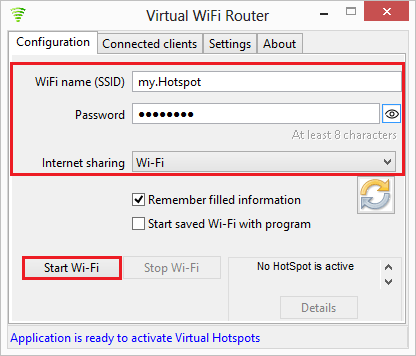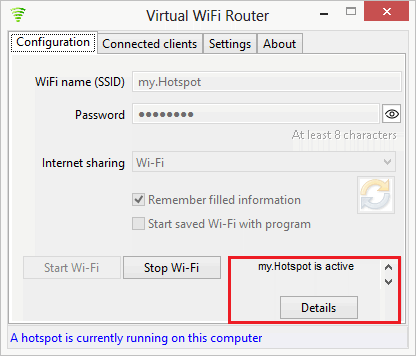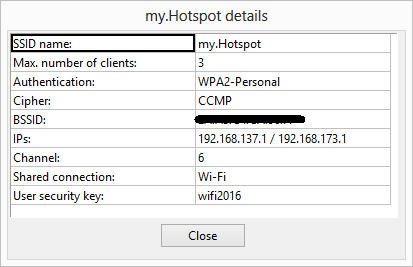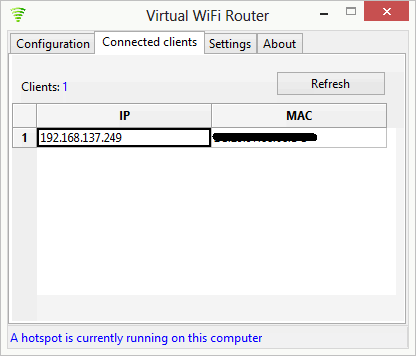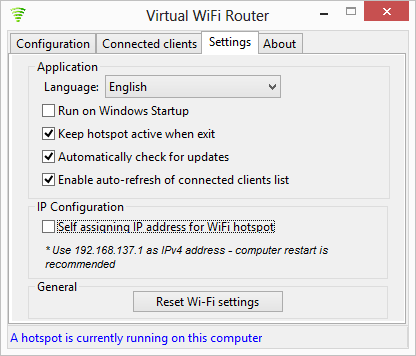 Continue below for the main download link.