Block Nearby WiFi v1.0
Block Nearby WiFi v1.0 Block Nearby WiFi v1 is a freeware portable app to manage nearby wifi connections. You can block or allow a wifi name. In this way you can create easily Blacklist and Whitelist. Important: To run this app, right click file and choose "Run as Administrator". Note: When Windows SmartScreen pops up and says "Microsoft Defender SmartScreen prevented an unrecognized app from starting...", you will have to click "More info" and then choose "Run anyway". This app is safe, Microsoft has just not added to the list of safe apps yet.

3,174
Apr 06, 2020
Gaetano D'Aquila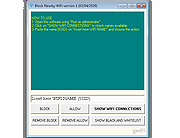 Virtual WiFI v3.2.1
Virtual WiFI v3.2.1 Virtual WiFI is a free program for Windows that has the main objective to create wireless(Wi-Fi) hotspots hosted by the wireless adapter board (if the device supports this kind of operation). Using the program you can create two types of Wi-Fi networks: A simple local network or ad-hoc - that can be used as a way to connect computers in order to transfer files for one computer to another, or to share software(services, programs) or hardware(eg. printer) resources of a computer with other computers from the network. A local network with internet access - used as a way to share an Ethernet LAN, wireless, or 3G / 4G /5G modem internet connection to all the devices from the network, keeping all the benefits of an ad-hoc connection - sharing files and resources. For example it's possible to share the internet of a LAN (Local Area Network) or USB modem connection with up to 100 computers, tablets, smartphones, etc. The program can create and manage Wi-Fi hotspots and shows the devices that are connected to the network, identified by IP and MAC addresses. Other features are: Simple and easy to use; Available in multiple languages: English, Romanian, French, Polish, Vietnamese; Detects fastest internet connection automatically; Share the internet connection of the computer with all types of portable devices (smartphones, tablet, smartwatch, smart TV) that has wireless capability; Can be use as a substitute for the internal GUI interface 'Create an ad hoc network' existing in Windows Vista and 7, but not in newer versions, such as Windows 8, 8.1 and 10; No need of keeping 'Virtual WiFi' active in memory - once a hotspot is ...

4,939
Dec 31, 2018
Adi Barbu's Software Lab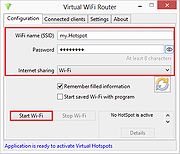 Wifi Password Revealer 1.0.0.6
Wifi Password Revealer 1.0.0.6 WiFi password revealer is a small freeware utility which will show you all your saved WiFi passwords. If you forgot or lost password to your wireless network - this tool is for you. For Windows XP and 2003 Server users. your passwords will be recovered as 64 HEX digits, and not exact password which you have entered. This is NOT a bug. Windows XP automatically converts them into this form, and it can't be converted back. But you can still use this HEX digits instead of real password in order to connect to your wirelesss network. Administrator rights are required on your PC in order to decrypt stored passwords.

8,325
Jan 21, 2014
Magical Jelly Bean