MobaXterm Home Edition v23.4
MobaXterm Home Edition v23.4 Enhanced terminal for Windows with X11 server, tabbed SSH client, network tools and much more. MobaXterm is your ultimate toolbox for remote computing. In a single Windows application, it provides loads of functions that are tailored for programmers, webmasters, IT administrators and pretty much all users who need to handle their remote jobs in a more simple fashion. MobaXterm provides all the important remote network tools (SSH, X11, RDP, VNC, FTP, MOSH, ...) and Unix commands (bash, ls, cat, sed, grep, awk, rsync, ...) to Windows desktop, in a single portable exe file which works out of the box. There are many advantages of having an All-In-One network application for your remote tasks, e.g. when you use SSH to connect to a remote server, a graphical SFTP browser will automatically pop up in order to directly edit your remote files. Your remote applications will also display seamlessly on your Windows desktop using the embedded X server. Key features • Embedded X server Fully configured Xserver based on X.org • Easy DISPLAY exportation DISPLAY is exported from remote Unix to local Windows • X11-Forwarding capability Your remote display uses SSH for secure transport • Tabbed terminal with SSH Based on PuTTY with antialiased fonts and macro support • Many Unix/Linux commands on Windows Basic Cygwin commands (bash, grep, awk, sed, rsync,...) • Add-ons and plugins You can extend MobaXterm capabilities with plugins • Versatile session manager All your network tools in one app: Rdp, Vnc, Ssh, Mosh, X11, ... • Portable and light application MobaXterm has been packaged as a single executable which does not require admin rights and which you can start from an USB stick • Professional application MobaXterm Professional has been designed for security and stability Changes: Version 23.4 (2023-11-01) Improvement: improved the overall speed of the new "apt plugin" command Improvement: better detection of escape color codes in the graphical ...

2,829
Nov 03, 2023
Mobatek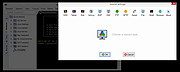 Terminal Wings 2.0
Terminal Wings 2.0 Give wings to your insipid Windows Terminal. Have you ever been dreaming about having a marvelous Microsoft Windows Terminal, something that's at the same time beautiful, time saving and better to organize when you need to work on several terminals at the same time. Don't search furthermore: Terminal Wings is the application you were searching for. Already in its very first version it's very complete and powerful. Imagine what power you could harness in the near future. How does it work? Contrary to other applications which simply try to replicate the same efficiency of the embedded Windows Terminal coded by Microsoft, our Terminal Wings is not such an emulator which "Hooks" the process of a real terminal to 'copy/paste' the screen buffer and display its contents to the custom application frame. It also doesn't create virtual pipes to redirect output/input buffers (stdout ; stdin ; stderror) to capture send and capture terminal commands. The reason we don't use both above methods is due to the instability of such methods. When you execute regular commands it works pretty fine, but when it comes to use more complex console programs it become quite unstable (depending of the emulator you use). So , what is our solution? Very basically, we do not emulate the Windows Terminal at all, but we use the real one. We Patch the window and associated messages and embed it into our own frame. Well, this might sound very easy, but in effect it is quite complex to code if you want to make it appear very smoothly. Important Notice: At this moment in time, the application is only available for Microsoft Windows 10. Depending on the initial success of this program, we might be tempted to support other Windows versions too. Current Functions Available Multi Tabs : Organise your terminals using ...

4,745
Nov 15, 2019
Phrozen Software