BabelMap Portable v14.0.0.2
BabelMap Portable v14.0.0.2 Unicode Character Map and Browser for Windows BabelMap is a free character map application for Windows that allows you to browse through the entire Unicode character repertoire of nearly 144,000 characters, or search for a particular character by name or by code point. Characters can then be copied to the clipboard for use in any Unicode-aware application. It also provides many useful features and special utilities. BabelMap supports the most recent version of the Unicode Standard, currently Unicode 14.0 (released September 2021). Summary of Features These are some of the key features of BabelMap. For more information see the BabelPad Help pages. Browse through the entire Unicode code space block by block and character by character. Tabbed display for Unicode planes (BMP, SMP, SIP, TIP, SSP, SPUA-A, SPUA-B), with options to display unassigned planes 4 through 13, and show unassigned ranges within assigned planes. Display all characters using a single font, or define a composite font with different fonts used to display Unicode blocks. Search for any Unicode character by character name; or go to a specified code point. Paste any unknown Unicode character into the edit buffer and hit F2 to locate the character. Edit buffer supports drag-and drop editing and the user-defined composite font. Color code characters in the character grid by Unicode properties or version or script. Advanced character search utility which allows you to find all Unicode characters that match specified criteria. Character lookup tools for finding Han (CJKV) characters by radical/stroke or by Mandarin or Cantonese readings. Character lookup tool for finding Yi (Nuosu) characters by radical/stroke. Character lookup tool for ...

2,365
Apr 10, 2022
BabelStone & PortableApps.com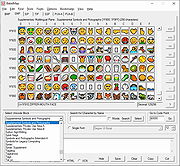 Extra Keys Pro v2.2.5
Extra Keys Pro v2.2.5 Type any accented characters for French, German, Spanish, Portuguese, Italian, Scandinavian and many other languages. Also Cyrillic, Greek and many other special symbols. This small Windows only desktop tool enables easy input of letters and symbols that may not appear on your normal keyboard. This is simply an alternative to to other methods such as the Windows character map. Many people have found Extra Keys a convenient, easy option and it requires no configuration changes to your system. Using the mouse, each letter will be typed directly into the selected application, at the current cursor position. The character is also copied to the Clipboard. In some situations, typing directly into another program may not work but the character can still be inserted by simply using Paste. Choice of 'key sets' - offers characters from the Western and Eastern European 'Latin' range, Cyrillic, Greek, Georgian and Armenian alphabets. Certain symbols may already present on some keyboard layouts, but are not readily accessible on other international layouts. When the characters are entered into your your application, most will display correctly with common Windows fonts. A few will need recent font file versions or an appropriate font choice. Safe to use - Extra Keys synthesizes keystrokes, exactly as if entered from the real keyboard. It does nothing else and does not interfere with the target applications in any way. Independent of the Windows operating system, it needs no special installation. Small, simple and minimal - the on-screen panel of keys is designed to be as compact as possible. A 'more/less' button enables rapid switching between display of alphabetic characters only or an expanded panel to add punctuation marks and special symbols. The program itself is also very small in memory, despite including its own embedded character font. Quick to access - the button panel window minimizes ...

1,530
Mar 31, 2021
Deeproot Software