Always scroll to the bottom of the page for the main download link.
We don't believe in fake/misleading download buttons and tricks. The link is always in the same place.
---

Extra Keys Pro v3.0.0

Type any accented characters for French, German, Spanish, Portuguese, Italian, Scandinavian and many other languages.

Also Cyrillic, Greek and many other special symbols. This small Windows only desktop tool enables easy input of letters and symbols that may not appear on your normal keyboard.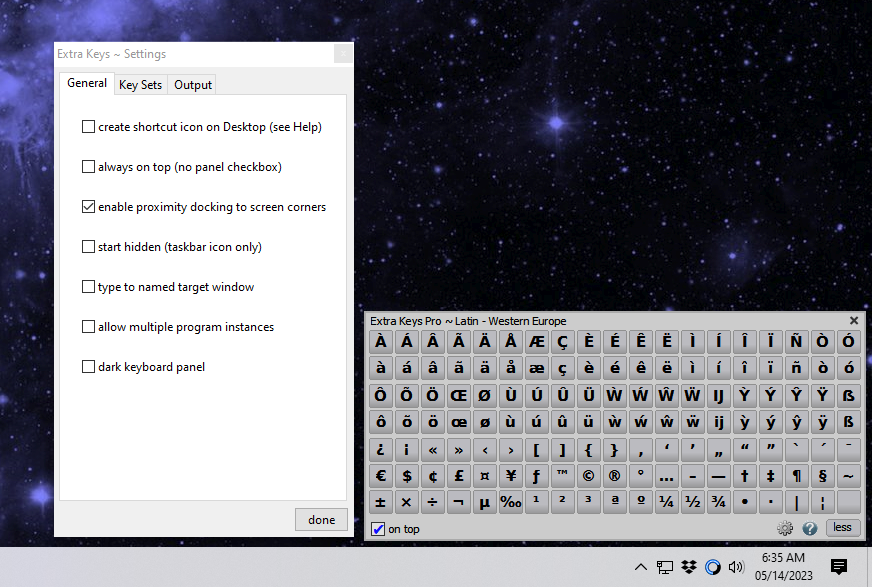 Simply an alternative to to other methods such as the Windows character map. Many people have found Extra Keys a convenient, easy option and it requires no configuration changes to your system.

A mouse click on a letter button types it directly into the selected application, at the current cursor position. The character is also copied to the Clipboard. In some situations, typing directly into another program may not work but the character can still be inserted by simply using Paste.

Choice of 'key sets' - characters are grouped into regional and function sets to keep the tool panel small, but with a very large range quickly available.

When characters are entered into your application, most will display correctly with common Windows fonts. Some of the more specialised ones may need an appropriate font choice.

Safe to use - Extra Keys synthesizes keystrokes, exactly as if entered from the real keyboard. It does nothing else and does not interfere with the system in any other way. It is a portable appliction program with no special requirements.

Small, simple and minimal - the on-screen panel of keys is designed to be as compact as possible. A 'more/less' button enables rapid display of an expanded panel with additional punctuation marks and special symbols. The program is self-contained and lightweight.

Quick to access - the button panel window minimizes to a system-tray icon, so always available at a single click. The icon may optionally be loaded at Windows startup.

This tool has always been included as part of our Plant Base software, and still is. However, it is available as a separate stand-alone freeware utility - free and unrestricted with no registration, no time limits, no adverts or nags. If you find it valuable, please consider making a small donation toward it's further development.

Also available and now free is the extended Extra Keys Pro edition, which has additional configuration options and key sets. The biggest difference is the ability to output various character codes, making it useful when editing HTML or othe source files.

Extra Keys Pro is an extended edition based on the basic Extra Keys tool but with the important additional feature of being able to output each character in several different encoded formats. Like the standard edition it is now free to use.

In this case "Pro" stands for "Programmer". If you need to edit HTML web pages or program source code files then this is the edition for you. It also has additional key-sets and configuration options which may be of interest to other users who want more features than the standard edition.

There are many situations when it is not advisable to use some characters in source files. They should instead be entered as an HTML entity, decimal or hexadecimal code. Extra Keys Pro gives an easy and quick method to do this without needing to remember any codes.

As well as sending plain characters to other applications and the Windows clipboard (exactly the same as the standard edition) the Pro edition is able to output in these formats:
• HTML entity name
• HTML entity code as decimal
• HTML entity code as hexadecimal
• Unicode code point
• "\u" escaped 4 digit hexadecimal
• "\U" escaped 8 digit hexadecimal
• percent encoded UTF8
• decimal character code
• hexadecimal character code, with 3 different prefixes (0x, $ or &H)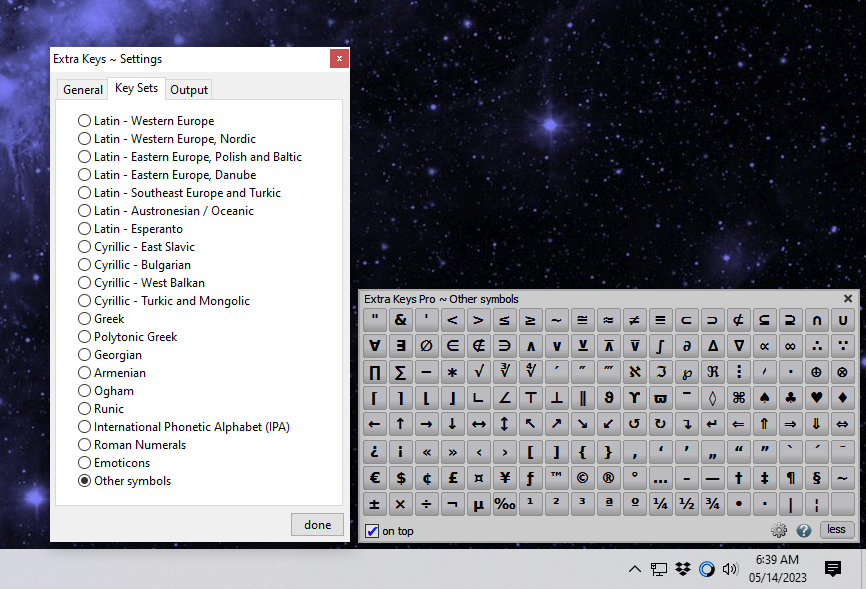 This download is for the Windows 64bit Pro Installer version.
If you need the Windows 32bit Pro Installer version, download here.
If you need the Windows 64bit Basic Installer version, download here.
If you need the Windows 32bit Basic Installer version, download here.
If you need the Portable version (includes Basic and Pro), download here.



Click here to visit the author's website.
Continue below for the main download link.