AniView v1.5
AniView v1.5 AniView is a free and open source GIF image viewer. AniView also has the ability to export all frames of a GIF image in a format of your choice! Features View animated GIF images Play/pause animation Export all GIF frames Open other GIF images inside working directory Open source 100% free Automatic updates Windows Explorer integration System requirements Operating System Windows 10, Windows 7 Service Pack 1, Windows 8, Windows 8.1, Windows Server 2008 R2 SP1, Windows Server 2012, Windows Server 2012 R2, Windows Server 2016 Disk space At least 20 MB free disk space Memory At least 80 MB free RAM memory Internet connection Required to check for updates. This can be turned off in the settings menu. .NET Framework .NET Framework v4.7 Change log Added a frame counter to the status bar Added a setting to change window resize border thickness Added a setting to change window opacity Added the ability to dock windows Added a setting to enable or disable the topmost property Fixed status information not loading correctly Minor design changes Included the latest theme version Included the latest UpdateManager library Click here to visit the author's website.

1,156
Dec 12, 2018
CodeDead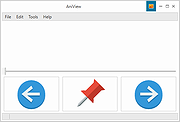 ISO to USB v1.5
ISO to USB v1.5 ISO to USB is a free and small software that can burn the ISO image file directly to the USB drives, these USB drives include USB flash drives, memory sticks and other USB storage devices, it also supports to create a bootable USB disk with Windows operating systems. Freeware. Burn ISO to USB disks with ease The ISO image file is a popular image of the CD/DVD discs, an ISO file can include all the content on the disc, this software can easily burn these ISO files to a USB flash disk, makes it easy to carry and use. The program's interface is very simple, you only need select the ISO file you want to burn and the target USB drive, then click "Burn" button, an USB disk that includes all ISO image data will be created. There do not have any complicated settings, it is easy to use very much. Bootable USB flash disks This software currently only support Windows bootable disk, can work with both BOOTMGR and NTLDR boot mode, can create USB disk with FAT, FAT32, exFAT or NTFS file system. (When you are making a bootable USB disk, suggest you choose the FAT32 file system.) This program have be tested with Win8/Win7 PE and WinXP PE bootable ISO image files, it can work fine, the generated USB disk can normally boot the computers. Only a small part of the machines can boot Win8/Win7, but can not boot WinXP, these machines will display "NTLDR is missing", for this problem there is no good solution currently. If create bootable USB disk failed, sometimes the USB disk will be unusable, you can try the following steps to recover it: Insert your USB disk. (a) For Win8, press keyboard "Windows key" + X together to ...

377
Mar 01, 2019
ISOTOUSB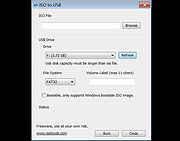 Shutdown Clock v1.5
Shutdown Clock v1.5 Shutdown Clock is a free application that will help you schedule PC tasks like shutdown, restart, log off, lock and hibernate at any time. By defining a set of tasks Shutdown Clock monitors your system time and executes these tasks when needed. You can define tasks starting at some specific date and time or tasks that execute at daily basis. Also, tasks can be executed depending on your PC idle time or battery percentage. Shutdown Clock is really easy to use. Once you define your tasks Shutdown Clock can work in the background waiting for the right time to execute those tasks. You are also able to use this application to perform PC shutdown operations instantly (right click on the Shutdown Clock taskbar icon). Shutdown Clock is also able to start with Windows (automatically minimized) and can give you a warning before executing each of the tasks, giving you enough time to finish and save your work or cancel the task altogether. Try it! Itís FREE!

1,109
Jun 03, 2019
vclexamples.com