FYI, always scroll to the bottom of the page to download files on OlderGeeks.com.
We don't believe in fake/misleading download buttons and tricks. The link is always in the same place.
---

Wireshark 64bit v3.0.4

Wireshark is the world's foremost and widely-used network protocol analyzer. It lets you see what's happening on your network at a microscopic level and is the de facto (and often de jure) standard across many commercial and non-profit enterprises, government agencies, and educational institutions. Wireshark development thrives thanks to the volunteer contributions of networking experts around the globe and is the continuation of a project started by Gerald Combs in 1998.

Wireshark has a rich feature set which includes the following:

Deep inspection of hundreds of protocols, with more being added all the time
Live capture and offline analysis
Standard three-pane packet browser
Multi-platform: Runs on Windows, Linux, macOS, Solaris, FreeBSD, NetBSD, and many others
Captured network data can be browsed via a GUI, or via the TTY-mode TShark utility
The most powerful display filters in the industry
Rich VoIP analysis
Read/write many different capture file formats: tcpdump (libpcap), Pcap NG, Catapult DCT2000, Cisco Secure IDS iplog, Microsoft Network Monitor, Network General Sniffer® (compressed and uncompressed), Sniffer® Pro, and NetXray®, Network Instruments Observer, NetScreen snoop, Novell LANalyzer, RADCOM WAN/LAN Analyzer, Shomiti/Finisar Surveyor, Tektronix K12xx, Visual Networks Visual UpTime, WildPackets EtherPeek/TokenPeek/AiroPeek, and many others
Capture files compressed with gzip can be decompressed on the fly
Live data can be read from Ethernet, IEEE 802.11, PPP/HDLC, ATM, Bluetooth, USB, Token Ring, Frame Relay, FDDI, and others (depending on your platform)
Decryption support for many protocols, including IPsec, ISAKMP, Kerberos, SNMPv3, SSL/TLS, WEP, and WPA/WPA2
Coloring rules can be applied to the packet list for quick, intuitive analysis
Output can be exported to XML, PostScript®, CSV, or plain text






Wireshark 3.0.4 Release Notes
What is Wireshark?

Wireshark is the world's most popular network protocol analyzer. It is used for troubleshooting, analysis, development and education.
What's New

The Windows installers now ship with Npcap 0.9983. They previously shipped with Npcap 0.996.

The macOS installer now ships with Qt 5.12.3. It previously shipped with Qt 5.12.4.

Bug Fixes

The following vulnerabilities have been fixed:

wnpa-sec-2019-21 Gryphon dissector infinite loop. Bug 16020.

The following bugs have been fixed:

Coloring Rules dialog - enable/disable coloring rule issues. Bug 15153.

Enabling Time-Of-Day in IO Graph causes the x-axis origin to be set to 01.01.1970. Bug 15247.

Wireshark GUI crashes when attempting to DnD multiple (possibly corrupted) pcapng files. Bug 15377.

Buildbot crash output: randpkt-2019-06-14-14291.pcap. Bug 15848.

802.11 RSN IE may be shorter than 18 bytes. Bug 15905.

Tshark outputs two data rate instead of one. Bug 15928.

Typo in checkbox label at bottom of sshdump configuration screen (save parameters). Bug 15929.

Invalid pkcs11_libs entry crashes on Windows. Bug 15957.

Add additional text output for DNS types (DNSSEC). Bug 15970.

LSD bittorent. Bug 15971.

dfilter_macros is missing from Configuration Files article. Bug 15973.

Pane configuration inconsistencies. Bug 15976.

Packet list is sorted in reverse order after applying a display filter in Qt 5.13. Bug 15979.

EAP-TLS fragments are repeatedly displayed. Bug 15982.

Broken TLS handshake reassembly in EAP-TTLS with multiple TLS sessions. Bug 15983.

Wireshark does not support USB packets with size greater than 256 KiB. Bug 15985.

"Unable to drop files during capture." when drag'n'drop entry to create display filter or filter button. Bug 15986.

Packet Bytes highlight for dns.qry.name.len and dns.count.labels off by one. Bug 15999.

Segmentation fault in nfs_name_snoop_fh. Bug 16017.

Changing the protocol preferences caused a crash. Bug 16019.

DCERPC dissector broken for functions with only scalar variables. Bug 16022.

New and Updated Features

There are no new features in this release.
New Protocol Support

There are no new protocols in this release.
Updated Protocol Support

BACnet, DCERPC, DNS, EAP, FC-dNS, Gryphon, IEEE 802.11, LSD, NFS, and Radiotap
New and Updated Capture File Support

CommView and PacketLogger
New and Updated Capture Interfaces support

There is no new or updated capture file support in this release.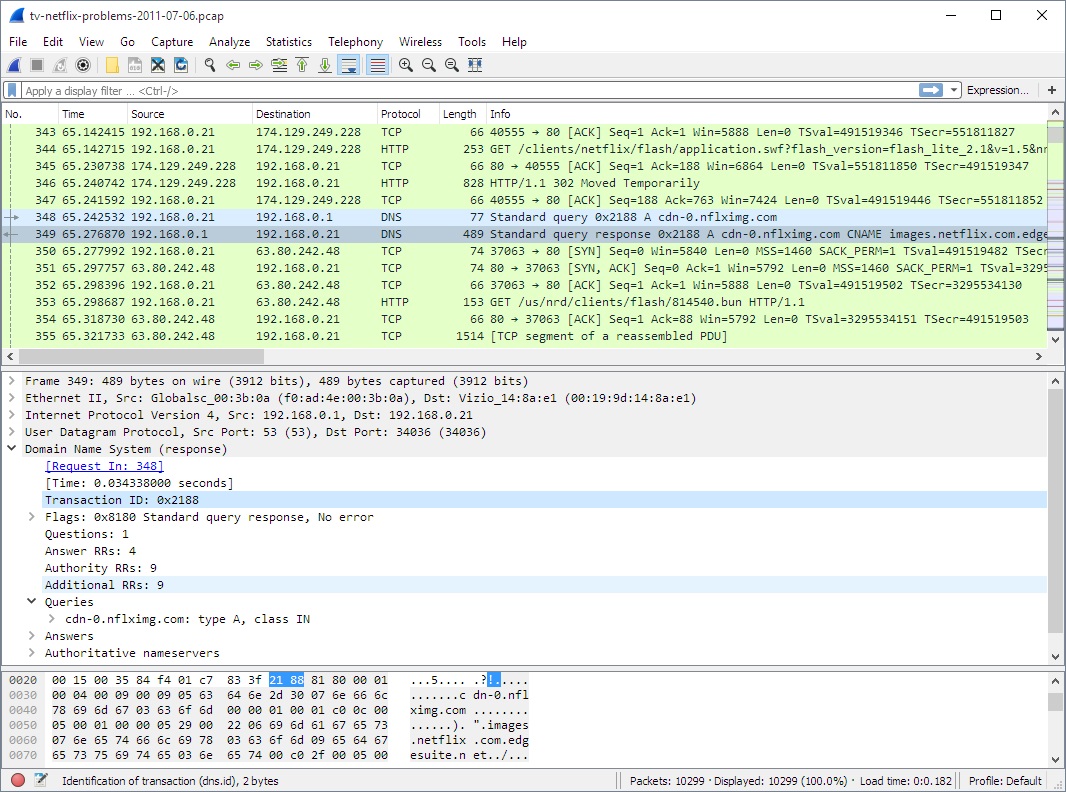 Click here to visit the author's website.
Continue below to download this file.