Aomei Backupper Standard v6.5.1
Aomei Backupper Standard v6.5.1 To rescue system failure or data loss, backup is important and necessary. AOMEI free backup software provides basic and advanced features to ensure the safety of your system and data. System Backup One-click system drive backup of all contents, including Windows operating system, installed applications and custom settings without interrupting your work. File Backup Securely back up individual files and folders, such as email, photos, videos, documents, games and programs. Also support backing up files from one network/NAS to another. Disk Backup Backup your hard disk drives, including basic disk, dynamic disk, MBR disk, GPT disk, external disk, USB flash drive and other storage devices that can be recognized by Windows. Partition Backup If you just want to backup one or more specified partitions or dynamic volumes, not entire disk. This free backup software allows you to back up partitions or dynamic volumes to a compressed image file. File Sync Synchronize files and folders automatically with a schedule to local disks, external hard drives, removable USB flash drives, NAS or network shared folders. Changelog: Version 6.5.1 (Released May 17, 2021) Enhanced "Create Bootable Media": the created bootable media supports both UEFI and Legacy BIOS boot modes. Enhanced "Create Bootable Media": The language of the created bootable media is same as the language used in AOMEI Backupper. Fixed issue: Computer is prevented from going to sleep/hibernation after a backup was completed in some systems. Fixed issue: The program startup slow because of the connection to the network node. Fixed issue: The program cannot load disk information after "Memory Integrity" is turned on in Windows10. Fixed issue: After installing Standard Edition, the startup program appears as a Server Trial Version. Fixed issue: The program auto-update failed because of ...

4,518
May 18, 2021
Aomei Technology Co., Ltd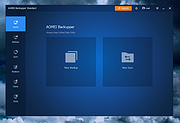 AOMEI PE Builder v2.0
AOMEI PE Builder v2.0 AOMEI PE Builder is a freeware to create a bootable environment into CD/DVD, USB flash drive or ISO file based on Windows PE (Windows Pre-installation Environment or download Windows PE creating environment from network) without installing AIK/WAIK, which integrates a set of tools that enables you to boot up your computer for easy maintenance and fast recovery tasks when the native system is corrupted or cannot be used. And the bootable media you create is compatible with both BIOS and UEFI, so you donít have to create two medias for those two boot modes separately. OS Support: Windows XP - Windows 10 and Windows Server 2003-2016 Features and Utilities of AOMEI PE Builder Familiar Windows Interface When creating WinPE bootable disk, AOMEI integrates desktop, Windows explorer, start menu, and task bar into the WinPE environment. This makes it easy and effortless for you to manage files and documents, just like using Windows operating system. No AIK/WAIK Installation To create a Windows PE media, typically you have to pre-install Windows AIK or WAIK, or prepare a Windows installation disc. Luckily, AOMEI PE Builder allows you to create a Windows PE boot disk without installing AIK/WAIK. It will save your valuable time and energy! Pack Portable Tools & Drivers Except many built-in tools in AOMEI PE Builder, you can still specify your own Windows PE through the following two functions: Add Files: Include more portable tools you like into WinPE bootable disk. Add Drivers: Add multiple drivers to WinPE bootable media to recognize more hardware. Support Network In most cases, the WinPE created by AOMEI PE Builder can be connected to network; through the network, you can: Off-line antivirus: When the computer is locked and canít remove viruses/Trojans due to viruses attack, download directly anti-virus software off-line version in Windows PE system. Maintain system: System administrator can easily maintain systems of ...

3,491
Mar 14, 2019
AOMEI Tech Co. Ltd.