Always scroll to the bottom of the page for the main download link.
We don't believe in fake/misleading download buttons and tricks. The link is always in the same place.
---

Link Shell Extension 64bit v3.9.2.9

The NTFS file system implemented in NT4, Windows 2000, Windows XP, Windows XP64, and Windows7/8/10 supports a facility known as hard links (referred to herein as Hardlinks). Hardlinks provide the ability to keep a single copy of a file yet have it appear in multiple folders (directories). They can be created with the POSIX command ln included in the Windows Resource Kit, the fsutil command utility included in Windows XP or my command line ln.exe utility Thus, using standard Windows facilities Hardlinks can only be created at the command prompt, which can be tedious, especially when Hardlinks to multiple files are required or when one only makes occasional use of Hardlinks. Support for Junctions in standard Microsoft software offerings is even more limited than that offered for Hardlinks.

Link Shell Extension (LSE) provides for the creation of Hardlinks , Junctions , Volume Mountpoints , and Windows7/8's Symbolic Links, (herein referred to collectively as Links) a folder cloning process that utilises Hardlinks or Symbolic Links and a copy process taking care of Junctions, Symbolic Links, and Hardlinks. LSE, as its name implies is implemented as a Shell extension and is accessed from Windows Explorer, or similar file/folder managers. The extension allows the user to select one or many files or folders, then using the mouse, complete the creation of the required Links - Hardlinks, Junctions or Symbolic Links or in the case of folders to create Clones consisting of Hard or Symbolic Links. LSE is supported on all Windows versions that support NTFS version 5.0 or later, including Windows XP64 and Windows7/8/10. Hardlinks, Junctions and Symbolic Links are NOT supported on FAT file systems, and nor is the Cloning and Smart Copy process supported on FAT file systems.
Within this document the terms action button and action (pop up) menu are used to refer what are often referred to as the right mouse button and the pop up menu that is displayed when that mouse button is pressed (often referred to as the context menu). Recognising that people swap the usage of their mouse buttons, Microsoft refer to the primary and secondary mouse buttons. We prefer to refer the mouse buttons as the Select button and the Action button; and rather than terms such as Context Menu, Shell Menu, Right Mouse Menu we use the term Action menu.

FULL INSTRUCTIONS HERE.


Change Info:
November 4, 2019 Version 3.9.2.9

Lots of strings very wrong. Introduced with 3.9.2.8
Removed 'Delete Junction' from main menu.
Improved menu hydraulics, e.g. once can not create Smart Copies of Symbolic Link Files.
Adapted check for Redistributables to VS2017 and Windows 10.
On non NTFS drives, files could no be selected as Link Source. Introduced with 3921
Unmount volume did not work, when elevation was needed.
New Windows 10 screenshots for docu and docu streamlining.
Signed with a code sign certificate
During Replace Junction/Symbolic Link/Mountpoint the original attributes got lost
The Link Properties Tab showed relative symbolic link dirs as absolute
The Link Properties Tab did not show up on dangling Junctions
Creation of file symbolic links didn't work in protected folders like 'Program Files' with Developer Mode on.
Replacement Junction/Symbolic Link didn't work on dangling Junction/Symbolic Link.
UAChelper mixed up relative and absolute link creation. Introduced with 3920
Added Ukranian localization, Finish localisation for missing texts
Cross Drive Drops didn't work. Introduced with 3921
Properties Dialog could cause a crash on changing junction targets
Autorename had a flaw when having more than 9 files with same name in a directory
Backup mode was broken. Introduced with 3921
Introduce Copy Symbolic Link/Junction/Mountpoint
Changes of non-admin users to e.g. symlink relativ/absolute had no effect. Fixed the misconception. What a mess
LSE is on gitlab.com. For now only private, but hope to change this soon.
SmartMirror in LSE had problem with nested reparse points
The symbolic replacement mechansism was broken for the elevated use-case. Caused by 3.8.7.2
Improved the progress estimation for the progressbar and introduced the Windows7 progress dialog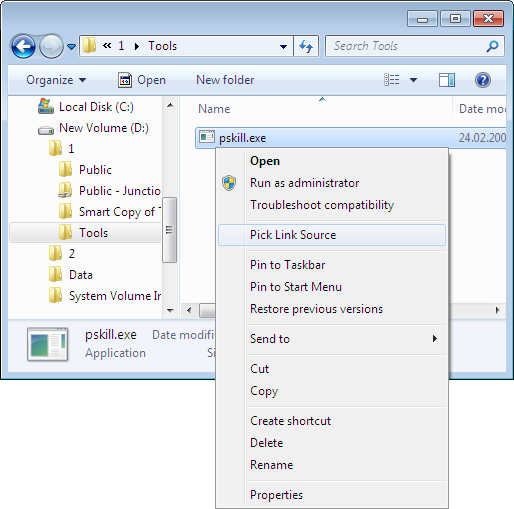 Continue below for the main download link.