Always scroll to the bottom of the page for the main download link.
We don't believe in fake/misleading download buttons and tricks. The link is always in the same place.
---

Long Path Fixer v0.9.0.0 64bit

Got a "Path Too Long" error in Windows? Try this free utility for moving, copying, renaming and deleting files and folders with Very Long Paths.

What does it do?

Simply put, Long Path Fixer is a program enables you to "get at" files and folders that Windows Explorer refuses to reach, that is, anything with a path longer than the Windows API can handle (MAX_PATH: 259 actual characters).

With Long Path Fixer, you can effortlessly manipulate files and folders with paths of up to 32,767 characters in length. No destination is "Too Long"!

How does it work?

Long Path Fixer presents you with a simple list of files and folders in the current directory (including "hidden" files and folders). You can drag and drop files or folders onto it and it will navigate directly to path of whatever you dropped.

From there, you simply click on the file or folder you want to move, copy, delete, and hit the appropriate button; Move, Copy or Delete. All these options are also available from the context (right-click) menu, as well as rename (I may add a button for that!), delete to recycle bin, copy the path and so on.

Just like Explorer windows, F5 refreshes the list.

The top item "●●" enables you to go UP, as if you hadn't guessed!

There is a drop-down menu at the top with all your available drives listed, so you can start navigating from there, use your up/down arrow keys to switch drives and so on. Having said that, it's usually easier to drag-and-drop items directly from Explorer.

Note: if you drag a shortcut, Long Path Fixer will automatically resolve the shortcut to its real location. If you would prefer to have it open at the actual .lnk file's directory, hold drown the <Ctrl> key whilst dropping the item onto the main window.

You can also have Long Path Fixer in your explorer directory context menu, and an option to enable this is available from Long Path Fixer's System Tray menu (see image below). This way you can right-click folders in Explorer and send them straight to Long Path Fixer, which will launch with your selected folder in view.

Alternatively, you can keep a shortcut in your SendTo menu, and send items from there. Or even drag and drop items directly onto Long Path Fixer, or a shortcut to it. If you send files, Long Path Fixer will open at the parent folder.

If you launch Long Path Fixer with no path on the command line (by clicking it directly), Long Path Fixer will remember your previous folder and start there, same goes for whatever destination folder you last chose to copy/move an item to - that's where the dialog will open next time around. Anything to save a few precious seconds!

On the subject of time-saving, if Long Path Fixer if buried beneath some windows on your desktop, hovering over its tray menu will jump it immediately to the front. There is also an option to stay on top, if you prefer.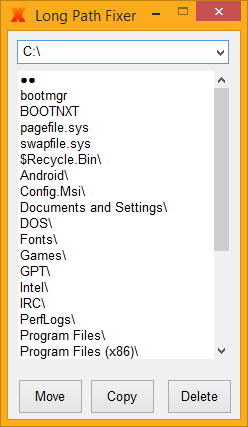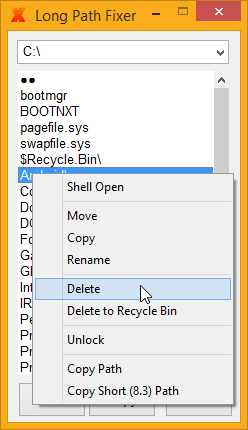 What if an item is locked?

Long Path Fixer has a context (right-click) menu in its file list. If you select an item and right-click the list, you have the option to open the item using the default shell (Explorer) action (this is also what happens if you double-click a file), as well options as move, copy, rename and delete the selected item.

You can also copy the full path in short or long format to your Windows clipboard (paths longer than 259 characters will be automatically prefixed with the standard UNC-style prefix "\\?\", for compatibility).

There is also an "unlock" option..

Long Path Fixer uses the excellent (and free) LockHunter to do its unlocking, silently launching LockHunter in the background to unlock the file.

It STILL won't delete?
When dealing with hard-to-shift files of any description, it's best to run Long Path Fixer as an Administrator. If something won't delete, do that!

There is a copy of of the preference file (Long Path Fixer.ini) sitting right next to the program (Long Path Fixer.exe), it will automatically switch to portable mode, so you can happily put Long Path Fixer in a Pen-Drive, DVD, Blu-Ray, or wherever you like.

Normally, your Long Path Fixer.ini is stored in your user folder (C:\Users\<Your-name>\corz\Long Path Fixer). By the way, if you ever need to manually edit your preferences (unlikely), there is an option to do exactly that in Long Path Fixer's System Tray menu..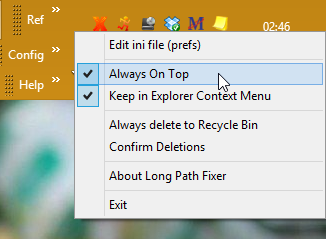 Changes:
0.9.0.0 [current release]


+ Added Rename option.

+ You can now disable the Delete confirmations, if required (in the System
Tray menu).

+ Added Hotkeys for Delete (Del key) and Rename (F2).

+ Added some guidance on what to do if a recycle operation fails..

(Recycling items can fail if the file name is too long, so either do a
full delete, or first rename the file to something shorter)

+ Added option to delete to recycle bin. By default, you have two options,
"Delete" and "Delete To Recycle Bin", and you can choose between them.
You can also set in your preferences..

delete_to_recycle_bin=true

in which case you will have only "Delete", and everything will go in the
recycle bin automatically.

This preference can be set from Long Path Fixer's System Tray Menu.

* Fixed an issue where double-clicking the list when nothing was selected
would throw up two notifications.





Click here to visit the author's website.
Continue below for the main download link.