Always scroll to the bottom of the page for the download link.
We don't believe in fake/misleading download buttons and tricks. The link is always in the same place.
---

DirPrintOK v4.23

DirPrintOK is a directory expression program for Windows you can print and save directory contents and / or directory structures.

It is very easy to print the content of a directory with DirPrintOK .DirPrintOK has a print preview with variable aspect ratio and also export functions to XLS/HTML/CSV/TXT. Famous views : tree-list, tree-list-plus, filters & console .

Key features id Directory Printer!

◆ Print individual file details, such as the MP3 ID3 tag
◆ Grouping: by file extension, modification time, size or folders
◆ Multi-Tab to open a second folder in a new tab
◆ Print: With print preview and variable aspect ratio.
◆ Print the dir list of the cmd.exe

Other Possibilities and Specification:
◆ Very small but effective print program
◆ Export: XLS file, CSV, TXT, HTML
◆ Low CPU and Memory Usage
◆ Fast Folder Swiching
◆ Portable
◆ Multilingual
◆ ... and much more

Why The Folder Print program?

Maybe you know it from DOS, so it was so easy to display and print the contents of a directory or directory structure.

The existing cmd.exe in Windows operating systems can also offer directory expression functions, such as with the command "TREE" or "Dir", but they are very cumbersome to use and very cumbersome for printing out folder contents. Yes, even in the new Windows 10 or old 8.1 and Seven, this has not improved much. DirPrintOK is different. The simple and clear view in the tree structure list view hybrids (tree list view) makes it much clearer and easier to use, especially as you can also see and print the file details.

Layout

"DirPrintOK" is very simple, but also very easy to use. My primary goal was to program an easy-to-use directory expression facility. And that anyone can easily choose folder and folder contents and print any.

Start and Use the Folder Printer

Start the program. The first time the program will show you a license on the screen. The program is free and the license info is only displayed when it is started for the first time (per PC).

In the directory structure (right), you can quickly select a folder, as well as the address bar. Folder selection can also be made via the main menu labeled "DirPrintOK".

In the Treelist (directory structure with details right) detail view, you can find a lot of useful information about all files and directories.

Adjusting the columns:

You can sort and select the columns individually, or show or hide them. For a quick and easy column selection, the columns are selected via a very effective column selection dialog box, which can be accessed via the context menu in the column header, with the help of which you can easily drag & drop, or use the "Remove", "Add", Move up, down, and down the columns for each file detail.

Remove objects:

In the detail view, you can right-click to remove files or folders from the current view. In this case, the object in is not deleted, only removed from the list. Very handy for objects that should not be printed from the directory view.

The Expression / Print

Please note that the expression is one to one. Column selection, width, and position are inherited from the view that you want to print, but you can use the folder expression preview to adjust them proportionally to the current paper size. Thus, an optimal use of the paper is guaranteed, with a very good readability.

Filtering the objects

Filter view allows you to filter specific file types and / or folders when printing folder contents. Here you can use the "wildcat" (* .dok, * auto * .htm, etc.). It is possible to do negative filtering (exclusion filter) and positive data filtering of directories and files. Thus, a targeted file selection in all subdirectories is possible.

Filter and group the data:

You can group the data to be printed in the filter view, by default it is grouped by directories (data path). You can also group by file type. A complete deactivation of the grouping is also possible. This function is very helpful, if you want to have a clear view of several subfolders (subdirectories) only the * .mp3 files (but of course also for the printout).

Directory Print Installation

The program "DirPrintOK" does not necessarily have to be installed. Just place it on the desktop and rename it to "DirPrintOK.exe" and you're ready to go. For portable use, copy to the USB stick. So you do not have to go without.



# Features

Export : File formats XLS, CSV, TXT, HTML
Magnifier : in case of poor eyesight or the fine print, which can magnify everything on the screen. Printing
function : With print preview and changeable aspect ratio.
Views : Treelist, Treelist + Filter and Command Prompt.
File Filter : Quickly filter the data in all folders including subfolders.
Console (cmd.exe) : For the standard view as in the cmd.exe.
Column Selection : Via Context Menu or Column Selection Dialog Box.


This download is for the 64bit version. If you need the 32bit version, download here.


New in version 4.23 // 10 September 2020
• Update due to false virus report on Win 10
• Only for security reasons, although there was no virus.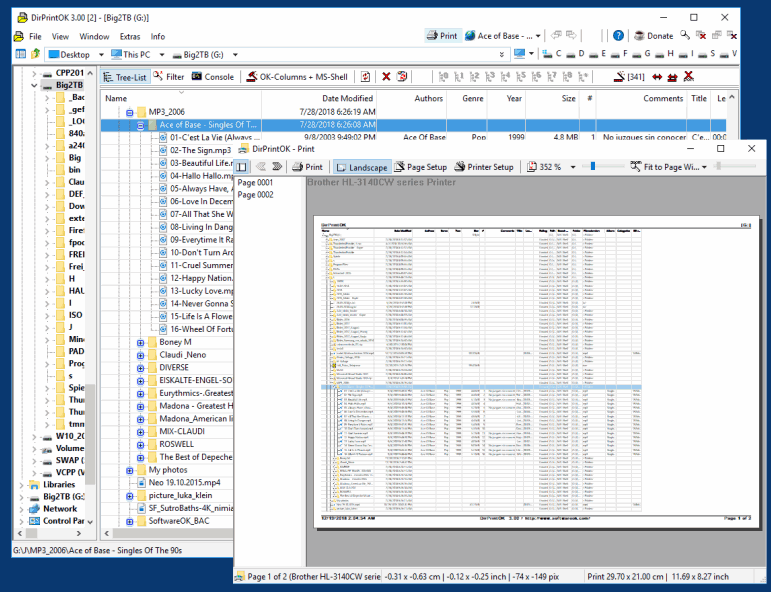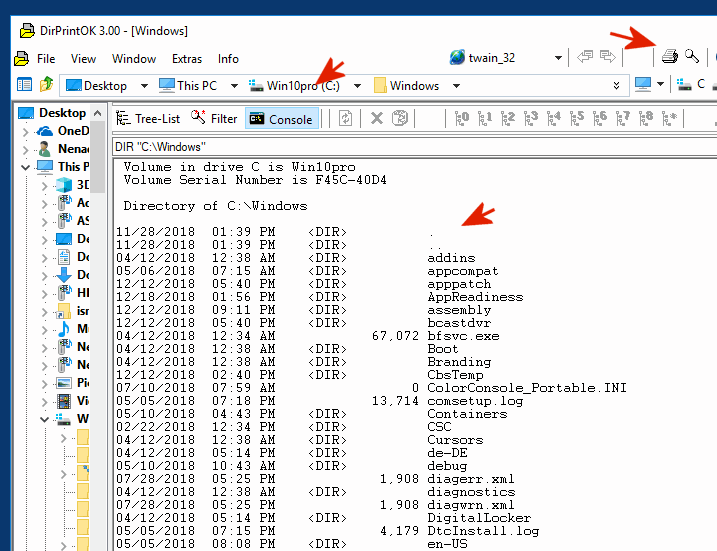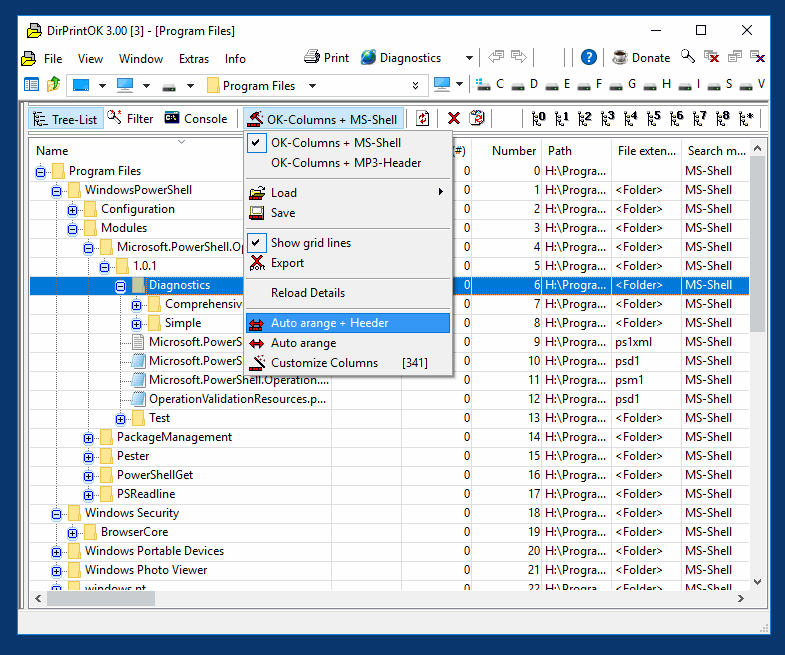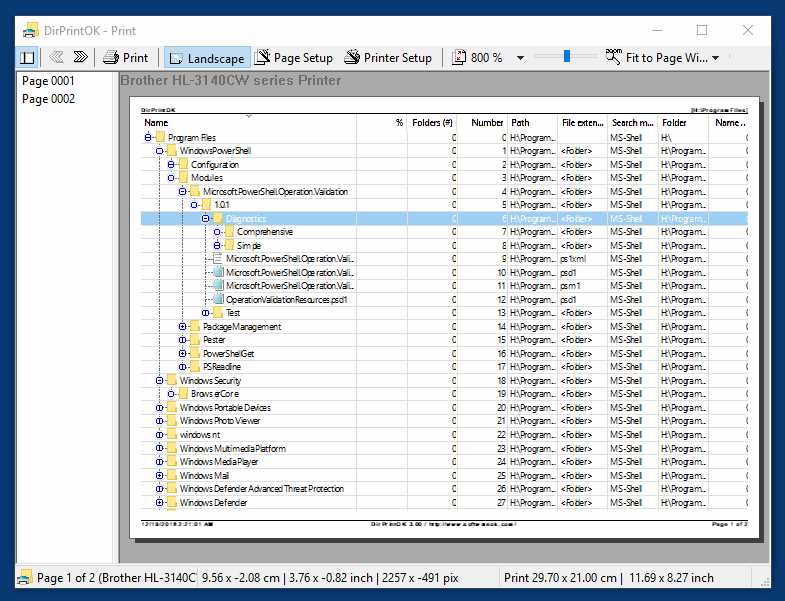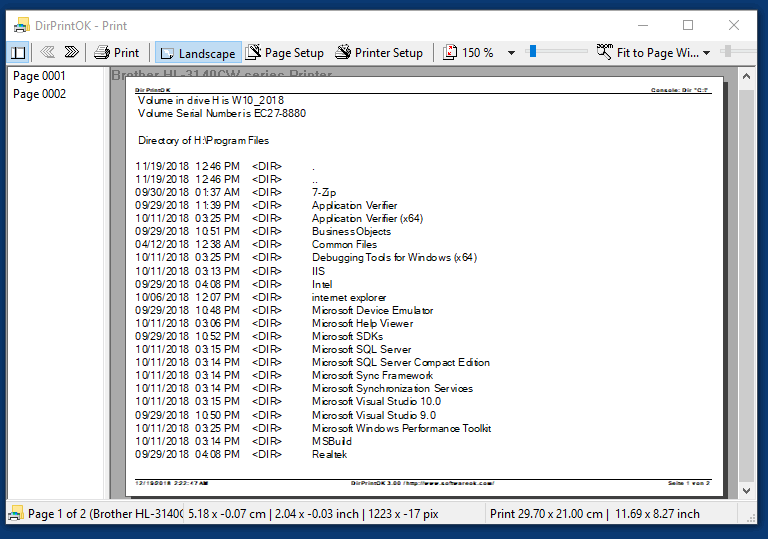 Click here to visit the author's website.
Continue below to download this file.