Always scroll to the bottom of the page to download files on OlderGeeks.com.
We don't believe in fake/misleading download buttons and tricks.

Biniware Run v1.8.0.0

Keep all important shortcuts in one place.

Program Overview

Biniware Run is a friendly, colorful and easy to use software which provides you fast access to your favorite website links, files and folders from one single place. Just drag and drop any website link, file or folder inside the colored circle from your desktop. You can easily access all you are interested in by using this handy software. You can define categories, move, sort, import, export or customize your shortcuts anytime. Instead of searching for bookmarks in different web browsers, files or folders through your computer, make your work and browsing easier with Biniware Run. And the best thing is that this software is portable. Even if there is an installer, this is just for checking the EULA, the changelog and a quick overview on how to use it. The installer will just extract one executable file and that's all. Want to get rid of it? Simple. Just delete the file.
Program Features

√ Easy to use and customizable user interface.
√ The shortcuts are displayed with their own icons.
√ Drag and drop support for website links, files and folders.
√ Shortcuts to .exe, .cmd, .bat files support parameters and setting a working directory.
√ Shortcuts to .exe, .cmd, .bat, .msc files can be executed with administrative privileges.
√ Sorting, moving, importing and exporting of the shortcuts are supported.
√ The configuration is stored in XML format, making it easy to edit the file in any text editor.
√ This is a portable software. You can move and execute it from any folder from your computer.
√ Full support for standard user accounts. Elevated privileges are not required.
Registered Users Features

√ Special thank you mention in the About section of the software.
System Requirements

√ Supported operating systems: Windows 10, 8.1, 8, 7, Vista, Windows Server 2008 and newer.
√ Microsoft .NET Framework version 4.5 or a newer version.

Changes:
What's new in version 1.8.0.0 (07.03.2019)

- New: Added support for using a custom icon for a shortcut, by using a PNG file from the icons subfolder.
- New: When choosing the user interface language, the language name is displayed instead of the language code.
- Fixed: When starting the application, the shortcuts icons are loaded twice, increasing the memory usage.
- Fixed: When deleting the last shortcut from the tree view, it is still selected even if it was deleted.
- Fixed: Pressing Tab key will select some unwanted controls when using keyboard navigation.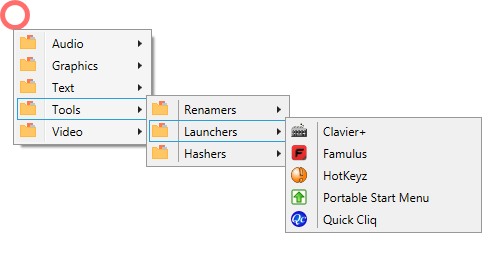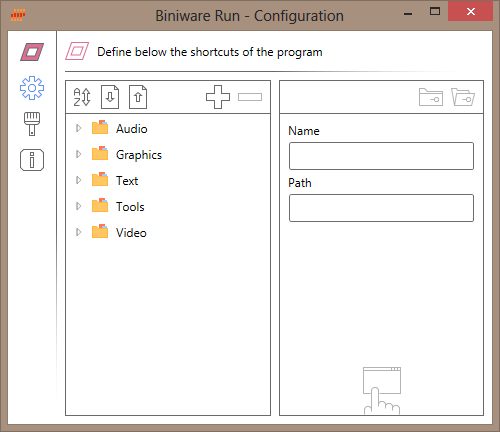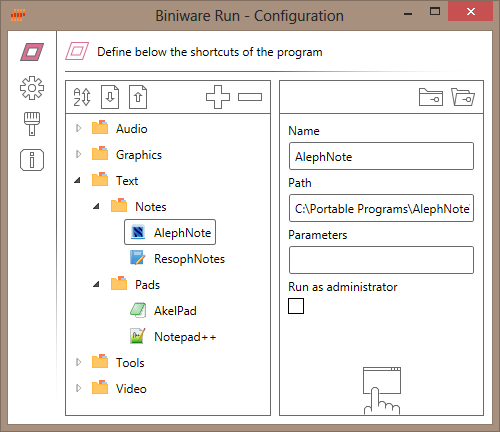 Click here to visit the author's website.
Continue below to download this file.