Always scroll to the bottom of the page for the main download link.
We don't believe in fake/misleading download buttons and tricks. The link is always in the same place.
---

Biniware Run v6.4.0.0

Keep all important shortcuts in one place.

Program Overview
Biniware Run is a portable Windows productivity tool which provides you fast access to your favorite website addresses, files and folders from one single place. Just drag and drop any website address, file or folder inside the colored circle from your desktop and you can easily access all you are interested in by using this handy software. You can define categories, move, sort, import, export or customize your shortcuts anytime. Instead of searching for bookmarks in different web browsers, files or folders through your computer, make your work and browsing easier with Biniware Run. And the best thing is that this software is portable. Download one small executable file, execute it and start organizing your favorite shortcuts. Want to get rid of it? Simple. Just delete the file.






Program Features
▪ Easy to use and highly customizable user interface.
▪ Drag and drop support to easily build your multilevel shortcuts structure.
▪ Alternative to the Quick Launch Toolbar with many new extra features.
▪ Dynamic discovery of files and folders for shortcuts to folders.
▪ Importing from HTLM bookmarks files exported with all web browsers is supported.
▪ Access your shortcuts on top of any application by using the customizable global keyboard shortcuts.
▪ The configuration is stored in XML format, making it easy to edit the file in any text editor.
▪ This is a portable software. You can move and execute it from any folder from your computer.
▪ Full support for standard user accounts. Elevated privileges are not required.
▪ And many, many more. Just try it out.

System Requirements
▪ Biniware Run is compiled for two different target frameworks: .NET Framework 4.5 or a newer version and .NET 7.0.
▪ Compatible with all x86 and x64 versions of Windows 11, 10, 8.1*, 8*, 7*, Vista SP2*, Server 2022, 2019, 2016, 2012*, 2008 R2*.
▪ *NET 7.0 build does not work on these operating system versions.

How does it work?
Biniware Run is displayed as a small circle on your desktop and/or in the system tray area, on top of other windows and provides drag and drop support for quickly creating new shortcuts. Access all your favorites from one single place.

Press left mouse button and drag the desktop icon to move it anywhere on the screen.


Press left mouse button on the desktop icon to open the shortcuts context menu or use the global hot key to open it on cursor position.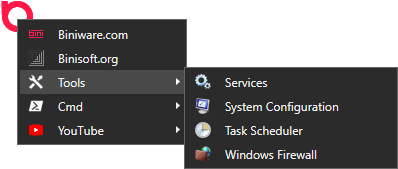 Drag and drop website addresses, files or folders inside the desktop icon to create new shortcuts.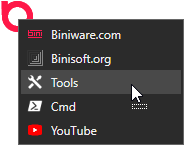 Press right mouse button on the desktop icon to configure, restart or exit the software.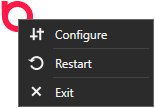 Please refer to the user manual (PDF) which provides more detailed information, including screenshots.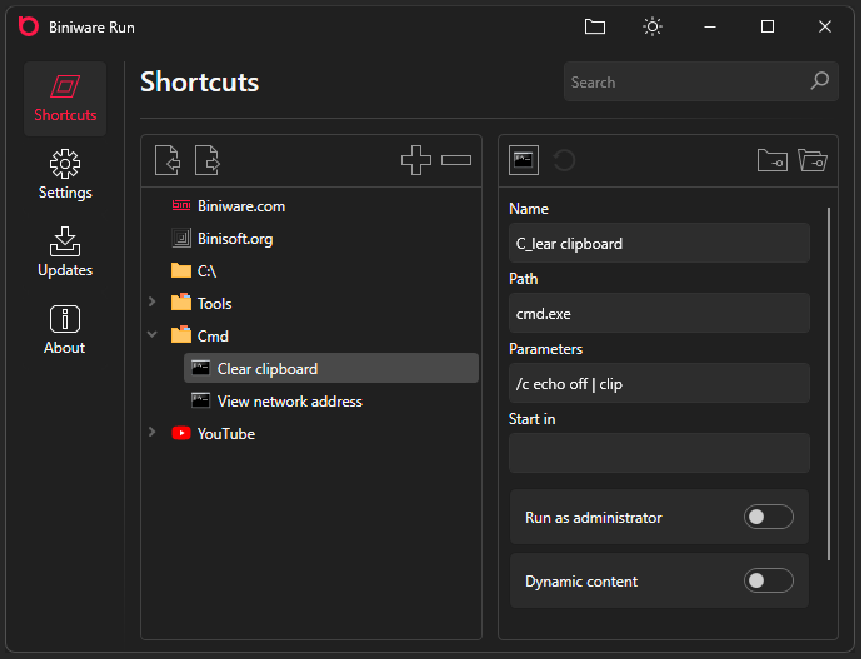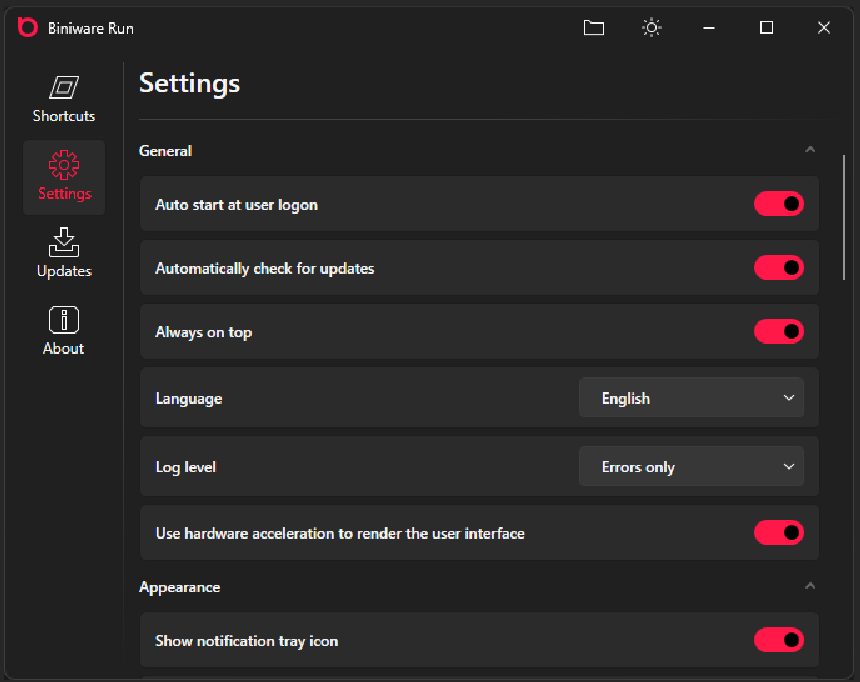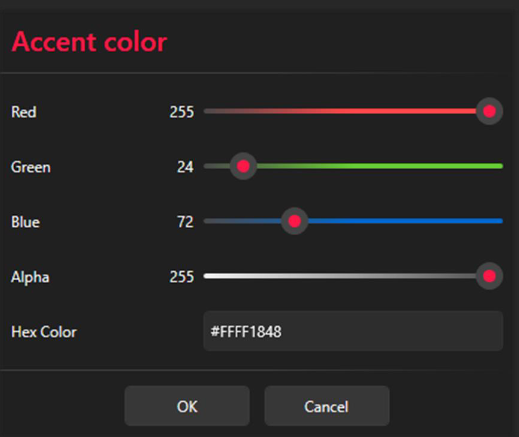 This download is for the version based on .NET 7.0 for Windows 10, 11, Server 2022, Server 2019 and Server 2016.
If you need the version based on .NET 4.5 or newer for any version of Windows or Server starting with Vista SP2, download here.


Click here to visit the author's website.
Continue below for the main download link.