Always scroll to the bottom of the page for the main download link.
We don't believe in fake/misleading download buttons and tricks. The link is always in the same place.
---

Resource Hacker v5.2.4

A freeware resource compiler and decompiler for Windows applications.

Resource Hacker is a resource editor for 32bit and 64bit Windows® applications. It's both a resource compiler (for *.rc files), and a decompiler - enabling viewing and editing of resources in executables (*.exe; *.dll; *.scr; etc) and compiled resource libraries (*.res, *.mui). While Resource Hacker is primarily a GUI application, it also provides many options for compiling and decompiling resources from the command-line.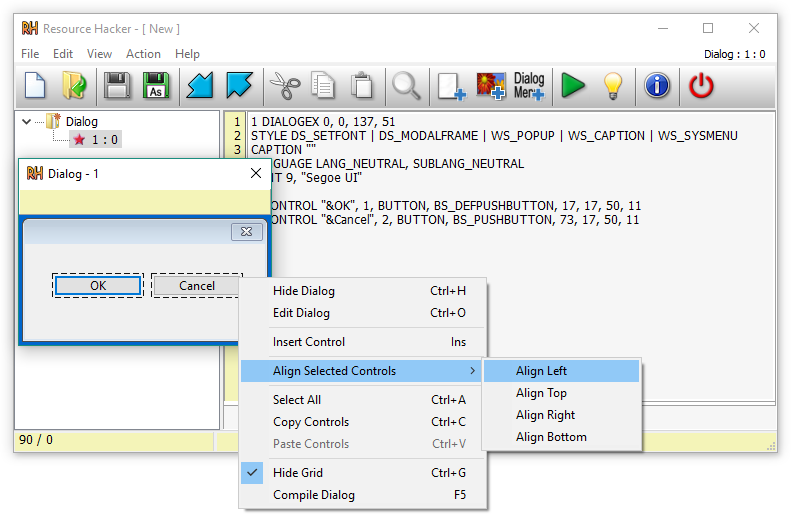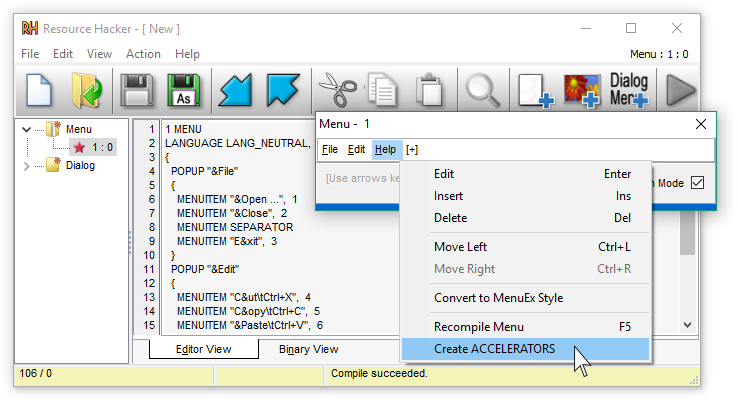 Compiling:
Compiling can be initiated either by opening an existing resource script file, or by creating one from scratch using Resource Hacker's editor.

A complete list of Resource-Definition Statements can be found here.

Additional features of Resource Hacker's compiler include: The #INCLUDE directive (to access definition statements in header files etc) can be nested to multiple levels, as can the #IF, and #IFDEF directives. #DEFINE, #UNDEF, #IF, #ELIF, #ELSE, #IFDEF, #IFNDEF, #INCLUDE, and #PRAGMA directives are all supported. Strings, between double-quote (") characters, may contain typical 'C' style backslashed 'escaped' characters \t ,
, \\ , \" , \x, \u and \377 (octal). A double-quote within a string must be 'escaped' using either a preceding backslash or with another double-quote. Script comments are preceded either by double forward-slashes (//) or by a semi-colon (;). Filenames with relative paths are allowed. Filenames that contain spaces must be enclosed within double-quote characters.

Compiler error messages are reported, even errors nested within INCLUDE statements...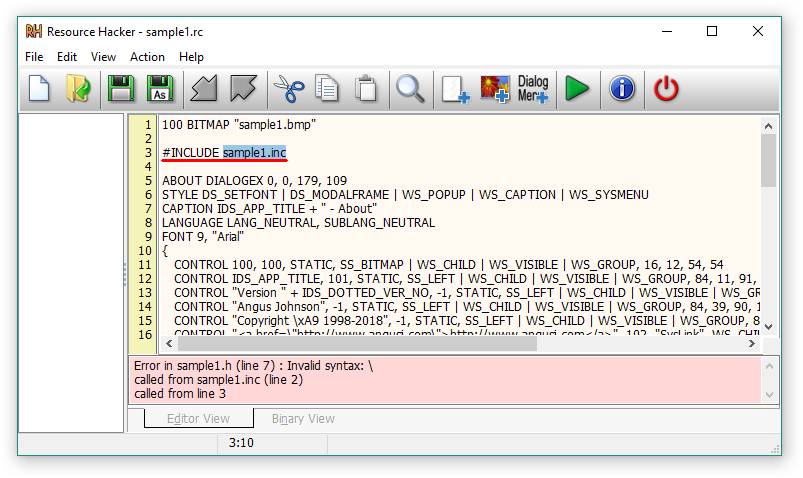 Viewing and Editing Resources:
Once a resource file has been opened, its resources will generally be displayed as either an image (or group of images) or as decompiled text. Binary resources, usually images, can't be edited directly with Resource Hacker, but they can still be very easily exported and imported once they've been modified by an external image editor. (I see no benefit in duplicating what third-party image editors do so well.)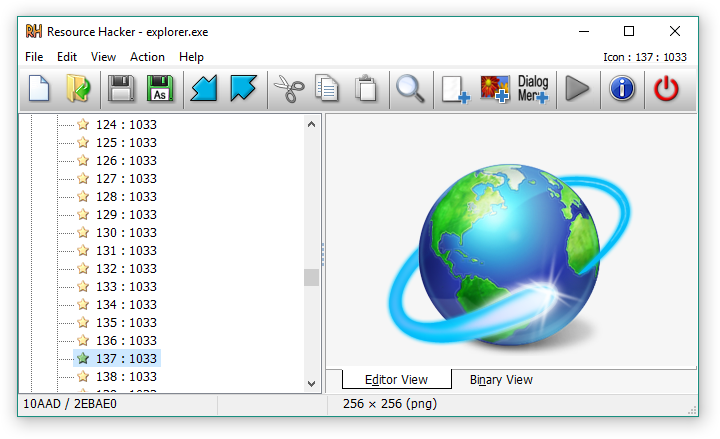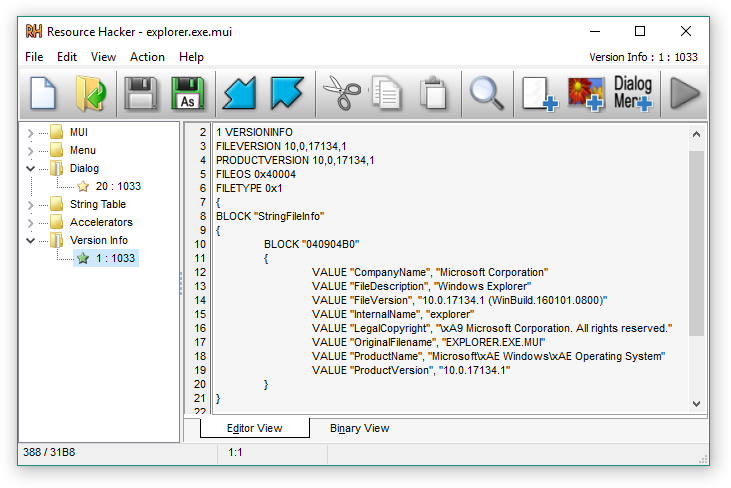 Menu and Dialog resource types have their own WYSIWYG designers: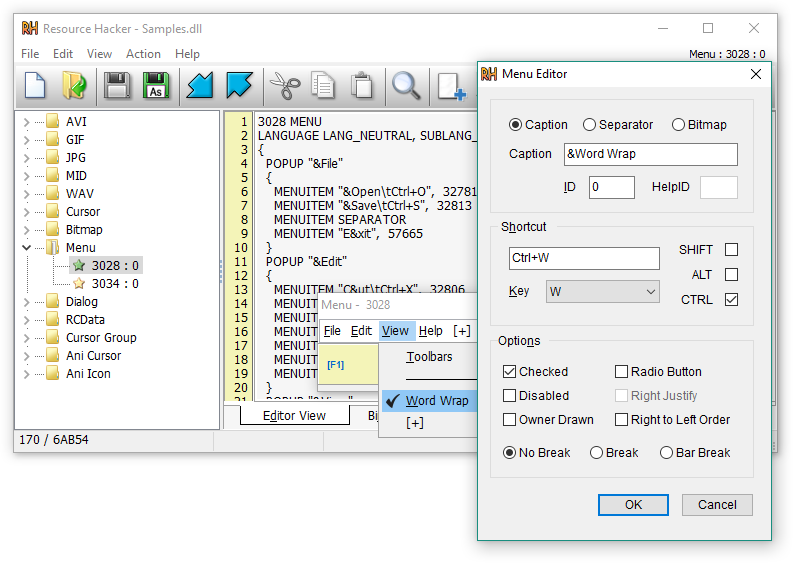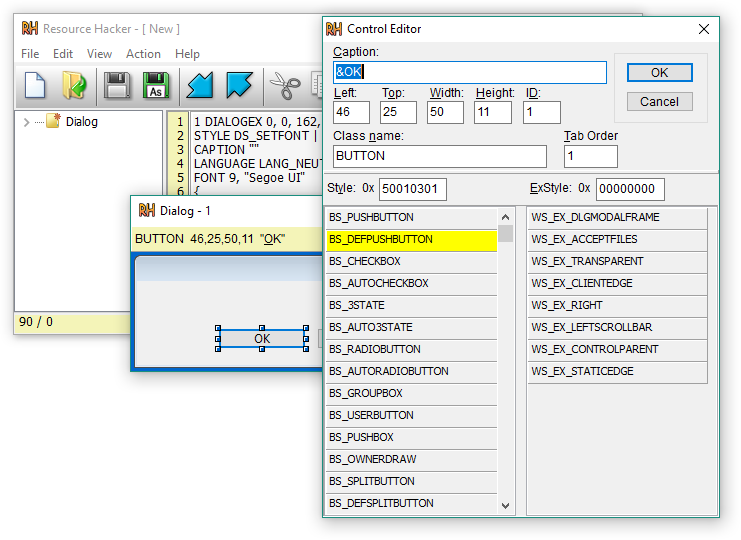 Binary resources that have unknown formats will be displayed as read-only binary text. (Any resource can also be viewed in this fashion if desired.)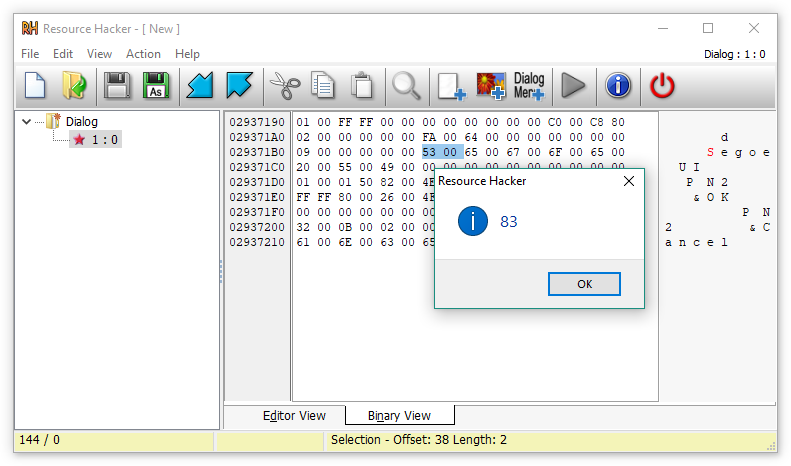 Other Actions: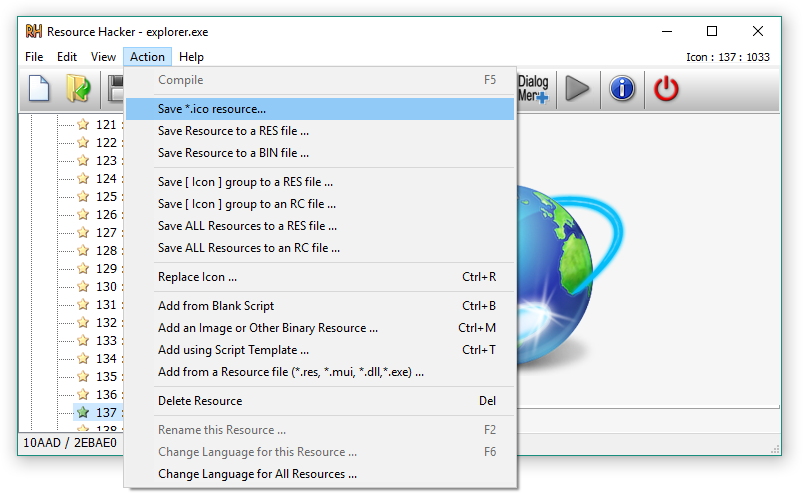 "Packed" or "Compressed" Executables:
Some executable files are "packed" or "compressed" using compression algorithms. Not only does this reduces file size, it also makes viewing and modifying resources marginally more difficult. I suspect that this resource 'hiding' is (or was) a common objective in this process. Anyhow, in deference to these authors, I've chosen not to unpack files with Resource Hacker. As a side note, it seems that "packed" executables have become quite uncommon over the last 5-10 years, and software authors are exposing more rather than less information in executable resources. I suspect that earlier concerns about the loss of intellectual property with reverse engineering have been allayed.


Changes
v5.2.4:
bugfixes for overflow errors





Click here to visit the author's website.
Continue below for the main download link.