Resource Hacker 5.1.6
Resource Hacker 5.1.6 Resource Hackerô has been designed to be the complete resource editing tool: compiling, viewing, decompiling and recompiling resources for both 32bit and 64bit Windows executables. Resource Hackerô can open any type of Windows executable (*.exe; *.dll; *.scr; *.mui etc) so that individual resources can be added modified or deleted within these files. Resource Hackerô can create and compile resource script files (*.rc), and edit resource files (*.res) too. Compiling: Compiling can be initiated either by passing a resource script file as a parameter on the the command line (see below), or by using Resource Hacker's text editor. Supported compiler directives include: #DEFINE, #UNDEF, #IF, #ELIF, #ELSE, #IFDEF, #IFNDEF, #INCLUDE, and #PRAGMA. The #INCLUDE, #IF, and #IFDEF directives can all be nested to multiple levels. Strings within resource statements are defined between double-quote (") characters. These strings can also contain typical 'C' style backslashed 'escaped' characters ó \t , , \\ , \" , and \000 .. \377 (octal). A double-quote within a string can be 'escaped' by preceding it with either a backslash or with another double-quote character. Script comments are preceded either by double forward-slashes (//) or by a semi-colon (;). Filenames in within resource statements can only be parsed as strings, so they MUST be enclosed within double-quote characters otherwise compile errors will be raised. A complete list of Resource-Definition Statements can be found here. Viewing Resources: Once a file has been opened, most resources will be displayed as either an image (or group of images) or as decompiled text: However, some resource types will be displayed in both its compiled form (eg dialog or popup menu) and in its decompiled text format. Some resource types can only be displayed as a dump of raw byte data: Using the internal editor to modify text-based resources: Dialog, menu, string-table, message-table, accelerators and Borland form resources can all be easily ...

460
Jul 31, 2018
Angus Johnson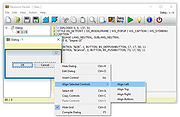 Resource Progress Bar 1.0.0.34
Resource Progress Bar 1.0.0.34 The Resource Progress Bar visualizes the load of the four most important resources defining user experience (CPU, RAM, network, HDD) in real time. The tool is useful when setting up the computer, and when installing programs. It helps to identify at once if the system is overloaded due to incorrect software or settings. Overload states may occur during general computer use as well. These could be either normal loads generated by operations that require high computing power, or abnormal loads caused by program errors and malicious background tasks. In such cases, the Resource Progress Bar effectively provides system status information. In case of overload, the Resource Progress Bar sends a warning via the tray icon. The actual data transfer speed of the network is displayed according to the pre-set limits. It also informs about the data transfer activity if the network or HDD usage is low (HDD Led and Network Led). The Resource Progress Bar can be set up to start automatically so that is loads together with the operating system according to the last saved status. Program size and other display options can be set, and the settings saved. The Resource Progress Bar is capable of operating with full functionality while running in the background. Benefits of the Resource Progress Bar: Effectively informs about the state of system resources Sends a warning in case of overload Can be set to start automatically Display options (position, size, Opacity, Show/Hide, Top) can be set, and the settings saved; the program will launch next time with the saved settings Limits can be set for the network process display Support for low network traffic and low HDD usage display (HDD LED and Network LED) ...

476
Jul 19, 2017
WinTools