Always scroll to the bottom of the page for the main download link.
We don't believe in fake/misleading download buttons and tricks. The link is always in the same place.
---

DropIt v8.5.1

When you need to organize files, DropIt can eliminate much of the drudgery of searching and manually opening folders and moving files around.

Drop a group of different files and folders on the floating DropIt image and it sorts them to defined destination folders, compresses or extracts them, opens them with associated programs or performs other defined actions.

You can define how to filter your files (by name, directory, size, date, properties, content, regular expressions) and associate one of the 21 available actions to perform (Move, Copy, Compress, Extract, Rename, Delete, Split, Join, Encrypt, Decrypt, Open With, Print, Upload, Send by Mail, Create Gallery, Create List, Create Playlist, Create Shortcut, Copy to Clipboard, Change Properties and Ignore). You can also organize your associations in profiles and automatically scan monitored folders at a defined time interval to process included files.










Feature List

Drag-and-Drop
Process files and folders simply dropping them on the target image
Filter Files & Folders
By name, directory, size, dates, properties, content or regular expressions
Folder Monitoring
Process files and folders automatically monitoring defined directories
21 Actions
Automatically perform an action on matching files and folders
Profiles
Collect associations in profiles and assign an image to easily recognize it
Comprehensive Path Support
Support absolute paths, relative paths, UNC paths for shared folders
Abbreviations
Support internal, custom and system environment variables
Alternative Usages
Support SendTo and Command-Line to process files and folders
Multi-language
Available with multi-language interface
Profile Encryption
Support encryption to protect your profiles with a password
Automatic Update
Support automatic software update
Activity Log
Support log file creation to verify processing operations
Unicode
Support for Unicode encoding
Optimized Versions
Available in both installer and portable versions for 32/64-bit Windows

Supported Actions

Currently DropIt allows to perform the following 21 actions on your files and folders:

Move: to move files/folders to the defined destination folder (for example to organize images by date and properties).
Copy: to copy files/folders to the defined destination folder.
Compress: to compress files/folders in one of the supported destination archive formats (ZIP, 7Z, Self-Extracting EXE).
Extract: to extract supported archives in the defined destination folder (7Z, APM, ARJ, BZIP2, CAB, CHM, CPIO, DEB, DMG, EXE, FAT, FLV, GZIP, HFS, ISO, JAR, LHA, LZH, LZMA, MBR, MSI, MSLZ, NFTS, NSIS, ONEPKG, RAR, RPM, SMZIP, SQX, SWF, TAR, UDF, VHD, WIM, XAR, XZ, Z, ZIP).
Rename: to rename files/folders with the defined new name (using abbreviations to customize it).
Delete: to delete files/folders with the defined method: Directly Remove (files are removed, but they could be restored using a recovery tool), Safely Erase (files are overwritten with the "DoD 3-pass" wiping method, to make them unrecoverable), Send to Recycle Bin (files are sent to recycle bin and are still available from there).
Split: to split files/folders in parts with a defined size.
Join: to recombine files/folders previously split (automatically trying to load missing parts).
Encrypt: to encrypt files/folders in the defined destination folder (to protect your personal data).
Decrypt: to decrypt files/folders in the defined destination folder (previously encrypted with DropIt).
Open With: to open files with the defined destination program (parameters supported).
Print: to print files using default system applications based on file formats.
Upload: to upload files/folders to a server using FTP or SFTP protocols.
Send by Mail: to attach files/folders to a mail and send them using SMTP protocol.
Create Gallery: to create a image gallery in the destination folder (HTML). In particular you can create galleries with several themes like Brochure, Circles, Default, Pile, SquareHeads and many others.
Create List: to create a list of files/folders in one of the supported destination file formats (HTML, PDF, XLS, TXT, CSV, XML). In particular you can create HTML lists with several themes like Arrowistic, Casablanca, DeepGreen, Default, Precision and many others.
Create Playlist: to create a playlist of files in one of the supported destination file formats (M3U, M3U8, PLS, WPL).
Create Shortcut: to create file/folders shortcuts in the destination folder.
Copy to Clipboard: to copy the desired file information to the system Clipboard.
Change Properties: to change file date, time and attributes.
Ignore: to ignore files/folders and skip them during process.

Crash Course

Download it, extract the portable package and run it.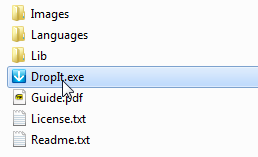 It appears to Float on top of your Desktop or anything you are running.







Good. It's supposed to… a little Blue Down arrow. It actually lives in my System Tray on the bottom of the screen for me, but you are free to choose where position it. That's it. Good.

NOW.

First understand this fact. I have a folder on my Desktop where I put all my text files.
It's called TXT to Keep by the way.

Let's start.

It's Floating like Magic.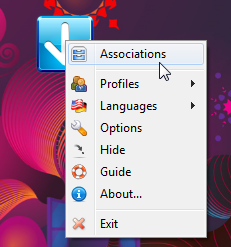 Right-click the DropIt Icon.
Pick "Associations".
Click on Green Plus mark "+" to create your first association.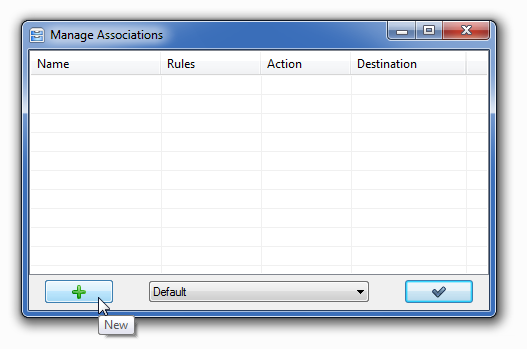 Now you need to compile the opened window, to define the association between Rules to filter files and the Action to process them.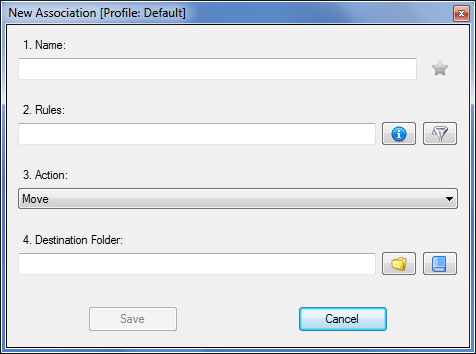 1. Name
You type there, the words: Copy TXT to Folder on Desktop

2. Rules
You click on "blue i" for information (you need information after all).
Pick "Rule Examples" for JPG files, click on it, it throws an example into your real Rule box, ie *.jpg.
Now edit it so it reads *.txt which means "All txt files". You want the TXT association, not JPG.

3. Action
Here you pick what to do with your TXT files. Pick "Copy", of course.

4. Destination Folder
Click "yellow folder" icon, find Desktop and click it.
DropIt will type the path to your Desktop for you. It works for you.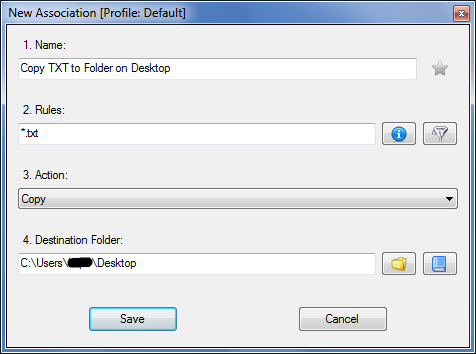 Click "Save", and the "check mark" button on the right to close this window.

It's still floating, waiting for your next drag and drop.

Go back and look at it all again. Pat yourself on the back.

There it is, floating, check its box, and make it your Personal Assistent.








The next time that you drag a TXT file to the DropIt Icon and let go of it, it will read your list of associations, find this new rule and copy the text file to your folder on the Desktop for you. If you drag and drop a DOC or JPG file by mistake, nothing will happen. Your rule is for dealing with TXT files.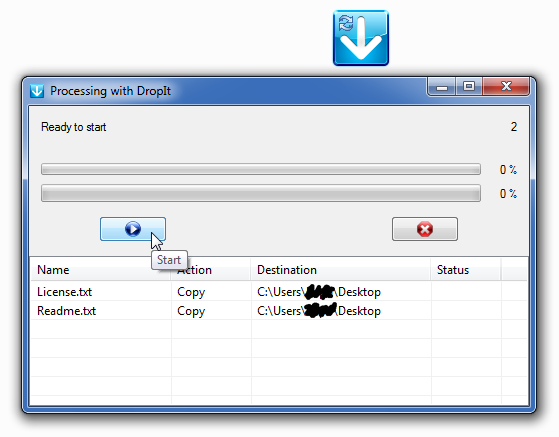 Just DROP IT and it's done. How easy it is to use.

Now go and make some more new associations, so you can just select one when you are working with files. You won't have time to think about it then.


The LAZY way to make an Association

Grab a TXT or JPG file and move it to DropIt and DROP IT. It will sense that there's no association made for it yet, and DropIt will ask you if you want to make one. Hey, this is easy now!

Give this Association a Name you will remember, like Move Pictures to my Image Folder, etc. Fill out the types of files associated with this Name. ie *.jpg;*.gif;*.png (separate with semicolons)

Select the word "Move" as Action.

Choose where you want the images to be moved, ie pick a folder where your images are located.

Taa Daa! You did it the Lazy way.


DropIt ChangeLog
-----------------------------

Version 8.5.1 [10-02-2018]
- fixed support to "Immediate on-change" monitoring mode
- fixed some minor bugs





Click here to visit the author's website.
Continue below for the main download link.