Always scroll to the bottom of the page for the download link.
We don't believe in fake/misleading download buttons and tricks. The link is always in the same place.
---

ClickMonitorDDC v7.0

Adjust the contrast and brightness of your monitor from the System Tray.

Simply click the notification icon in the taskbar tray area to adjust brightness or contrast,
much more comfortable and faster than manually messing around with monitor-buttons.
The notification icon informs you about the monitor values,
you simply look at the icon to check if the wanted values are already set.

supports shortcut icon link command-line arguments, for instance
b20 c30 sets first monitor brightness 20 and contrast 30
optionally you can prepend monitornumber (1 or higher), for instance
2 c55 2 b40 sets second monitor contrast 55 and brightness 40
b+6 c-8 increases actual brightness by 6 and decreases actual contrast by 8
v90 sets volume to 90%, v+10 increases volume by 10%, v -8 decreases volume by 8%
m for mute volume, u for unmute volume. x for shutting off monitor.
Besides you can create popup-menu-entries for executing command-lines.
Also you can define hot keys for executing such command-line arguments,
hot keys are functioning even in fullscreen videoplayers and games,
therefore more powerful than desktop icon link shortcut keys.
multiple arguments are possible up to 259 chars, lower/uppercase and spaces are optional

The portable file can be run from any location without installation, supports autostart,
works with external monitors (DDC-protocol) and laptops, needs win7/8/10
You use this software at your own risk, I disclaim any responsibility for any harm.
You are allowed to use and spread this program for free.

More Information:

ClickMonitorDDC can adjust brightness and contrast of external monitors
by using DDC-protocol over monitor-cable (DVI, HDMI, DisplayPort, VGA).
Nearly all monitors support DDC-protocol, but some monitors may not work
because of faulty or no DDC-protocol. A few monitors allow to deactivate DDC-protocol,
but DDC-protocol is a useful thing, also windows makes use of it,
for instance to find out about best resolution.
So do not deactivate DDC-protocol.

ClickMonitorDDC offers in settings an option named 'Search monitors only when started'
Setting this option speeds up opening of ClickMonitorDDC-window (about 100 ms),
because ClickMonitorDDC only once at programstart searches and reads values from monitors.
But if you are adding or removing monitors or manually pressing monitor-buttons,
ClickMonitorDDC could show wrong values, because of not refreshing the actual state.

ClickMonitorDDC offers in settings an option named 'Hot key notification'
If you set values directly in ClickMonitorDDC-window, this option has no effect,
but if you press defined hot keys and ClickMonitorDDC-window is invisible,
then setting this option gives you an optical feedback, what the pressed hot key did.

ClickMonitorDDC also offers volume control, but this is not done by DDC-protocol.
Adjusting volume can be very complex, because of different devices and formats,
stereo, compressed, uncompressed multi-channel and so on.
Best thing is simply to use the windows-functions. Windows offers sliders to do this,
nevertheless I added this feature because you can define hotkeys for adjusting volume.

ClickMonitorDDC also allows setting Backlight-Brightness of laptop/notebook-LCD-Displays.
Laptops have special FN-key-combinations to do this, nevertheless I implemented support
for laptop-brightness, because laptops allow to add an external monitor,
and it would be irritating if ClickMonitorDDC would not show both displays.
ClickMonitorDDC shows values between 0 - 100, which is fine with external monitors,
but the internal LCD-display supports normally only a few levels,
for instance 16 levels, for instance 1 3 4 5 6 8 10 13 17 22 29 38 49 63 80 100,
so setting brightness 70 would result in setting brightness 63
Windows hides this irritating numbers from user, and offers a slider with 16 positions.

Changes:
7.0
Now clicking icons with middle mouse-button toggles two values, enter values in mouse-settings, e.g. brightness 0 and 50,
then middle-clicking a brightness-icon sets brightness 0, again middle-clicking sets 50, again middle-clicking 0 and so on.
Using mousewheel with defined modifiers did not execute assigned commandline. Fixed.
Default-delay for repeating command-lines is 100 ms, can now be lowered to 10 ms.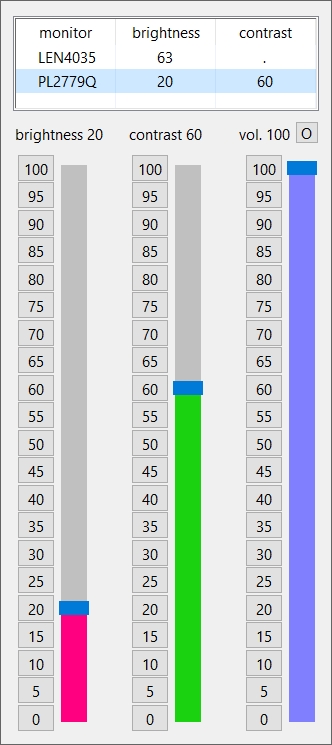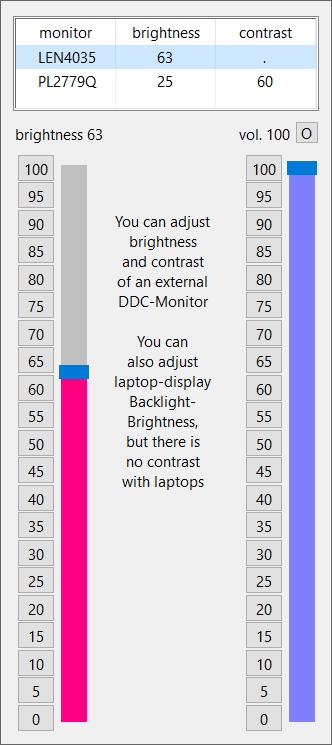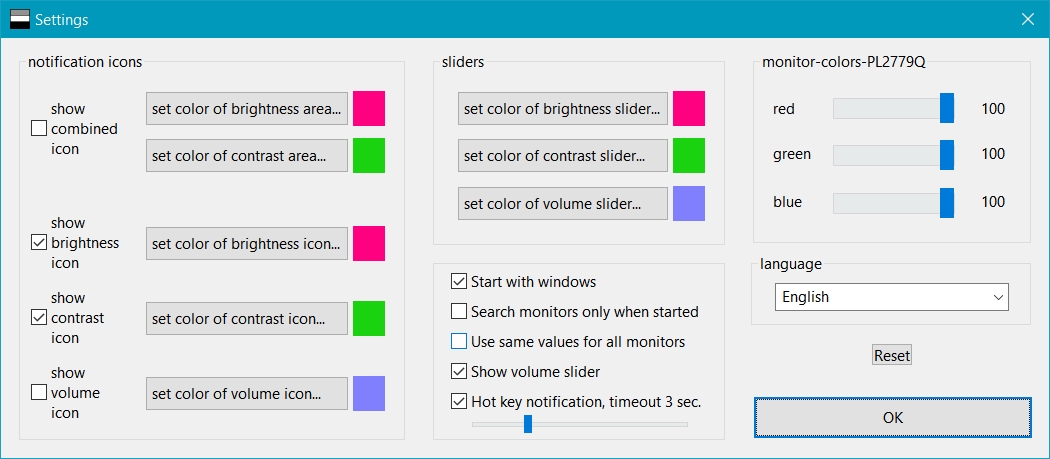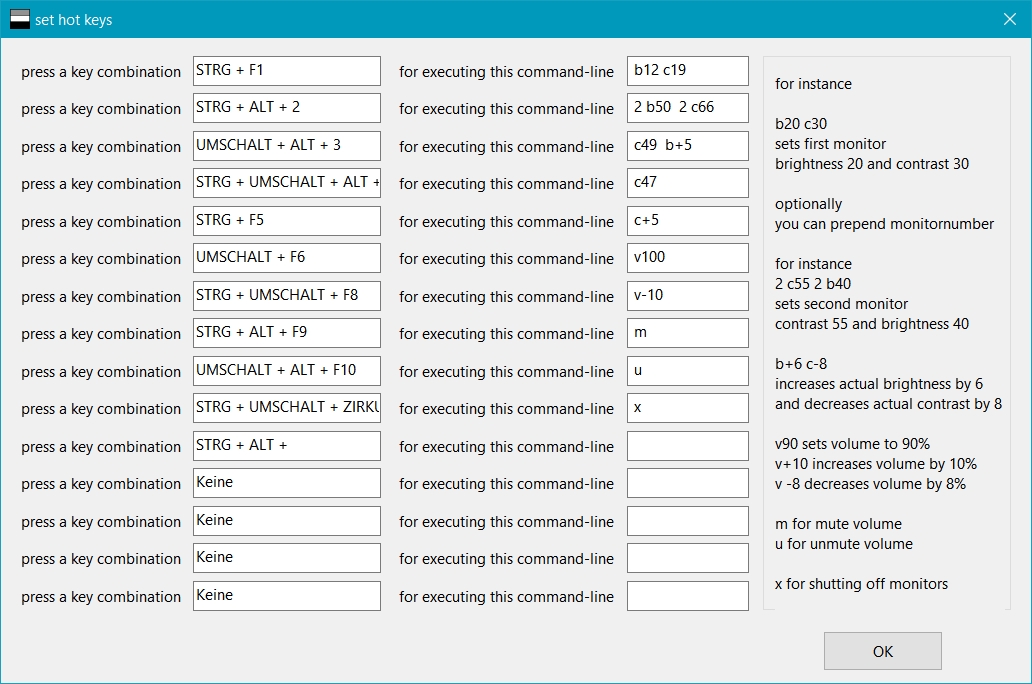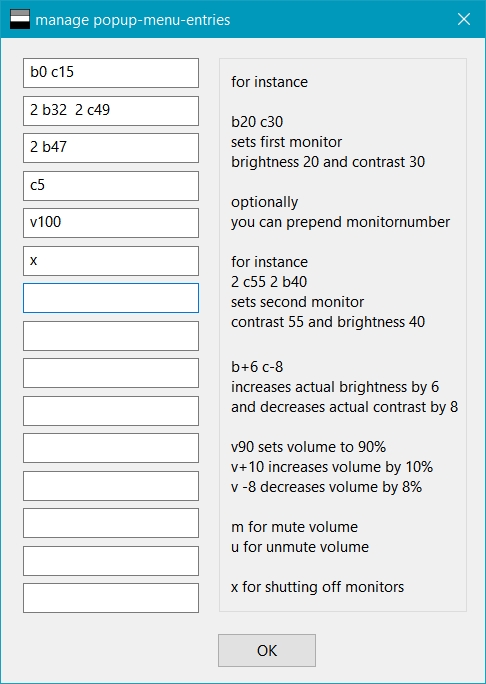 Click here to visit the author's website.
Continue below to download this file.