ClickMonitorDDC v7.0
ClickMonitorDDC v7.0 Adjust the contrast and brightness of your monitor from the System Tray. Simply click the notification icon in the taskbar tray area to adjust brightness or contrast, much more comfortable and faster than manually messing around with monitor-buttons. The notification icon informs you about the monitor values, you simply look at the icon to check if the wanted values are already set. supports shortcut icon link command-line arguments, for instance b20 c30 sets first monitor brightness 20 and contrast 30 optionally you can prepend monitornumber (1 or higher), for instance 2 c55 2 b40 sets second monitor contrast 55 and brightness 40 b+6 c-8 increases actual brightness by 6 and decreases actual contrast by 8 v90 sets volume to 90%, v+10 increases volume by 10%, v -8 decreases volume by 8% m for mute volume, u for unmute volume. x for shutting off monitor. Besides you can create popup-menu-entries for executing command-lines. Also you can define hot keys for executing such command-line arguments, hot keys are functioning even in fullscreen videoplayers and games, therefore more powerful than desktop icon link shortcut keys. multiple arguments are possible up to 259 chars, lower/uppercase and spaces are optional The portable file can be run from any location without installation, supports autostart, works with external monitors (DDC-protocol) and laptops, needs win7/8/10 You use this software at your own risk, I disclaim any responsibility for any harm. You are allowed to use and spread this program for free. More Information: ClickMonitorDDC can adjust brightness and contrast of external monitors by using DDC-protocol over monitor-cable (DVI, HDMI, DisplayPort, VGA). Nearly all monitors support DDC-protocol, but some monitors may not work because of faulty or no DDC-protocol. A few monitors allow to deactivate DDC-protocol, but DDC-protocol is a useful thing, also windows makes use of it, for instance to find out about best resolution. So do not deactivate DDC-protocol. ClickMonitorDDC offers in settings an option named 'Search monitors only when started' Setting this option speeds ...

3,326
Aug 01, 2019
ClickMonitorDDC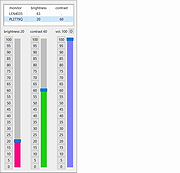 MemTest v7.0
MemTest v7.0 MemTest is a RAM tester that runs under Windows. It verifies that your computer can reliably store and retrieve data from memory. A correctly functioning computer should be able to do this with 100% accuracy day in and day out. A computer that fails these tests, perhaps because of old hardware, damaged hardware, or poorly configured hardware, will be less stable and crash more often. Even worse, it will become even less stable over time as corrupted data is written to your hard disk. By running MemTest you can ensure that your computer's RAM correctly functions. It is wise to test this when you buy a new computer, install new RAM, or change the configuration of your machine (for instance, to overclock it). Are you the sort of user who likes to push the performance of your machine to the edge? Relying upon whether your machine will boot after your new BIOS tweaks is a poor way to determine the safety of your new settings. Use Mem Test as a true test of stability. Release notes: 7.0: New MemTest Pro UI gives instant control over the number of threads and how much ram per thread, and summarizes results across threads. Displays total memory test throughput too. Click here to visit the author's website.

3,553
Feb 08, 2021
HCI Design