Always scroll to the bottom of the page to download files on OlderGeeks.com.
We don't believe in fake/misleading download buttons and tricks.

DeepSound 2.0
DeepSound is a steganography tool and audio converter that hides secret data into audio files. The application also enables you to extract secret files directly from audio files or audio CD tracks.

DeepSound might be used as copyright marking software for wave, flac, wma, ape, and audio CD. DeepSound also support encrypting secret files using AES-256(Advanced Encryption Standard) to improve data protection.

The application additionally contains an easy to use Audio Converter Module that can encode several audio formats (FLAC, MP3, WMA, WAV, APE) to others (FLAC, MP3, WAV, APE).

System requirements:

- Windows XP/Vista/7/8
- Microsoft .NET Framework 3.5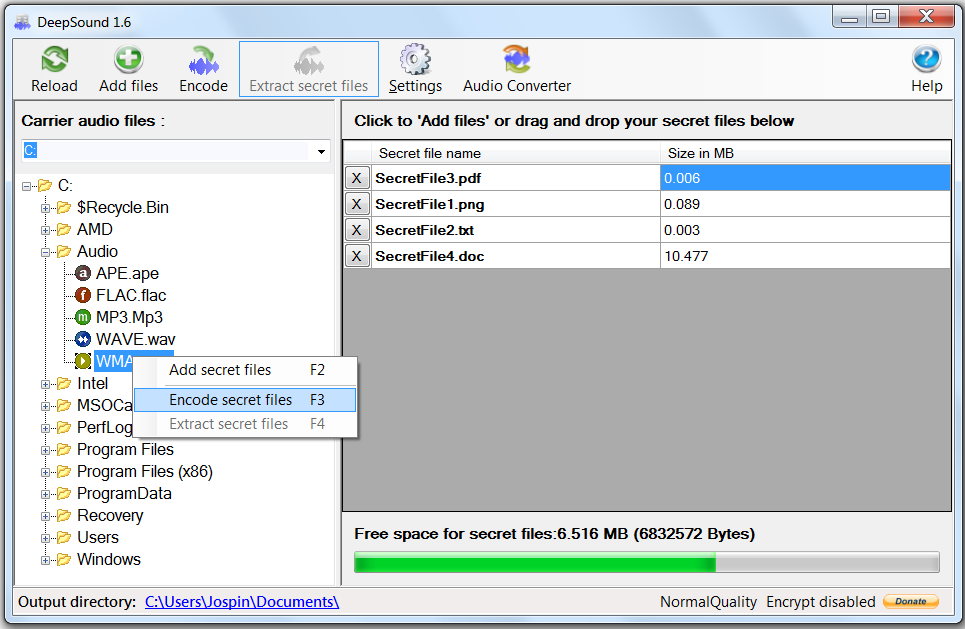 Documentation:

1 DeepSound 2.0


1.1 Hide data into carrier audio file

To hide data into audio file, follow these steps:

Select carrier audio file or drag and drop audio file (flac, wav, wma, mp3, ape) into the file explorer.
Click to 'Add files' or drag and drop secret files into the panel on the right side of application.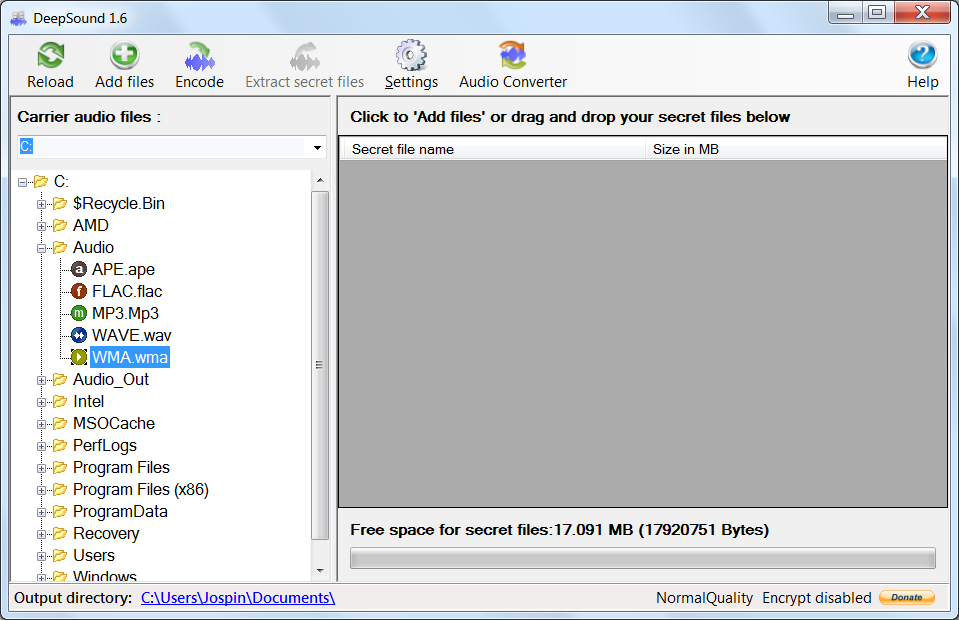 Press F3 key or click to encode secret files.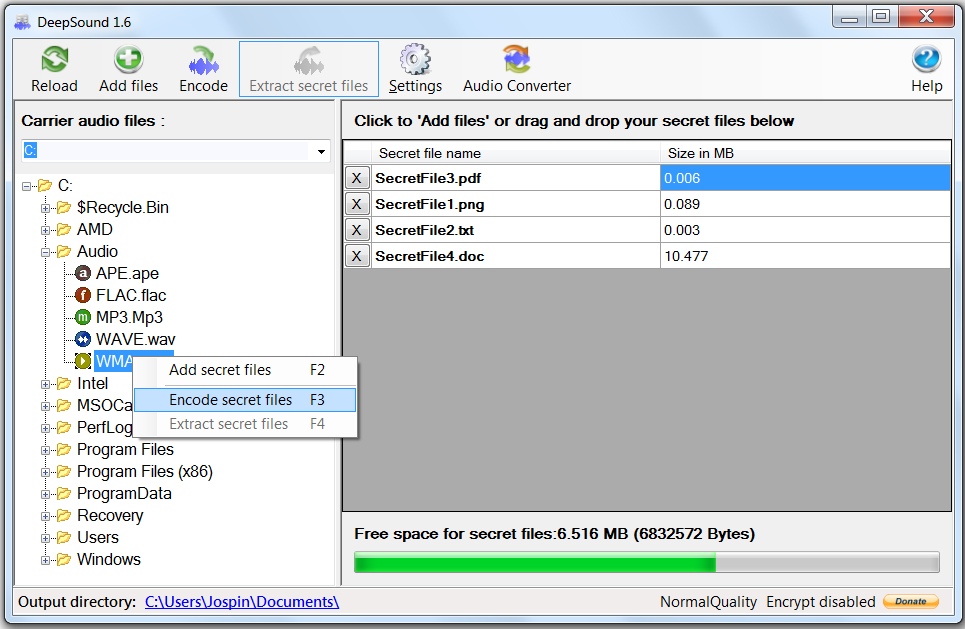 You can choose output audio format (wav, flac or ape). DeepSound does not support wma output format. If you want to hide data into wma, hide secret data into wav file and then use external software such as Windows Media Encoder for convert wav to wma lossless file.
In settings dialog you can turn On/Off encrypting and set password. Modified audio file will be copied to output directory. Click Ok to start hiding secret files into carrier audio file.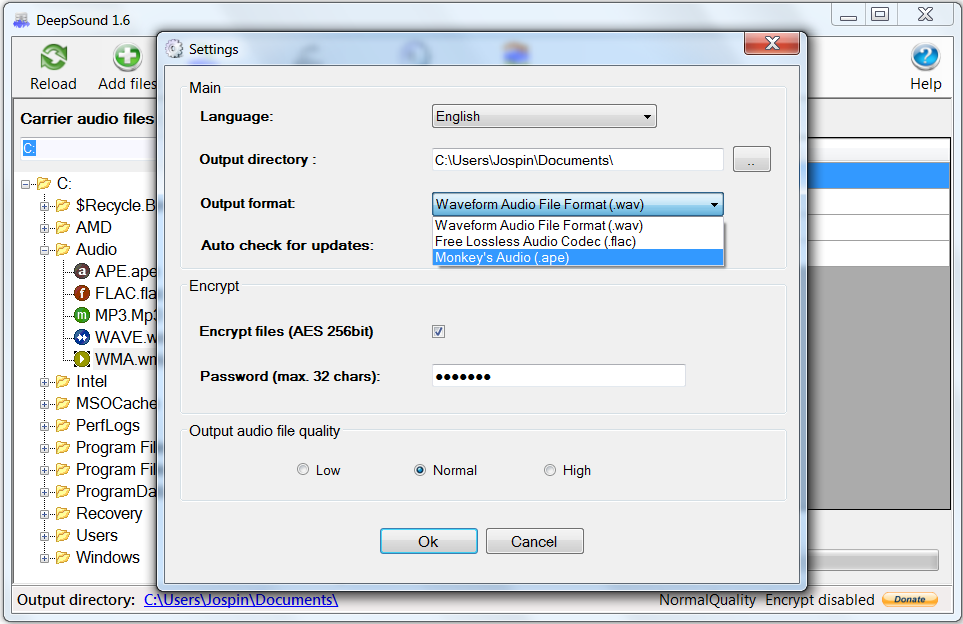 1.2 Extract secret data from audio file or audio CD track

To extract secret data from audio file, follow these steps:

In the file explorer, select audio file or audio CD track, which contains secret data. If the secret files are encrypted, enter password.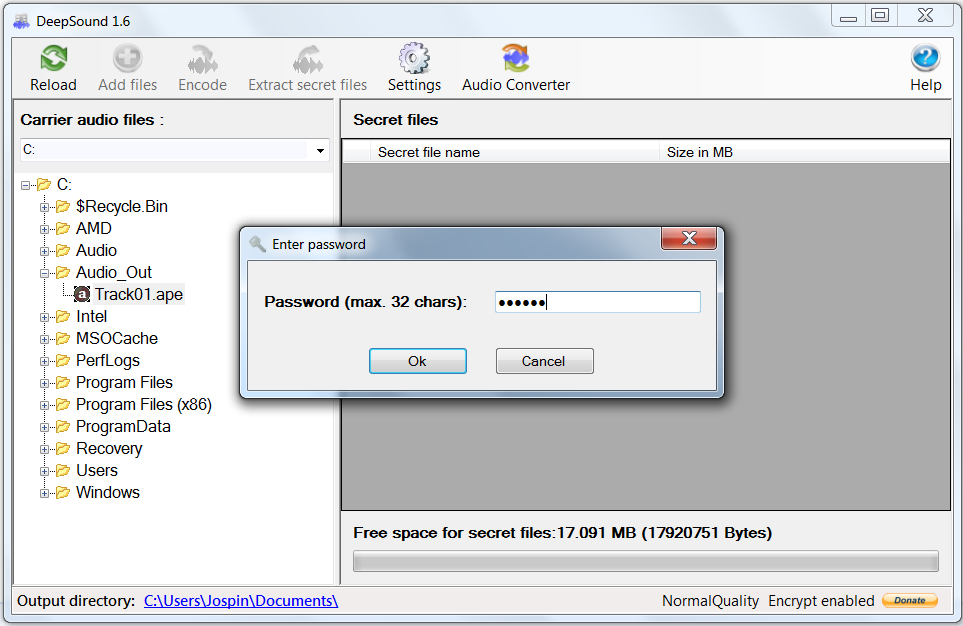 DeepSound analyze selected item and display secret files. Click the right mouse button and press F4 key or click to extract secret files.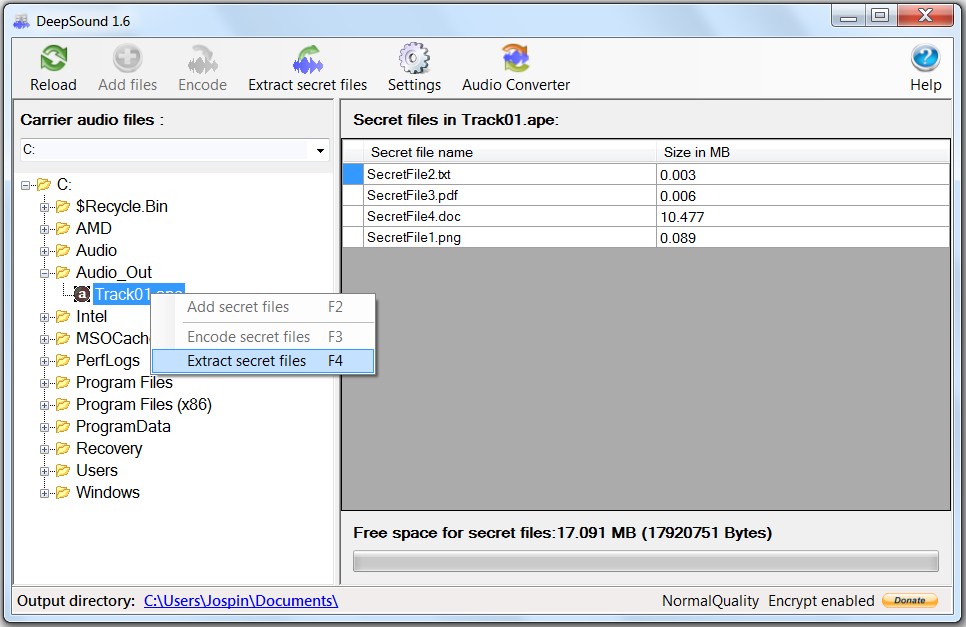 1.3 Create audio CD with secret data


DeepSound does not support creating audio CD with secret files. To create audio CD, which contains secret data, first create audio file with secret data and then use external software to burn audio file to audio CD.

NOTICE: to prevent secret data corruption while burning audio CD, disable volume normalization and any modifications of source audio files in CD burning software.


1.4 Output audio file quality

You can change the output audio file quality in settings. When you set low quality, the final output file will contain a lot of background noise, but you can hide most of secret data into audio file and conversely - high quality of output file = less secret data.

Low quality of output audio file: max. secret data size = 1/2 of carrier audio file (50MB of secret data in 100MB wav file)
Normal quality of output audio file: max. secret data size = 1/4 of carrier audio file (25MB of secret data in 100MB wav file)
High quality of output audio file max. secret data size = 1/8 of carrier audio file (12,5MB of secret data in 100MB wav file)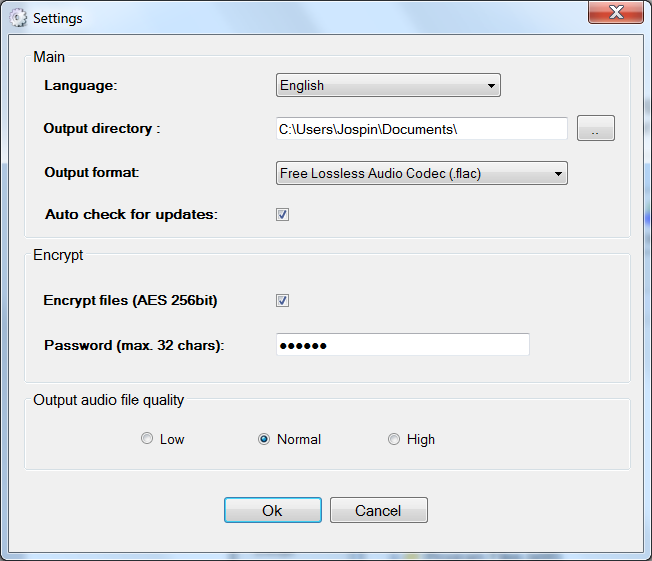 1.5 How to convert audio files

Open Audio Converter









To add input audio files use 'Add files' button. You can also add input audio files by simply dragging them from another program and dropping to DeepSound Audio Converter. Supported input audio formats are:


- Waveform Audio File Format (.wav)
- Free Lossless Audio Codec (.flac)
- Windows media audio lossless (.wma)
- MPEG audio layer-3 (.mp3)
- Monkey's Audio (.ape)

Choose Output Format. Supported output audio formats are:


- Waveform Audio File Format (.wav)
- Free Lossless Audio Codec (.flac)
- MPEG audio layer-3 (.mp3)
- Monkey's Audio (.ape)

Press 'Convert' button and wait for a few seconds