Always scroll to the bottom of the page to download files on OlderGeeks.com.
We don't believe in fake/misleading download buttons and tricks.

RunAsTool v1.4
Windows' built-in "Run As" command allows you to launch a program under a different user than the currently logged in user, However, runas.exe cannot be automated it requires that the user type in the password for the alternate account , RunAsTool is a Portable Freeware and Allows standard users run a specific program with administrator privileges without the need to enter the administrator password each time. This allows you to provide users with access to program that require admin rights.

Under restircted Account , Some programs are missing administrator rights to run correctly , therefore Many users are working under administrator account , this makes the system vulnerable to malware, spyware, viruses and other security risks with RunAsTool you can change it.

Since installation is not a requirement, you can just drop the program anywhere on the hard disk and run the executable file directly. Otherwise, you can save RunAsTool to a USB flash drive or similar storage unit, and run it on any computer. Therefore, you can carry the app with you whenever you're on the move.
The login information for the application like username and password are read from an encrypted file – You don't have to worry about your Admin Password.

How to use

With RunAsTool You don't have to use Cmd or any parameter to allow a standard user run a specific program with administrator rights , just download and extract RunAsTool

1) Administrators In standard user account:

Run it and Choose a Admin Account (If there are more than one) and type your admin password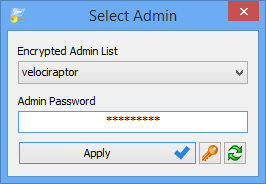 There are two interface 1.Admin 2.Standart user (Standart users can not use Admin GUI) , in Admin GUI you can easily drag and drop any program/s to give it/them Administrator privileges ,Standart Users can create Application shortcuts too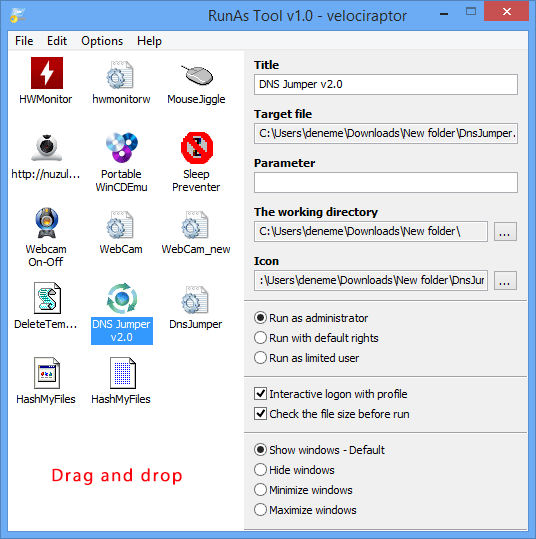 On RunAsTool there are some useful options for example , Run with default rights , Run as limited user, hide, minimize,maximize windows etc. for the security check , Administrators can use "Check the file size befor run" feature , if a Restricted user try to rename another program to run it with Administrator right (spoof), this option will prevent him to do it .

2) Administrators In Administrator user account:

Administrators can Add program/s , right click it/them and create a shortcut on the Standart user desktop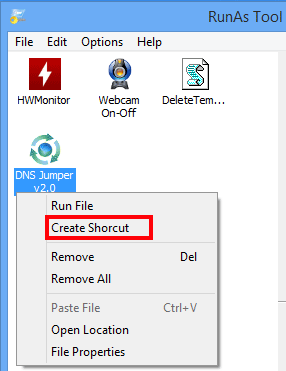 Administrators can Export – Import the lists easily , they can go to File Menu and choose export or import feature , it is useful to create a list once and use it everytime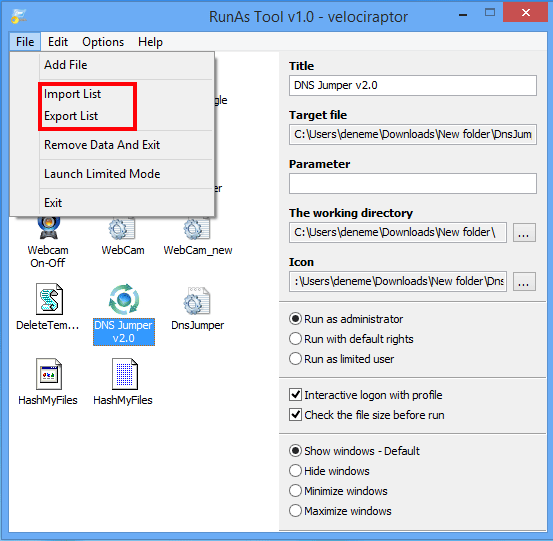 Standart users have two options to use a allowed program/s with Administrator privileges

a) On RunAsTool restricted GUI , they can double Click any program to run it with Admin rights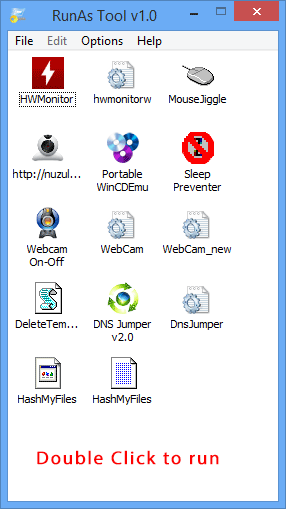 b) If Administrator allowed , they can right click any program and create their own shortcuts , then no need to run RunAsTool every time, if Administrator already created any shortcut they can use them too.

Supported languages: English , Turkish , German , French

RunAsTool v1.4 – What's New – (Tuesday, 02. October 2018)

1. [Fixed] – Import parameter doesn't work on standard user
2. [Fixed] – Minor BUGs
3. [Added] – Standard user can resize the program GUI (With Mouse)

Continue below to download this file.