Batch Scripting Pack v1.0
Batch Scripting Pack v1.0 Collection of Open Source programs written in Batch Scripting Language Do you like to write scripts in Batch Scripting Language? If yes, then this project is dedicated to you. This pack contains source codes of utilities programmed in the Batch Programming Language which are now available for you so that you can improve and learn from them. v1.0 | Open Source | Supports all Windows Versions Batch Scripting Pack v1.0 contains the following programs: RAR Cracker This utility was coded by me to perform brute force attacks against the password protected RAR archives. The code is simple and easy to learn. This utility was never completed because of some limitations. This utility at this time can only crack numerical passwords. You can upgrade it to use a word list for finding right password. Drive Fixer Drive fixer was developed to check & fix file system errors. It uses Windows built in utility "CheckDisk" to perform this task. It can be used to learn how to use Windows utilities in your program. Hiber Plus Hiber Plus was a small utility developed to enable and disable hibernation feature of Windows. It has only a few lines of code and will teach you how to use the Windows Command Prompt commands in the program. Holes Patcher A security utility developed to make the installed Windows OS more secure. Modifies Windows settings like services and features in such a way that the OS becomes difficult to hack. Its not the most complete project but, it works. I hope you can improve it. Processor Changer Processor Changer was a small tool I wrote just for fun with my college buddies. It can change the processor name, etc by some registry ...

3,125
Nov 15, 2019
Malik Usman Aura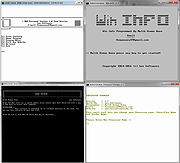 Sarch v1.04
Sarch v1.04 Have you ever wanted a simple way to script time and date command execution? Imagine being able to set up an automated process to compress your server's log files into a subdirectory hierarchy each week, or delete certain files after 60 days. Whatever your time based scripting needs (as long as it is just one command), your answer is within AnalogX Sarch. At its core it's nothing more than a command executor that allows you to insert time and date values into the actual execution string. I know, it sounds technical, but it's actually not that difficult. Just set up a batch file, make a few calls to Sarch, add it to the task scheduler, and next thing you know you're in automation heaven. Sarch works on all versions of Windows, from Window 95 to Windows 10 and everything in between (including XP, Vista, Win2k, etc). Changes: v1.04 Rebuilt and fixed Vista issues Click here to visit the author's website.

758
Nov 15, 2020
AnalogX, LLC.