EagleGet v2.0.4.80
EagleGet v2.0.4.80 EagleGet is a free all-in-one download manager; it can be integrated to Chrome, IE, Firefox, Opera, offering support for HTTP, HTTPS, FTP, MMS and RTSP protocol. ✔ EagleGet uses advanced multi-threaded technology to speed up connections, along with automatic, manual and batch downloads. Downloading jobs can be dynamically adjust the priority, as well as sorted by various criteria. ✔ EagleGet supports multiple download queues with smart scheduler. It is possible to run different downloading jobs at corresponding fixed time or on any day(s) of the week. ✔ EagleGet automatically detects media contents on any website. ✔ EagleGet provides flexible notification configurations. The featured Silent Mode can temporarily turn off all notifications while a full-screen application or PC game is running. ✔ EagleGet contains automatic malware checker and file integrity verifier, the features that protecting users from virus attack as well as ensuring the downloaded file is genuine from the original. ✔ EagleGet is the first freeware download manager that supports the automatic refresh expired download links feature, which can auto update download URLs without re-starting from the beginning. ✔ EagleGet has visually appealing interface, and itís completely free without any virus, malware or spyware. All Features * Accelerate downloads by using multi-threaded technology. * Download files in Chrome, IE, Firefox and Opera with one click. * Support MMS, HTTP, HTTPS, FTP and RTSP protocols. * Built-in download scheduler for multiple queues. * Download different file types to separate folders. * Batch downloads function with clipboard capture. * Automatic refresh expired download address. * Support HTTP and SOCKET proxy. * Support fully customized User-Agent. * Monitor running and completed tasks with TaskMonitor. * Supports drag-and-drop to rearrange the priority of downloads. * Automatic run virus scan after download. * Automatic convert media format after download. * Convenient task properties panel. * Detailed connection log for each task. * Verify integrity of downloaded files. * Shutdown, hibernate or sleep computer after completing all transfers. * Built-in ...

683
Sep 19, 2018
EagleGet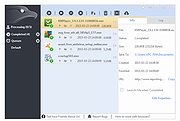 HTTP Downloader v1.0.1.4
HTTP Downloader v1.0.1.4 HTTP Downloader is a download manager for the HTTP(S) protocol. Maximize your download throughput by utilizing high performance input/output completion ports (IOCP). HTTP Downloader can open thousands of connections at a time and consumes very little system resources. HTTP Downloader is a high-performance, multi-part download manager. You can Start, Pause, Stop, and Queue up to 100 downloads at a time. Each download can be split into 100 parts. That's 10,000 connections! Drag and drop links into the program's main window or, select File > Add URL(s)... to bring up the Add URL(s) window. From here you can select the download location to save the files. The Advanced button allows you to configure the number of parts to split each download, the SSL / TSL version to use for HTTPS connections, authentication information (basic or digest), and any necessary cookies, headers, and POST data. Clicking the Download button will begin the download(s). HTTP Downloader has various options to configure the behavior of the program. The options can be accessed from Tools > Options... The first tab that appears is the General tab. In it you can choose to display the System Tray icon which will generally appear on the lower right corner of the taskbar (next to the clock). The program can be set to minimum to the System Tray instead of to the taskbar and close to the System Tray instead of exiting the program. Always on top will cause all the program's windows to appear on top of every other program's windows. Enable download history will save the entries in the main window so that they can be loaded the next time the program starts. If left unchecked, then any download history will be lost. Enable quick file allocation will quickly preallocate a file on the disk by not ...

383
Nov 26, 2018
Eric Kutcher