BiglyBT v2.8
BiglyBT v2.8 A feature filled, open source, ad-free, bittorrent client for Windows, MacOS and Linux. From the authors: Since 2003, BiglyBT's team has worked hard to bring you the best open source torrent product in the market. Unlike our competitors, our client is ad-free and our installer contains no third party offers. We provide migration tools for several popular bittorent clients. Switching to BiglyBT from projects using the same source is simple and requires no interactions beyond the initial migration approval. Your settings, downloads, and plugins will all be there and ready to use. In addition to the standard Bittorrent Client Features, BiglyBT also offers: Downloading Features Swarm Merging to complete torrents that do not have all the available bits, and to speed up downloading Rate limiting globally, by download, by tag, by peer-set (e.g. peers from a given country), by network (public/I2P) and even by peer. Overall capacity limits are also supported to work with ISP limits. Limits can also be scheduled by time of day etc. WebTorrent support - BiglyBT can download and seed to WebTorrent peers. There is also a built-in WebTorrent tracker. Control Features Robust settings. If you want to control it, thereís probably a setting for it! Remote controlling via Android app (any android app that supports the Transmission RPC will do, but we recommend ). Organization, Discovery & Social Features Tags and Categories. Allows you also to set share ratios, file locations, speed limits, etc for a group of torrents. Meta-search, with the ability to add and create custom site templates Swarm Discoveries which lists torrents that other people have downloaded along with the torrents you download. Tag Discovery to discover ...

2,645
Nov 17, 2021
Bigly Software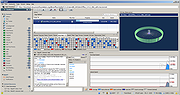 Dual Monitor Tools v2.8
Dual Monitor Tools v2.8 A software package for Windows users with dual or multiple monitor setups. Has hotkeys for moving windows around, restrict mouse/cursor movement between screens, application launcher, wallpaper creator and changer and a screen capture tool. Features Allows you to quickly move windows between monitors. Launch applications to start on a particular monitor. Provides some of the new Windows 7 hotkeys to XP and Vista users. Lock cursor onto a monitor, or provide resistance to moving between monitors. Create wallpaper with different images on each monitor or spanning multiple monitors. Change wallpapers periodically. Capture images from the primary monitor and display them on the secondary monitor. Changes from 2.7 to 2.8 ======================== 10-17-21 DMT New monitor numbering/ordering The default numbering of monitors has changed in 2.8 so that monitors are now numbered left to right and then top to bottom instead of the old ordering provided by the .NET API. If this is an issue for you, then you can go into Options -> 'Dual Monitor Tools' -> 'Monitor Order' and select 'DotNet order, as used by DMT v2.7 and earlier'. DMT:Wallpaper added support for wallpapers from Bing DMT:Wallpaper can show images from local disk in alphabetical order DMT:Wallpaper handles failure to download images better DMT:Cursor allows cursor to move via dead space for non rectangular layouts DMT:Snap can specify monitor to put snap on Click here to visit the author's website.

7,289
Oct 17, 2021
Gerald Evans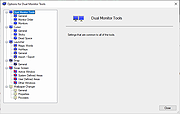 TurboTop v2.8
TurboTop v2.8 Like the "Always on Top" feature that some programs have? TurboTop lets you set any window to be "Always on Top!" Taskbar With TurboTop Icon (on far right)You're probably familiar with the "Always on Top" feature of some programs. This allows their window to "float" above other windows even when it doesn't have the focus. This can be extremely useful. Unfortunately, not many programs implement this feature. TurboTop is designed to remedy that problem! TurboTop is a small program that sits in your System Tray. By clicking on the TurboTop icon, you'll be presented with a menu that displays all windows that are currently visible. Simply click on the menu item that corresponds to the window you want to make "Always on Top." The popup menu also shows which windows are currently "Always on Top" by displaying a check mark next to the name of the window. When you click on a checked menu item, TurboTop will make that window not "Always on Top." New with version 2.0, TurboTop can accept one or more window titles on the command line. The windows that match the title text passed on the command line will be made "Always on Top" automatically as TurboTop is started. Install and Uninstall support is included.

4,019
Jul 02, 2020
Savard Software