Fuse for MacOS v1.5.6
Fuse for MacOS v1.5.6 Fuse for macOS is a macOS port of The Free Unix Spectrum Emulator (Fuse) (an emulator of the 1980s home computer and various clones). Features Sinclair ZX Spectrum emulator Supports several models (including the 128, Timex and Russian clone machines) Quite faithful emulation of the display and sound Support many snapshot formats including Z80, SNA and SZX snapshots Support TAP, TZX and PZX virtual-tape files Support for the Recreated ZX Spectrum Bluetooth keyboard Version 1.5.6 of the ZX Spectrum and related machines emulator Fuse for macOS has been released. Changes since version 1.5.5: * Improve sound accuracy on Unix 64 bits systems (thanks, Fredrick Meunier) (Sergio Baldoví). Miscellaneous improvements: * Allow the use of real joystick hats/dpads (thanks, Sarah) (Fredrick Meunier). * Various other minor bugfixes. Click here to visit the author's website.

1,895
Jun 26, 2019
Fredrick Meunier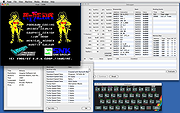 Rdex v1.5.6
Rdex v1.5.6 Rdex is a freeform database. Use it to store addresses, phone numbers, birthdays, online ids, recipes, or a million other pieces of miscellaneous information. It is based on the idea of a cardfile—like a Rolodex. Just click "New Card," paste or type in some info and click save. Simple! Later, you can search for any text contained in the card and the card will be displayed. Just type the word you are searching for into the search box at the top. Rdex is available for Windows, Java and Android. If you keep the data file on a cloud storage service such as Dropbox your data is available anywhere and you can maintain sync between mobile and desktop access. Rdex can also encrypt the data file if you wish to ensure privacy. This download is for the Windows portable version. If you need the Java version for MacOS or Linux, download here. If you need the Android version, download here. Brief Instructions To create a new card, click on the "New" button, press <Ctrl+N>, or select "Card/New Card" from the menu. Just copy <Ctrl+C> and paste <Ctrl+V> text into the card. If you want to make the "List View" function meaningful, use the first line of the card as a title. To find a card, type a string in the Search box and press <Enter>. Search strings are not case sensitive. Press <Enter> again to find the next occurrence or <Shift-Enter> to find the previous one. If the search string is blank, you simply jump to the next (or previous) card. You can get a list of the first lines of cards that contain the text in the Search box by pressing <Alt-Enter> or selecting <Card/List View> from the menu. The clipboard button <Card/List All Cards> or <Ctrl+L> will simply list the first lines of all cards ...

744
Dec 27, 2020
Peter Newman