CrococryptMirror v1.41
CrococryptMirror v1.41 CrococryptMirror (aka "Crococrypt") is an encryption tool which mirrors complete folders to encrypted folders. The encryption algorithms that are used are AES and Twofish (256 bits, cascading). The keyfile is secured by a password using PKCS #5 (PBKDF2) with a SHA512/Whirlpool based HMAC using 100000 iterations and also AES and Twofish. Additionally, a ZIP compression for storage space optimization is used. For reasons of performance the synchronization of source and destination folder is done in the background. A backup copy of the keyfiles has to be stored at a secure place. Without the keyfile the containers cannot be decrypted. In the portable version of CrococryptMirror keyfile and settings are stored together with the application folder. Hence, the complete application can be transported on an external storage device. Moreover, the folder "container" can be used to store portable containers. Mirroring can be done manually (on-demand) or by using the sync service which detects directory changes on the fly. Features Copying and synchronizing of arbitrary folders/directories to encrypted folders (Backup Containers) Automatic Synchronization (Live mode, e.g., for Cloud Uploads) On-Demand Synchronization (e.g., for external drives like USB drives) Encryption of file content, filenames, file meta data Shorten of filenames Using the highest encryption standards (AES-256 & Twofish-256) and password security techniques (PBKDF2, SHA512 & Whirlpool, 100000 iterations) Especially the password security implementation is flexible and can be adapted in the future to fit current hardware performance issues Source folders can be stored in multiple destination containers at the same time (e.g., USB disk drive and Cloud storage) Network drives can be used as ...

1,388
Sep 27, 2019
Frank Hissen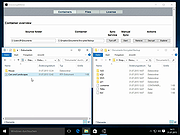 HWMonitor v1.41
HWMonitor v1.41 HWMonitor is a hardware monitoring program that reads PC systems main health sensors : voltages, temperatures, fans speed. The program handles the most common sensor chips, like ITE® IT87 series, most Winbond® ICs, and others. In addition, it can read modern CPUs on-die core thermal sensors, as well has hard drives temperature via S.M.A.R.T, and video card GPU temperature. HWMonitor 1.41 September 06th, 2019 Intel Cascade Lake and Ice Lake processors NVIDIA RTX 2070 and 2080 Super AMD Threadripper 3000 preliminary support Zhaoxin processors Click here to visit the author's website.

1,425
Sep 06, 2019
CPUID