Terminal Wings 2.0
Terminal Wings 2.0 Give wings to your insipid Windows Terminal. Have you ever been dreaming about having a marvelous Microsoft Windows Terminal, something that's at the same time beautiful, time saving and better to organize when you need to work on several terminals at the same time. Don't search furthermore: Terminal Wings is the application you were searching for. Already in its very first version it's very complete and powerful. Imagine what power you could harness in the near future. How does it work? Contrary to other applications which simply try to replicate the same efficiency of the embedded Windows Terminal coded by Microsoft, our Terminal Wings is not such an emulator which "Hooks" the process of a real terminal to 'copy/paste' the screen buffer and display its contents to the custom application frame. It also doesn't create virtual pipes to redirect output/input buffers (stdout ; stdin ; stderror) to capture send and capture terminal commands. The reason we don't use both above methods is due to the instability of such methods. When you execute regular commands it works pretty fine, but when it comes to use more complex console programs it become quite unstable (depending of the emulator you use). So , what is our solution? Very basically, we do not emulate the Windows Terminal at all, but we use the real one. We Patch the window and associated messages and embed it into our own frame. Well, this might sound very easy, but in effect it is quite complex to code if you want to make it appear very smoothly. Important Notice: At this moment in time, the application is only available for Microsoft Windows 10. Depending on the initial success of this program, we might be tempted to support other Windows versions too. Current Functions Available Multi Tabs : Organise your terminals using ...

2,484
Nov 15, 2019
Phrozen Software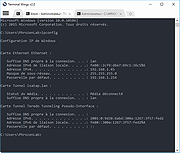 x3270 (IBM 3270 terminal emulator) v3.6ga8
x3270 (IBM 3270 terminal emulator) v3.6ga8 x3270 is an IBM 3270 terminal emulator for Windows. x3270 runs over a TELNET connection, emulating either an IBM 3279 (color) or 3278 (monochrome). It supports: The full TN3270E protocol SSL/TLS (via the OpenSSL library) for encrypted sessions APL2 characters Non-English character sets, including Russian, Turkish, Hebrew and DBCS Chinese and Japanese IND$FILE file transfer NVT mode (emulating a color xterm) A pop-up keypad for 3270-specific keys A scrollbar Printer session integration Extensive debugging and scripting facilities Changes in version 3.6ga8, 3. June 2019 * [/wc3270/] Removed the requirement that the user has a Desktop folder defined. Click here to visit the author's website.

2,862
Jan 05, 2020
Paul Mattes