Folder Sync v1.0.0.219
Folder Sync v1.0.0.219 Saleen Folder Synch is a folder synchronization tool that: - Performs comparisons between two directories - Reports new, updated, renamed, moved and deleted files - Performs synchronization from the source to the destination path - Can be used for differential or full backups. Main functions Synchronize directories This tool allows you to perform comparisons between directories, and reports, new, updated, renamed, moved and deleted files. It can also generate synchronization commands (one-way only: right to left) It can be useful for differential or full backups. Terms Source path. This path is considered to hold your original files, and never gets updated by the "synchronization" function. Destination path (backup path). This path is considered by the program to hold copies of your files. New files or files that have been updated are copied in this path. Reviewing differences The following color indications are used by the program to mark differences: Green: Updated file. File on the left side was updated. Column age difference shows the difference in the most suitable friendly format. Blue: New file. The file does not exist in the destination path. Red: Deleted file. White: Identical file. File has not been updated. Filtering The program supports these filters: a) show identical files b) show new files c) show deleted files d) show updated files e) show renamed/moved files f) It also supports filtering by keyword. To filter by keyword, simply type your keyword in the filter box at the top of the screen. All these filters can be applied simultaneously. For example you can to filter only "new files" that contain the keyword "mp3" a) type mp3 in the filter box b) check the "show new files" checkbox c) uncheck all other checkboxes Synchronization By pressing the "Synchronize" button, a script that could perform all listed changes into the destination path, is generated. If you have a filter ...

3,024
Apr 14, 2019
Saleen Software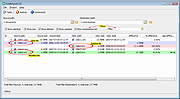 GO Contact Sync Mod v4.1.15
GO Contact Sync Mod v4.1.15 An open source tool to synchronize your Microsoft Outlook contacts with Google Mail. With this tool you do not need to enter your contact details more than once, always have the latest version everywhere: in Outlook and in Google. Contact categories are supported, as well as contact photos to make your contacts look exactly the same. You can set up sync options to start up and synchronize automatically, so it is the perfect backup tool. Please install the latest version 4.1, because it uses the new Google Peopla API. The Google Contacts API is now deprecated and is scheduled for sunset on June 15, 2021. GO Contact Sync Mod synchronizes your Microsoft Outlook contacts with your Google Mail address book, including pictures, categories and contact notes. It also syncs your Outlook Calendar Appointments on demand to Google Calendar. This Mod fork adds many enhancements and bug fixes to the obviously dead project 'Go Contact Sync'. Minimum requirement for GO Contact Sync Mod is .NET 4.7.2 and Windows 7 (32 or 64 bit). Features Full support of OAuth2 - no need for your password! Outlook Contacts sync Outlook Calendar Appointments sync Automatic syncing Contact Pictures support Categories support Supports Outlook 2003, 2007, 2010, 2013, 2016, 2019, 365 (32 and 64 bit) No Support for Outlook Express Select Outlook folder to sync Sync with multiple GoogleMail accounts Version [4.1.15] - 09.10.2021 SVN commits **r1536 - 1539: Revision: 1539 Author: floriwan Date: Samstag, 9. Oktober 2021 15:35:00 Message: - FIX: [bugs:#1312] - removed seconds from AppointmentLastUpdated, because seconds are not saved in LastSync property anymore also for Appointments (same as for Contacts already in the past) ...

3,349
Oct 15, 2021
CreateSoftware