Black NotePad v1.4.0.45
Black NotePad v1.4.0.45 Black NotePad was created as an alternative to the Notepad program of Windows operating systems. While retaining the original functions, Black NotePad improves manageability, contains important new functions, and greatly enhances program compatibility in terms of the edited text. Its main innovation is the rapid change of display based on predefined as well as user-definable and savable color and font profiles. As the programís name suggests, the default display is black (white letters on a black background), as requested by Windows users. Users can select the setting appropriate to the specific circumstances any time. The program is free to download and use. It supports Windows 7/8/10 operating systems. Advantages of Black NotePad: Efficient display functions: the look which provides the best legibility can always be selected Open Latest: the last edited file can be loaded and edited any time Conversion between lower case/upper case letters Recognizes and highlights the Internet links (Url) in the text, and loads the appropriate site in the Internet browser Info: Provides detailed information concerning the loaded and edited file Saves new documents in a format which corresponds to the settings of the operating system. In case of an opened file, the details of the given file determine the save format Displays the column number and line number of the cursor Jumps to the line with the specified line number Performs an Internet search for the selected text Displays the name of the current file/document Displays the last performed operation Font size can be reduced/enlarged (Zoom) Integrates into Windows Explorer, and can be set as default text ...

4,652
Jan 05, 2020
WinTools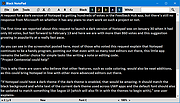 TED Notepad v6.2.1
TED Notepad v6.2.1 TED Notepad is a free light-weight notepad alternative. It offers 352 text-processing functions, innovative features and timesaving tools. All of them on hotkeys; all designed for quick and advanced editing. It is portable and loads instantly with no installation required. Get ready for a swiss-army-knife notepad alternative for free: small and simple, yet full of ready features, combinations, enhancements and tools. You'll never learn them all. Don't type, ted-it! Don't type, ted-it! What does that mean? TED Notepad Screenshot TED Notepad is chrome-less non-bloated free and plain-text editor. No showy toolbars, no sidebars, none of the fancy-looking gadgets. But a simple, neat and KISS interface, stuffed with variety of features, settings and text-transforming tools, waiting on hotkeys and mouse clicks to get useful. It stays out of your way and thus helps you to work on what's important, bringing your typing, text-working or even coding to the next level: All convenient text-editor features included, of course Serious search & replace with regular expressions Several rather innovative auto-completions Intelligent clipboarding, swapping and moving text Swiss-army-knife for text processing Even more features and settings Not a believer? See the Awards As it is, TED Notepad is particularly targeted to advanced notepad users with non-trivial demands and tasks. To discover its true power, you might need to learn a thing or two. Once you do, you won't type, "you'll just ted-it".. How to Replace Notepad on Windows jsimlo.sk/notepad/replace.php Version 6.2.1 (Aug 22, 2019) + Added: Text Coloring. + Added: Grep, Filter lines by Pattern tool. + Added: Visually highlight Current Line. + Added: Length of the Current Selection shown in the Status bar. ...

4,550
Oct 24, 2019
Medvedik, Juraj Simlovic