Why Can't I Connect? Windows Install 1.12.3
==Official Mirror== Why Can't I Connect? Windows Install 1.12.3 "Why Can't I Connect?" makes it easier to resolve TCP/IP connection errors. Use it to diagnose connections to common server types (Microsoft SQL Server, MySQL Server, FTP, SFTP, IMAP, POP3, SMTP, IRC, LDAP, Usenet) and create generic TCP/IP clients and / or servers. "Why Can't I Connect?" is currently supported in Windows and Linux. "Why Can't I Connect?" Features: Network debugging Network diagnostics Email connection debugging Database connection debugging LDAP connection debugging Internet relay chat connection debugging Usenet connection debugging Network intrusion detection Change Info: Release 1.12.3 In this release: 1. Fixed a bug that would occasionally freeze the application when attempting to create a secure connection with an unsecured port. 2. Fixed a bug where "Advanced" sockets where not supporting secure connections.

5,183
Mar 13, 2017
Chris Ohmstede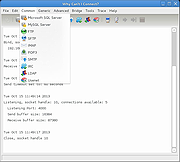 Zero Install v2.16.2
Zero Install v2.16.2 Software installation reimagined. Single click Zero Install allows you to run applications with a single click without having to install them first. Alternatively you can control every detail, such as which version of which library to use. User interface All features of Zero Install can be controlled both via graphical user interface as well as from the command-line. The graphical user interface can be launched via the Windows start menu or the ZeroInstall.exe file. The command-line interface can be accessed using 0install. Synchronization Zero Install Sync allows you to synchronize your list of applications, desktop integrations and command-line aliases between multiple machines. You either need a free 0install.de user account or you can use your own server. Technical details Example You download LibreOffice and KeePass on your first PC using Zero Install. Zero Install Sync tells your second computer which applications you installed. Your second computer downloads the same applications automatically. Decentralized Zero Install gets information about application from so called feeds. These can be stored on any web server. There is no central app store that controls which applications can and cannot be published. However, we provide a catalog of well-known applications, so you do not have to search for individual feeds if you do not want to. This catalog is available on this website as well as within Zero Install itself. You can add additional catalogs from other sources as well. Applications are downloaded directly from the original publishers. They are not hosted or modified by Zero Install. The Publishing Tools allow you to easily create your own feeds. Security Zero Install is secure by design: Feeds (files describing applications) are signed with GnuPG signatures. This ensures that future updates of applications still come from the same publisher as the original. Downloaded applications are verified with SHA-256 ...

1,129
Feb 05, 2019
Bastian Eicher