EASEUS Partition Master Home Edition 12.8
EASEUS Partition Master Home Edition 12.8 Free Hard Drive & Partition Manager Solution As Partition Magic alternative, EaseUS Partition Master Free is an ALL-IN-ONE FREE disk partition management tool brought together with three main functions including: Partition Manager, Disk & Partition Copy Wizard and Partition Recovery Wizard. Key Features Best solution to create, delete, resize/move, merge, split, wipe or format partitions to make better use of hard drive capacity. Resize/Move partitions without data loss, like extending NTFS system partition without reboot to maximize PC performance. Safely merge two adjacent partitions into a bigger one without data loss. Convert FAT to NTFS file system. Copy entire hard disk to another without Windows reinstallation. Partition Recovery Wizard allows you to recover deleted or lost partitions from unallocated space. Convert primary partition to logical partition and vice versa: convert a primary volume to logical to create a fifth volume on a disk with 4 existed primary volumes. Convert MBR to GPT disk, and convert GPT to MBR disk without data loss. Wipe disk or wipe partition to permanently wipe sensitive data on disk. Support up to 8TB GPT disk. Support all hardware RAID, removable storage device, hard disk, GPT disk and FAT/NTFS/EXT2/EXT3/ReFS file system.

4,418
Dec 07, 2017
EASEUS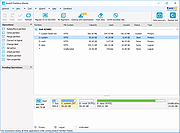 EASEUS Todo Backup Free Edition 8.5
EASEUS Todo Backup Free Edition 8.5 Most popular free backup software with over 6,000,000 home users. Free and reliable - backup & disaster recovery software for home users Easy to install and use - intuitive interface guiding you step-by-step One scalable solution - backup, disk clone, SSD migration & restore Microsoft-compatible - support Windows 10/8.1/8/7/Vista/XP op Benefits Easy to Install and Simple to Use - Intuitive interface combined with wizard guiding you to perform backup & recovery step-by-step. Reliable and Secure - Back up any crucial data where you want and protect them in a safe way. Windows 10 Compatible - EaseUS Todo Backup is always Microsoft-ready, supports Windows 10/8/7/Vista/XP. Multiple Languages Supported -English, Deutsch, Español, Français, Italiano, Português, Polski, 日本語, 中文 (繁體), 中文 (简体). Backup System backup - Full system protection allows you to easily back up and recover your entire operating system when disaster happens. Disk imaging - Block-level disk imaging quickly and efficiently backs up the entire disk or volumes. It can speed up the backup process of large files as it only backs up the modified blocks of data instead of the entire file. File backup - File-level backup allows you to selectively back up specific files, folders or file types, including network shared files. Hot backup - Integrate with Microsoft Volume Shadow (VSS) to back up files that are in use, back up specific files and volumes without interrupting any current operations, especially for open files backup. Sector-by-sector backup - Store an exact copy of your disk or volume, including unused space, sector-by-sector backup assures you a 100% ...

4,397
Jun 30, 2015
CHENGDU YIWO Tech Development Co. Ltd.