Crow Translate v2.10.0
Crow Translate v2.10.0 A simple and lightweight translator that allows you to translate and speak text using Google, Yandex Bing, LibreTranslate and Lingva. Crow Translate is a simple and lightweight translator written in C++ / Qt that allows you to translate and speak text using Google, Yandex, Bing, LibreTranslate and Lingva translate API. Features Translate and speak text from screen or selection Support 125 different languages Low memory consumption (~20MB) Highly customizable shortcuts Command-line interface with rich options D-Bus API Available for Linux and Windows Requirements: Windows Note: Windows requires Microsoft Visual C++ Redistributable 2019 to work but you probably already have it. This download is for the Windows version. All other download assets are below: Linux: crow-translate_2.10.0_amd64.deb crow-translate_2.10.0_arm64.deb crow-translate_2.10.0_armhf.deb crow-translate-2.10.0-1.x86_64.rpm crow-translate-2.10.0-1.armv7l.rpm crow-translate-2.10.0-1.aarch64.rpm Crow_Translate-2.10.0-x86_64.AppImage Use 7-Zip to unzip this file. Click here to visit the author's website.

259
Sep 13, 2022
Hennadii Chernyshchyk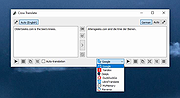 Data Crow v4.2.2 (All Platforms)
Data Crow v4.2.2 (All Platforms) Data Crow is the ultimate media cataloger and media organiser. Always wanted to manage all your collections in one product? You want a product you can customize to your needs? Your search ends here! Using Data Crow allows you to catalog all your collectables, no matter how large your collection is. Using the excellent online services, you can instantly retrieve information about your books, software, games and movies. This information, combined with the file import, which can parse information from your e-books, software, images, music and movie files, means you won't be doing a lot of typing. Are you collecting something which is not (fully) covered by one of the standard collection modules? No problem! Either customize an existing module by adding the fields you need or create your own module entirely. Once your collection resides within Data Crow, you can even run your own server and allow your family and friends to view the information via the web or even by using a full Data Crow client. It's a feature packed product which luckily comes with an internal help system (F1) to guide you on your journey through Data Crow. Standard Collection Modules Catalogue Software, Movies, Music, Images and Books. These modules, as we call them, are supplied with each release. Create New Collection Modules Create your own collection modules, straight from within the software. Export your modules to share them with your friends and family. You can even modify the existing modules. Loan Administration With the Loan Administration, you can track who has borrowed your items and when they should return them. Online Services Why type the information yourself, when Data Crow can find the information on Software, Movies, Books and Music using one of the standard Online Services (such as Imdb.com, Bol.com, Amazon.com and many more). Reporting Data Crow offers various basic reports. For ...

6,233
Feb 05, 2019
Robert Jan Van Der Waals