CloneApp for Universal Apps v0.7.1
CloneApp for Universal Apps v0.7.1 Backup Settings in Windows Store Apps with CloneApp UA CloneApp UA is a small portable program that allows you to take a backup of the installed Modern UI apps data. UA stands in this case for Universal Apps, the Universal Windows Platform (UWP) apps or truly modern universal apps. It does not support legacy Win32 programs. Therefore please use the original CloneApp for Desktop. You might already now that all application data from Windows Store apps is saved to Local\Packages inside user's AppData folder (usually C:\Users\Username\AppData). Each application has its own subfolder there; its name is concatenated from the application package name and a signing certificate based postfix e.g. the preinstalled Windows Maps app caries the name Microsoft.WindowsMaps_8wekyb3d8bbwe. Of course, you can find the settings there as well: there's a settings.dat file inside the Settings subfolder. The UA version of CloneApp searches for all apps, which brings a Settings.dat file in its package under the above mentioned path. Close all Modern UI apps before running the program (or just close the ones you want to backup of) Run the program, and click on "search apps packages" button. It will then scan %LocalAppData%\Packages\ directory for installed apps and list them in the window. The UI concept is similar to CloneApp. You can now either choose to backup all installed apps by clicking on "Select" (click again to unselect everything) button or manually select individual apps. After making your selection, hit the Backup button. As output/backup folder, the CloneApp UA working/execution directory is used. After starting the backup, the output folder "Backup" will be automatically created. That's it! Your settings are now backed up. For writing its configuration settings, CloneApp UA uses the cloneapp.ini file. You can either put the UA version to the root directory of CloneApp or create a Data folder in the working directory of ...

615
Feb 24, 2019
Mirinsoft.com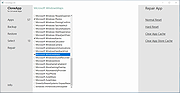 CloneApp v2.11.444
CloneApp v2.11.444 The Backup Tool with a difference What is it? CloneApp is a free portable and simple backup tool which could save you a lot of time when migrating your software or reinstalling Windows. Whether you're migrating to a new computer or doing a clean install, life is easier when you take all your settings and tweaks with you. If you don't want to do a full backup and restore, CloneApp backs up settings for the most popular Windows programs so you can restore them later. Run the program as an administrator, and a list of supported applications appear on the left. There are plenty of big names: 7-Zip, Adobe Photoshop, Adobe Reader, BlueStacks, Classic Shell, Gimp, Google Chrome, Google Earth, IrfanView, JDownloader, Microsoft Office 2010/2013/2016, Vivaldi Browser, VLC Media Player, and a pile of Windows settings (Favorites, Contacts, Firewall and Network folder settings, Start Menu and more). The idea is that you select the applications you'd like to back up (or click "Select Installed" to run a full backup), then click "Backup" and watch as the files, folders and Registry keys are backed up. By default the data is saved to a CloneApp folder. If you're saving the data as a backup then you may want to change that - click "Settings" for the relevant setting. You'll quickly figure out how to restore your settings (select the target applications and click "Restore"). If you like the idea, CloneApp can be extended with Plug-ins, plain text files which define exactly which files, folders and Registry keys the program should preserve. It requires Windows 10, 8.1, 8, 7 or Vista, including both 32-bit and 64-bit versions. CloneApp supports about 250 different Windows programs. 7 Sticky Notes 7-Zip AbiWord Adguard Adobe Brackets Adobe Flash Player Adobe Photoshop Adobe Reader Advanced SystemCare AdwCleaner AIMP Alcohol 120% Any Video Converter AnyDesk AnyDVD Ares Audacity AudioSwitcher Avast Free Antivirus Bandizip Beyond Compare BlueStacks BSPlayer Calibre CCleaner CDBurnerXP CDex cFosSpeed Cheat Engine Citrix ICA Client Classic Shell CloneApp CloneCD Cobian Backup Cybderduck Defraggler DesktopOK DisplayFusion Download Master Dropbox DUMo EagleGet eMule Evernote Everything F.lux FastStone Capture FastStone Image Viewer Fences FileZilla foobar2000 Foxit Reader Free Download Manager 5 Free Download ...

2,586
Feb 24, 2019
Mirinsoft.com