Bulk Crap Uninstaller v5.7
Bulk Crap Uninstaller v5.7 Remove large amounts of unwanted applications quickly. Bulk Crap Uninstaller (in short BCUninstaller or BCU) is a free (as in speech and beer) bulk program uninstaller with advanced automation. It excels at removing large amounts of applications with minimal to no user input, while requiring next to no technical knowledge. It can detect most applications and games (even portable or not registered), clean up leftovers, force uninstall, automatically uninstall according to premade lists, and much more. Features In its basic form BCU is easy to use by most users, but it also has tools useful for power users, system admins and developers. Some of the most notable features of Bulk Crap Uninstaller: Very thorough installed application detection BCUninstaller can detect, manage and uninstall applications from the following sources: • Normal registered applications (same as Programs and Features and many other uninstallers) • Hidden/protected registered applications • Applications with damaged or missing uninstallers • Portable applications (looks in common locations and on portible drives, configurable) • Chocolatey packages • Oculus games/apps • Steam games/apps • Windows Features • Windows Store apps (Universal Windows Platform apps) • Windows Updates Applications from all of these sources are threated the same - you can filter, export and automatically uninstall them in the same way. Fast, automatic uninstall The main feature of BCUninstaller is its ability to fully or nearly fully automate the process of uninstalling multiple applications. BCU always attempts to use the application's original uninstaller to avoid issues found in uninstall managers that blindly remove files to achieve uninstall automation (e.g. failing to unregister context menu entries or services). ...

6,696
Nov 20, 2023
Klocman Software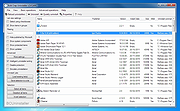 Bulk Rename Utility v3.4.3.0
Bulk Rename Utility v3.4.3.0 The Free File Renaming Utility for Windows. Rename multiple files with the click of a button. Bulk Rename Utility: file renaming software for Windows. Bulk Rename Utility is free of charge for personal, private use, at home. To use Bulk Rename Utility within a business entity, company or for commercial purposes, a commercial license is required. Bulk Rename Utility allows you to easily rename files and entire folders based upon extremely flexible criteria. Add date/time stamps, replace numbers, insert text, convert case, add auto-numbers, process folders and sub-folders....plus a whole lot more! Rename multiple files quickly, according to many flexible criteria. Rename files in many ways: add, replace, insert text into file names. Convert case, add numbers. Remove or change file extensions. Check the detailed preview before renaming. Rename photos using EXIF metadata (i.e. "Date Picture Taken", "Resolution" and other information embedded in all JPG photo files) Rename your holiday pictures from a meaningless dsc1790.jpg to NewYork1.jpg in a flash. Rename MP3 files using ID3 tags (a.k.a. MP3 ID3 tag renaming). Rename files using Windows File Properties (e.g. media video length, width, height, rate, publisher, etc). Change files' creation and modification time stamps. Easy to Install. Download and start renaming your files now! Bulk Rename Utility is an easy to use file rename program (a.k.a. file renamer). Renaming multiple files and/or multiple folders has never been easier! It has a small memory footprint so it can be left running all the time without consuming all your memory. It started as a freeware Visual Basic tool, but as its popularity has grown it has been completely rewritten in C++ to be robust and lightweight - and ...

3,535
Dec 21, 2021
TGRMN Software