Always scroll to the bottom of the page for the download link.
We don't believe in fake/misleading download buttons and tricks. The link is always in the same place.
---

Bulk Crap Uninstaller v5.0

Bulk Crap Uninstaller (in short BCUninstaller or BCU) is a free (as in speech and beer) bulk program uninstaller with advanced automation. It excels at removing large amounts of applications with minimal to no user input, while requiring next to no technical knowledge.

It can detect most applications and games (even portable or not registered), clean up leftovers, force uninstall, automatically uninstall according to premade lists, and much more.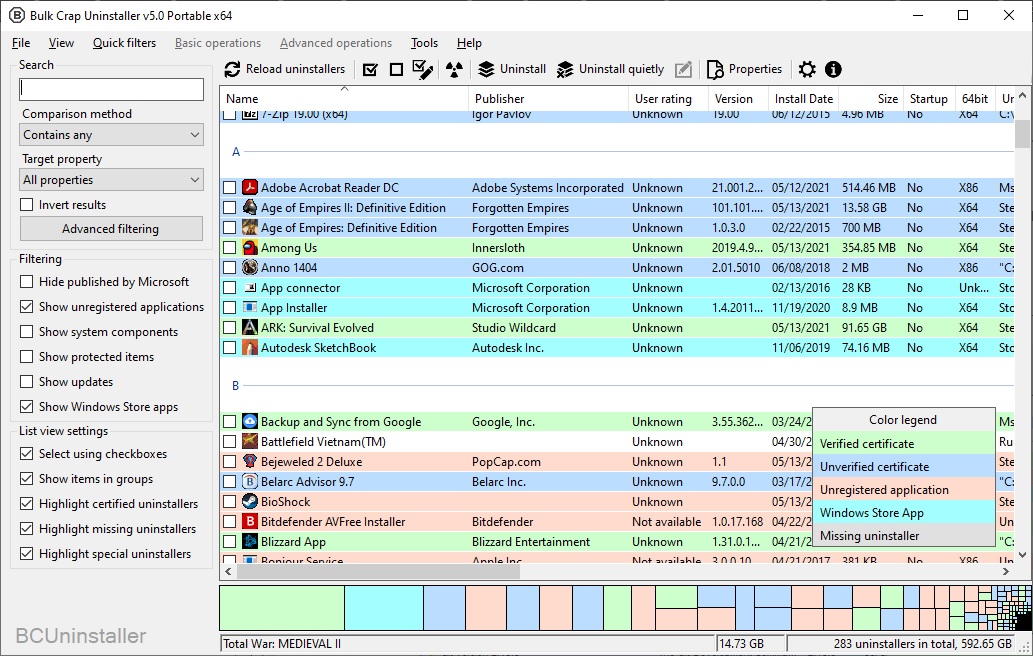 Features

In its basic form BCU is easy to use by most users, but it also has tools useful for power users, system admins and developers. Some of the most notable features of Bulk Crap Uninstaller:

Very thorough installed application detection

BCUninstaller can detect, manage and uninstall applications from the following sources:

Normal registered applications (same as Programs and Features and many other uninstallers)
Hidden/protected registered applications
Applications with damaged or missing uninstallers
Portable applications (looks in common locations and on portible drives, configurable)
Chocolatey packages
Oculus games/apps
Steam games/apps
Windows Features
Windows Store apps (Universal Windows Platform apps)
Windows Updates Applications from all of these sources are threated the same - you can filter, export and automatically uninstall them in the same way.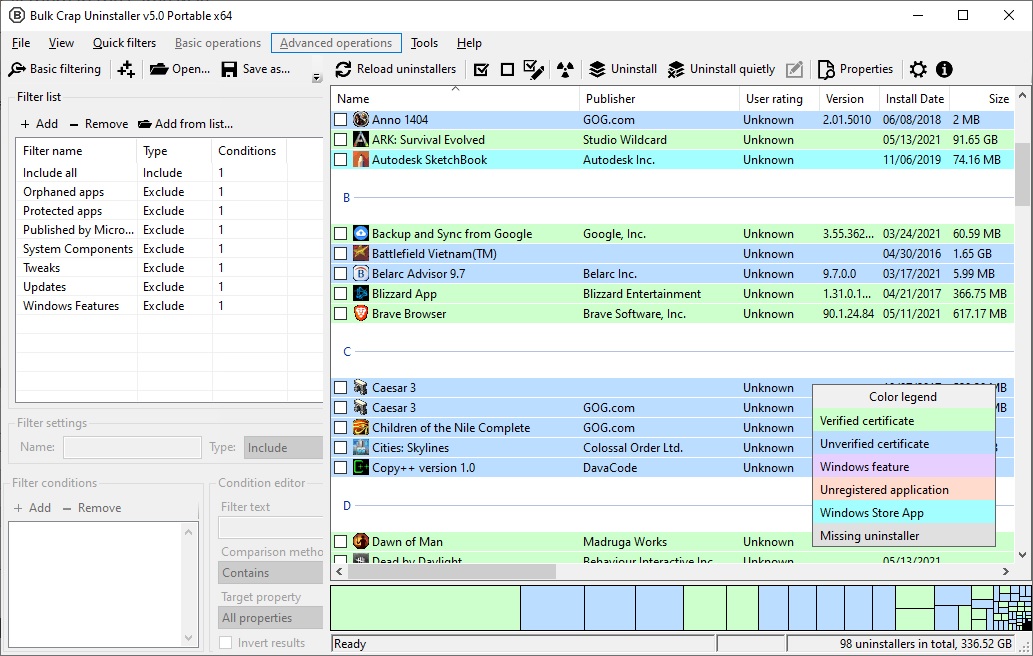 Fast, automatic uninstall

The main feature of BCUninstaller is its ability to fully or nearly fully automate the process of uninstalling multiple applications. BCU always attempts to use the applicationís original uninstaller to avoid issues found in uninstall managers that blindly remove files to achieve uninstall automation (e.g. failing to unregister context menu entries or services).

Uninstall any number of applications in a single batch
Minimal to no user input is required during uninstallation
Uninstall multiple items at once to speed up the process (with collision prevention)
Console interface can automatically uninstall applications based on conditions with no user input
Quietly uninstall many uninstallers that donít support silent uninstallation
Uninstall applications even if they donít have any uninstallers
Uninstall applications by window, shortcut or directory
Can handle crashing and hanging uninstallers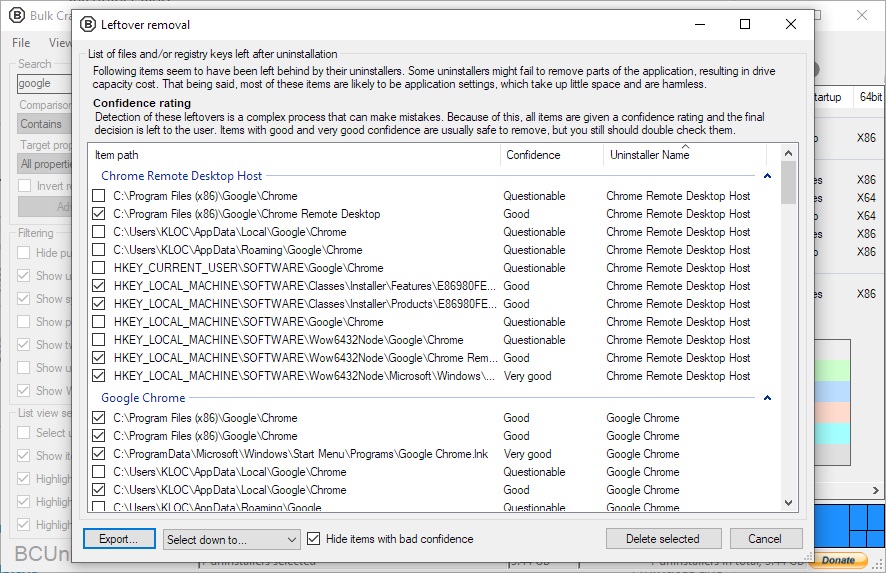 Other features

While detection and uninstallation are the two main features of BCU that receive the most focus, it also has many useful tools built on top of that framework.

Find and remove leftovers after uninstallation
Clean Program Files directories from unused or empty folders
Manually uninstall any application, bypasing itís uninstaller (Force uninstall)
Startup manager
Application ratings
Huge amount of data about applications is collected and displayed. User can freely browse, filter and export everything
Filtering with common presets or based on fully custom rules with Regex support
Verification of uninstaller certificates
Large amount of configurability
Can run user-specified commands before and after uninstalling
Can run on .Net 4.0 or newer, or, if not available, on .Net 3.5 with reduced functionality (will work on Windows 7 or newer with no updates installed)
Fully portable, settings are saved to a single file







BCU is translated to Arabic, Czech, Dutch, English, French, German, Hungarian, Italian, Polish, Portuguese (Brazil and Portugal), Russian, Slovenian and Spanish at the moment.

System requirements

The system requirements are fairly lax since BCU was designed to work on any PC it is thrown at. If it boots, the chances are BCU will manage to run on it.

OS: Windows Vista or newer is recommended. BCU will also work on XP and 2003 with reduced functionality and possibly some bugs. Both 32bit and 64bit versions are supported.
.NET: Recommended .NET 4.0 or newer, can run on only .NET 3.5 with reduced functionality.
RAM: Around 300MB or more of free RAM.
CPU: Doesnít really matter.
Free space: 50MB or more.
HDD: Anything will work, but slower drives can make scan times quite a bit longer.

Licensing and commercial use

Bulk Crap Uninstaller is licensed under Apache 2.0 open source license, and can be used in both private and commercial settings for free and with no obligations, as long as no conditions of the license are broken.


Bulk Crap Uninstaller v5.0
5-12-21

Starting with this release, BCU will need Windows 7 or newer to run (if you get an error on startup in 7 / 2018R2 then try running Windows Update). If you want to use BCUninstaller on Vista or older, download the latest available 4.x release. This is because BCUninstaller is now fully in .NET 5.

The move was long overdue and finally got forced by GitHub switching to a new SSL encryption standard that is not supported by .NET 3.5, making it impossible to check for updates.

Because of being in .NET 5, BCUninstaller no longer is restricted to using only old and outdated libraries and APIs (it was stuck on .NET 3.5 before for backwards compatibility). This introduces some major improvements but also some drawbacks, most notably:

Since it's a very new framework it's not installed on many systems, but thankfully it's now possible to compile the application as "stand-alone", which means it includes everything needed to run, even if your system doesn't have .NET installed at all (no more prompts to install .NET Framework).
This stand-alone compilation is why the file size increased drastically - a good chunk of the framework is now bundled with BCU.
Thanks to the stand-alone compilation and the new runtime BCU now starts and runs faster (might be hard to notice without a fast SSD).
The stand-alone compilation forced me to include separate x64 and x86 builds. This can be fixed in the future by having only a x86 build, but a lot of code handling registy will have to be updated for that to work properly. Only the correct build for your system will be installed.
The portable version will have both builds and a launcher that will automatically start the correct version of BCU. You can remove the x86 build if you only service x64 systems and vice-versa to save some space.

Changelog

Converted to .NET 5, set up a new build pipeline
Added "Put PC to sleep when done" checkbox to the uninstallation progress window
Added "Tools > Create restore point" menu item
Added experimental DPI-aware mode (turn on in Settings > Misc, expect interface to look weird in some places) #226
Added option to never show post-update news popup (new check box in the said window)
Added switch to directly open Startup Manger #284
Changed file structure to make the root BCUninstaller directory cleaner
Changed system restore into a setting, if enabled then automatically run at start of uninstall #265
Cleaned up localized resources from unnecessary data
Clear caches after updating to a new version
Improved scoop output parsing to be more resilient #252
Fixed BCU shortcuts being detected as junk #262
Fixed checking for updates not working
Fixed GetChildProcesses not working on some systems
Fixed ManagementObjectSearcher exception if installed .NET is an ancient version
Fixed first start wizard being shown on top of additional settings window
Fixed marking config as corrupted too aggressively
Fixed normalizing filesystem paths improperly
Fixed not resetting config properly
Fixed some settings not using the right provider or not being roaming (settings got lost when updating)
Fixed sorting by size showing groups in wrong order #281
Fixed window title typo #269
Removed donate button from the status bar
Show open/save .bcul text in advanced filters toolbar
Updated manual with a better explanation of .bcul files #273
Updated uninstallation manual #211
Include all necessary projects in this repository, can now compile BCU easily from VS 2019
Use a new automation library





Use 7-Zip 32bit or 7-Zip 64bit to unzip this file.

This download is for the portable version. If you need the installable version, download here.




Click here to visit the author's website.
Continue below to download this file.