Microsoft Small Basic 1.2
Microsoft Small Basic 1.2 Microsoft Small Basic puts the "fun" back into computer programming. With a friendly development environment that is very easy to master, it eases both kids and adults into the world of programming. Small Basic combines a friendly environment with a very simple language and a rich and engaging set of libraries to make your programs and games pop. In a matter of few lines of code, you will be well on your way to creating your very own game! With a new and revolutionary IntelliSense®, Small Basic makes writing code a breeze. Share your programs with your friends; let them import your published programs and run them on their computer. Using the Silverlight player, you can even post your games on your blogs and websites for them to play your creations in the browser. Learn the programming concepts starting with the fundamentals and move your way up. Small Basic is based on .NET and what you learn here could be easily applied to other .NET programming languages like Visual Basic. And when you do graduate to Visual Basic, you can bring your existing programs with you using a built-in conversion utility. Microsoft Small Basic 1.2 includes Kinect for Small Basic, which introduces three new Kinect objects! It also expands the Dictionary object to translate in 7 languages, fixes the Dictionary object bug, and fixes another 7 crash and error bugs. It also features updated UI text for 15 languages! If you're using Windows XP or earlier operating systems, please download Small Basic 1.0 instead. New Features: Kinect for Small Basic - Small Basic 1.2 introduces three Kinect objects: KinectBodyList, KinectFaceList, and KinectWindow. With these objects, you can program with the Microsoft Kinect Sensor and the information that it captures. You can: ...

572
Jan 23, 2017
Microsoft Corp.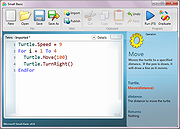 PicEdit Basic 3.95
PicEdit Basic 3.95 PicEdit is a powerful, easy to operate, user-friendly image editing software, support a variety of graphic styles (such as arrow, rectangle, polygon, pencil, text, etc.) and a variety of effects processing (such as highlighting, mosaic, blur, brightness, hue, saturation, etc.), while supporting the watermark, stamps, crop, rotate, and so on. PicEdit have the ability to repeat the editing, you can make changes at any time, and automatically retained the original image, you can always restore. Features: Professional image editing capabilities, supports a variety of graphic styles and effects processing. Save all kinds of graphic elements entirely, with the ability to repeat the editing. The original image is automatically reserves, you can always revert back. Easy to operate, user-friendly interface, to support a variety of beautiful skin. Clean software, does not write the system registry.

3,920
Jan 25, 2014
Maymeal Software