2D TYPING GAME v0.0.4
2D TYPING GAME v0.0.4 Hone your typing skills with this fast-paced game. Great for kids and adults! The game has three levels, Easy, Normal and Hard. At each level, words start to fall and you have to type them before they cross the "Danger Zone". If this happens, you lose the game. The speed with which the words fall, increases with each difficulty level. Click here to visit the author's website.

1,292
Apr 10, 2020
leodiplays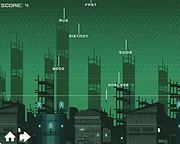 Dust Racing 2D v2.1.1
Dust Racing 2D v2.1.1 Dust Racing (Dustrac) is a tile-based, cross-platform 2D racing game written in Qt (C++) and OpenGL. Dust Racing comes with a Qt-based level editor for easy level creation. A separate engine, MiniCore, is used for physics modeling. Features 1-2 human players againts 11 challenging computer players 3 difficulty settings: Easy, Medium, Hard Split-screen two player game (vertical or horizontal) Game modes: Race, Time Trial, Duel 2D graphics with some 3D objects Smooth game play and physics Multiple race tracks Finishing in TOP-6 will unlock the next race track Star ratings based on the best positions on each race track Easy to create new race tracks with the level editor Engine and collision sounds Pit stops Runs windowed or fullscreen Portable source code using CMake as the build system Will be forever completely free Playing Controls The key configuration and game mode can be changed in the settings menu. ESC or Q exits the race and also the current menu. P pauses the game. Races In the race modes there are always 12 cars. By finishing in TOP-6 a new track will be unlocked. The record times and best positions are stored separately for each lap count. Pit stops Your tires will wear out as the race progresses. This causes more and more sliding. Fortunately there's a pit (the yellow rectangle). By stopping on the pit your tires will be repaired. Custom track files Dust Racing searches for race tracks in ~/DustRacingTracks/ where you can place your own race tracks. Changelog: Version 2.1.1 02-22-21 New features: Add Turkish translations Bug fixes: Fix GitHub Issue #117: Spelling ...

4,427
Feb 22, 2021
Dust Racing 2D