Always scroll to the bottom of the page for the main download link.
We don't believe in fake/misleading download buttons and tricks. The link is always in the same place.
---

Doro PDF Writer v2.01

Create colored PDF files from any windows application for free. No banners nor any annoying restrictions! Just download and install Doro. After installation you have an additional printer called 'Doro PDF Writer'.


Create PDF files from any application

Start any program that can print like Word©
Create your document, also colored pictures can be included
Print to the 'Doro PDF Writer' printer
Click 'Create' to create a colored PDF file in the Doro window


128-bit encryption
Encrypt the PDF file with 128-bit password protection. Also 'copy and paste' and printing can be prevented.


All Windows versions are supported
Doro is working on Windows 8.1 [32 and 64 Bit], Windows 8 [32 and 64 Bit], Windows 7 [32 and 64 Bit], Vista [32 and 64 Bit], Server 2012, Server 2008, Server 2003 [incl. Terminal Services / Citrix XenApp with multiple concurrent users] [32 and 64 Bit], XP [32 and 64 Bit], 2000, NT4 and Windows ME, 98SE, 98, 95.


Multiple Language support
The user interface is available in English, German, French, Spanish, Portuguese, Greek, Italian, Dutch, Danish, Norwegian, Japanese, Traditional Chinese, Polish, Catalan and Occitan. If you need a different language, please help me translating! run_to_sz@gmx.net


Changelog:
Version 1.99 · 21. Feb 2015
New: Additional pdf view options in the ini file added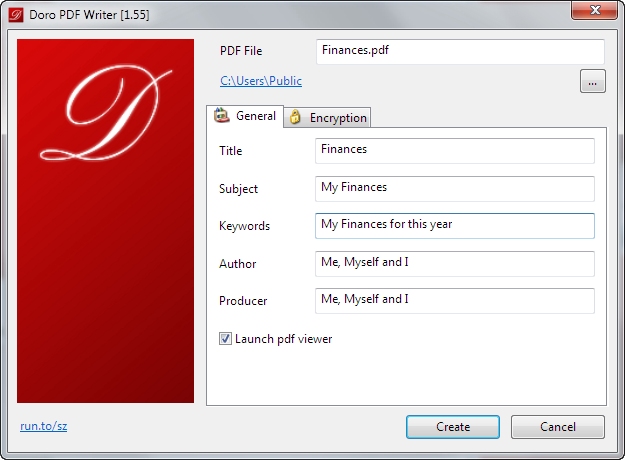 Continue below for the main download link.