Always scroll to the bottom of the page to download files on OlderGeeks.com.
We don't believe in fake/misleading download buttons and tricks.

Dns Jumper v2.1

DNS, or domain name system, is the internet protocol that turns human readable website names (such as sordum.org) into machine readable numeric addresses. In some cases, you can improve browsing speed and/or improve your security by replacing the DNS provided by your internet service provider. DNS Jumper is a tool which makes this easy for you.

Why you should use DNS Jumper:
1. It can aid in accessing blocked websites
2. It can improve security by changing to more secure DNS servers
3. It can help keep your children safe by blocking inappropriate websites (e.g. adult material) by selecting a Family Safe DNS server.
4. It can speed browsing by moving to a faster DNS server
5. Changing DNS servers manually can be done, but DNS Jumper greatly simplifies the process

DNS Jumper 2.0 has some new and important features, such as Turbo Resolve which can apply the fastest DNS at startup. DNS Jumper is freeware, and portable (no installation needed).

What is new: (Thursday , 05. January 2017)
1. [ Fixed ] – Changing Custom Text size (DPI) messes up the DnsJumper's texts
2. [ Fixed ] – Dns jumper.exe /? parameter window is cutting the text off
3. [ Fixed ] – Windows 10 1607 make DnsJumper's icons blurry
4. [ Fixed ] – Minimized tray icon help section causes DnsJumper to freeze
5. [ Fixed ] – Dns Jumper can't show some Network Adapter name Properly
6. [ Fixed ] – Dns Jumper startup reg BUG (Instead of 32 bit write 64 bit registry hive)
7. [ Fixed ] – UPX causes Minor latency (No UPX used)
8. [ Fixed ] – Minor Bugs of codes
9. [ Added ] – New parameters (Ipv4/Ipv6 support…)

How to Change Your DNS Settings

1. Under "Choose a DNS Server", click the drop-down menu and select a server from the list
2. Click the "Apply DNS" button
(for IPv6, be sure to tick the IPv6 checkbox)

How to Restore Your DNS settings or use your ISP's default DNS Again:

There are two ways to do this:
1. Click the "Quick Configuration" button (the star icon) and select from the list
2. Under "Choose a DNS Server", open the drop-down menu and select "Default (or Restore) DNS" from the list, then click "Apply DNS".
(for IPv6, be sure to tick the IPv6 checkbox)

Supported operating systems: Windows 10 , Windows 8.1 , Windows 8 , Windows 7 , Windows Vista , Windows Xp – (x86 & x64)

Supported languages: English , Turkish , German , Italian , Russian , Japanese , Vietnamese , Swedish , Slovenian , Chinese (Simplified) , Chinese (Traditional) , French , Indonesian , Portuguese , Dutch , Polish , Spanish , Korean , Greek , Hungarian , Arabic , Persian , Croatian , Serbian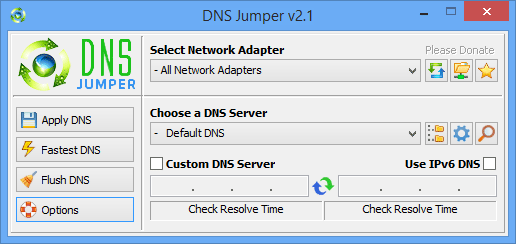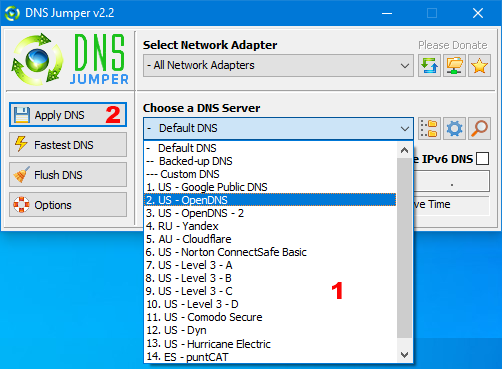 Continue below to download this file.