Always scroll to the bottom of the page for the main download link.
We don't believe in fake/misleading download buttons and tricks. The link is always in the same place.
---

Listary v6.2.0.42

A revolutionary search utility for Windows that makes finding your files and launching applications blazing fast, for casual and power users alike!

With Listary you'll never have to go through the tedious process of browsing through folders, looking for the right file names and hunting through Windows' limited menus ever again.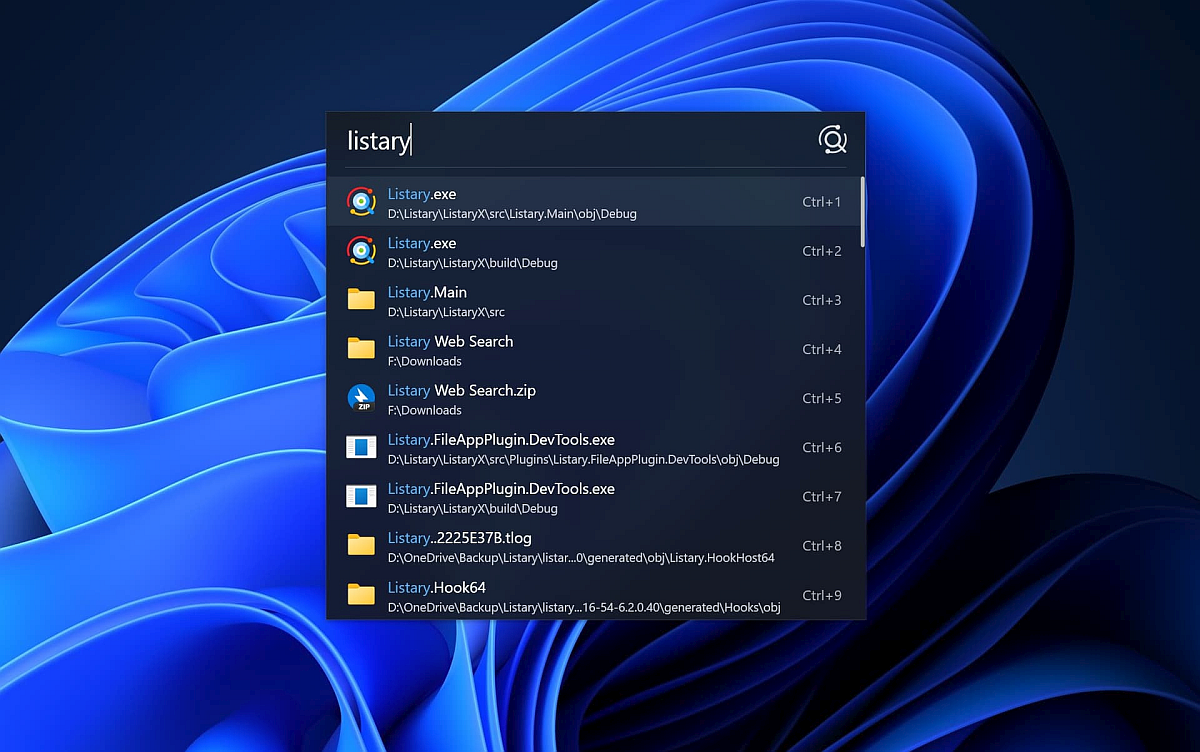 Listary puts smart search technology at your fingertips so you can keep working without dealing with cumbersome native Windows navigation.

With a lightweight interface that doesn't bog your system down and strain system resources, Listary puts Windows Explorer on steroids.

For power users, Listary integrates with your favorite tools such as Total Commander, Directory Opus, XYplorer, Xplorer2, WinRAR, FileZilla and many more!

With just a few clicks you can quickly and easily:
• Search the entire disk drive from any window or folder
• Quickly find any file you need with a few short key strokes
• Instantly find & launch programs with a quick keyboard command
• Copy or move files to any folder from any folder with easy context menu commands
• Open a file with a specific program from anywhere
• Instantly jump from file manager to a target folder with a simple key command
• Create a Favorites list of commonly used files and apps for fast access
• Right-Click any search result for a robust Action+Context menu
• Quickly browse your recent app and file history to continue working where you left off
• Search the web with Listary's keyword query engine
• And many more features…
• All With Simple Key Commands Or The Click Of A Mouse!

Most Popular Features:

Find As You Type
Noted as one of Listary's most powerful search functions, simply start typing the name of the file or folder you need, from practically anywhere within the Windows OS environment. The "Find As you Type" function immediately opens a Listary browser window with a list of matching files, folders or apps.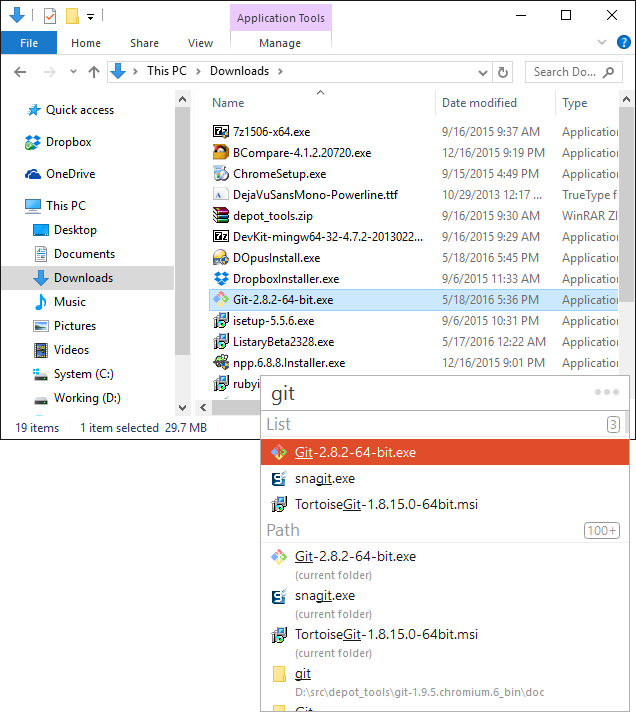 Disk Search
Disk Search let's you quickly find files and folders across every drive on your system. Instead of Window's default needing to select one drive at a time, simply open an Explorer window or start typing in an existing window, and Disk Search will find exactly what you're looking for, on any drive attached to your system, at blazing fast speeds.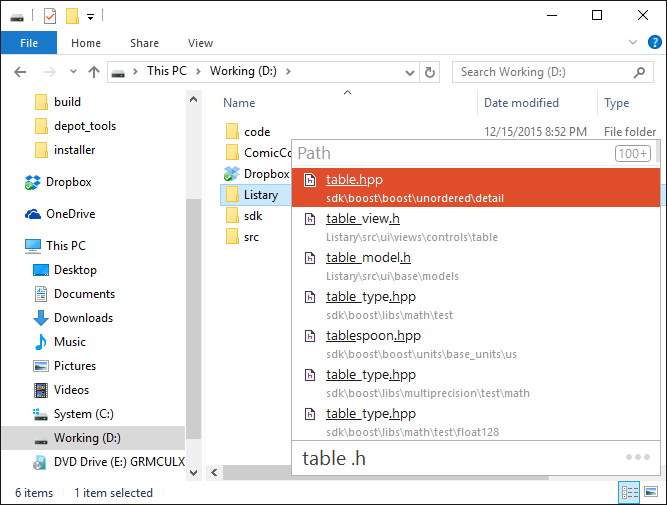 Launch Apps
One of the most powerful and favorite benefits of Listary users is the Launch App feature. With two clicks of the Ctrl key, you can type the name of the program or application you want to open, or use a shortcode, click return, and Listary opens the program.

For example click Ctrl twice, then type 'Word' and Listary will open Microsoft Word. Or, type 'pp' for PowerPoint, 'ps' for Photoshop, and voila! Listary opens the program!

And it just gets better over time. Listary uses your launch and search history to refine and improve search results automatically, creating an even faster workflow the more you use it.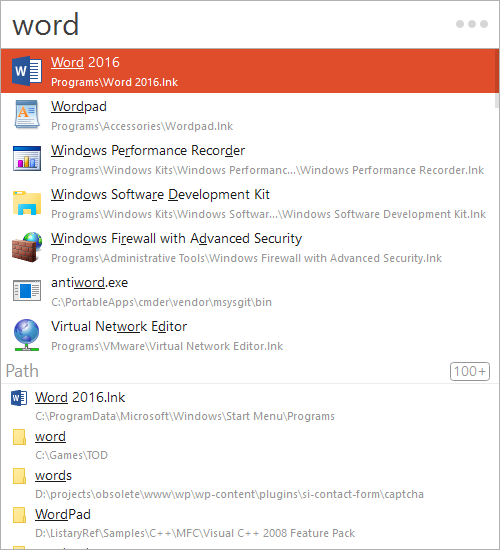 Quick Switch
Are you tired of digging through a slew of open windows to work with files in a program? With Listary's Quick Switch feature, just click Ctrl+G to instantly jump to the open folder of the file you're working with.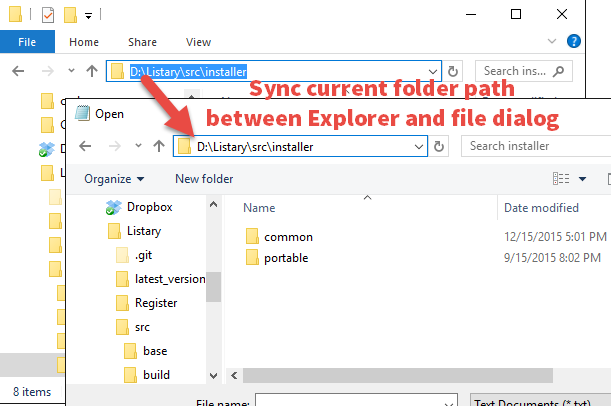 Actions and Context Menus
Inside any Listary search menu, all you have to do to manipulate a selected file or folder is simply press the right-arrow key. Immediately you'll see the file's context menu pop up. From there all of Listary's commands are at your fingertips. Fewer clicks means faster workflow!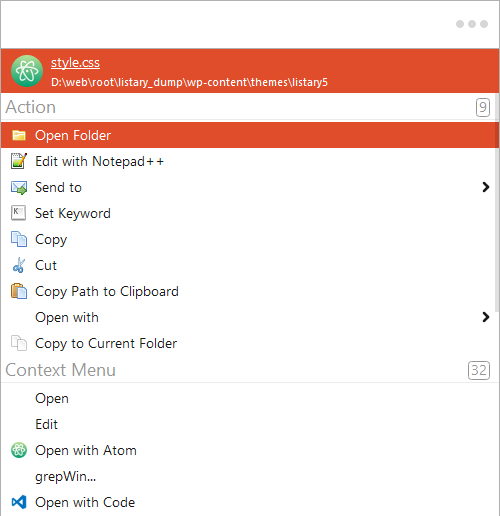 Favorites And History
Something long missing from Windows is the ability to quickly and easily access a selection of your favorite folders and a history of previously opened windows. Now with Listary's Favorites & History function, you can add folders to a Favorites section and browse window history with the click of a button for easy access. Just like the Bookmark function in your favorite web browser.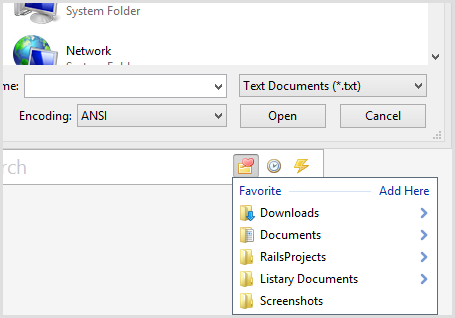 Commands
Keep your workflow lighting fast and efficient!
Using Listary's Command functions, you can use a set of hot-key commands to quickly complete tasks such as Open Last Folder, Explore Current Folder, Copy Folder Path, Go To Application Folder, Export List to CSV, Show Hidden Files and more. All using a single click or key command.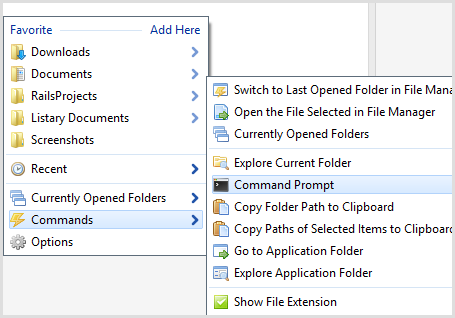 Web Search and Website Launch
Using the powerful Listary Keyword engine, you can type your search directly in Listary's command window to launch a browser window for any website or search engine.

Instead of clicking or tabbing over to a browser, all you have to do is click Ctrl twice to launch Listary and start typing your Keyword search. For example "gg how to write html" will open Google search results for "How to write html" in your favorite browser.

Listary includes a plethora of keyword queries for popular sites such as Twitter, Facebook, Wikipedia, Youtube, Bing, Amazon, Google Maps and many more.







Mouse
Like waving a wand to access whatever you need, Listary's Mouse accessory lets you double-click anywhere in the Windows environment to open a power menu with all of your most frequently accessed files and folders, as well as disk menus. Or simply click the Ctrl key twice to open a Listary search toolbar on-screen.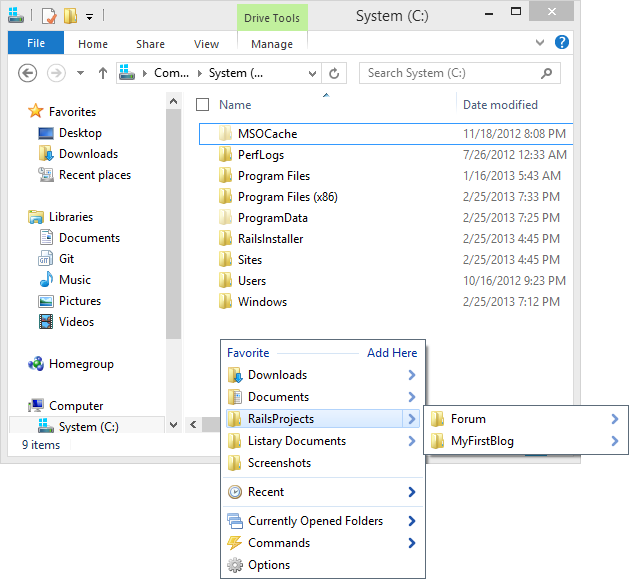 Supported operating systems:
For Windows 11 / 10 / 8 / 7 / Vista / XP SP3

Changes:
6.2.0.42 (7/2/2023)
Listary's Theme feature is now officially available. There are now three modes available: "Light", "Dark", and "Follow System".
Main Updates
New: Dark Theme
Other Updates
Fixed: Fixed the issue where the mouse menu flickers or cannot be called out.
Removed: Removed the default "edit with Notepad++" action.
Improved: Improved the "Options".
Improved: Updated web search logos. (Thanks for the contribution of Diego_F)
Fixed: Fixed some minor issues, improving software stability and performance.





This download is for the Windows 11/10/8/7 version.
If you need the Listary 5 Classic for Windows 7 and XP version, download here.


Click here to visit the author's website.
Continue below for the main download link.