Always scroll to the bottom of the page for the main download link.
We don't believe in fake/misleading download buttons and tricks. The link is always in the same place.
---

Bible Analyzer v5.4

Bible Analyzer is a free, cross-platform, Bible study software program developed to aid Believers in the reading, study, and defense of the Holy Scriptures. It is easy to use; even the advanced features. Features include,

Easily search for a word, words, or phrase with a handy suggestion box, plus several advanced searching capabilities.
View a Unique Interactive Hit Chart of all the Search Results.
Quickly Navigate to any Passage through the Quick Entry or Bible Tree.
A Dedicated Verse Index Panel that shows, with a Preview, every Title in the Library with the Active Verse.
A Dedicated Cross-Reference Panel for our Treasury of Scripture Knowledge, Enhanced, with Preview.
Export Various Study Pages to the Unique MultiWindow to Edit, Save, and Reload Study Sessions.
Built in Syncronized Bible Reading Using Text-To-Speech. Hear the words through your speakers!
Add your Notes to any Book, Chapter, and Verse ó with Export.
Plus an Interactive Image Viewer, Daily Journal, Devotion Viewer, ScripturePad Text Editor, and More
Hundreds of Free and Premium Titles available through the Built-in Download Manager.


Bible Analyzer is completely free with no trial features or nag screens. Over 100 free high quality add-on modules are available plus 100 more Premium Titles. All available for immediate download from within Bible Analyzer.


Bible Analyzer 5.4

All distributions of Bible Analyzer include the following modules,

Authorized Version, 1769 w/Footnotes (Bible)
American Standard Version, 1901 (Bible)
Poor Man's Dictionary (Dictionary)
Torrey's Topical Textbook (Dictionary)
Peoples New Testament (Commentary)
Scofield Bible Notes (Commentary)
Scofield Bible Index (Dictionary)
F.B. Meyer and Spurgeon (Devotion)
Various Books and Articles
Ussher Chronology Interactive Chart Image, plus Sample Images
10 High-Quality Old-Fashioned Hymns (Midi)
Parallel/Harmony Modules plus Daily Readiing Schedules
Comprehensive User Manual
Many More Free Modules are Available with the Built-in Download Manager



This download is for the Windows version.

If you need the MacOS version, download here.

If you need the Linux (Debian) version, download here.

Some titles for Bible Analyzer use additional fonts that may not be installed on all systems. The link below includes the fonts needed by Hebrew and Greek resources plus the "Old English" font used by the 1611 edition of the Authorized Version. The file is a zip archive and you will need to extract and install the fonts on your system.Bible Analyzer Font Set.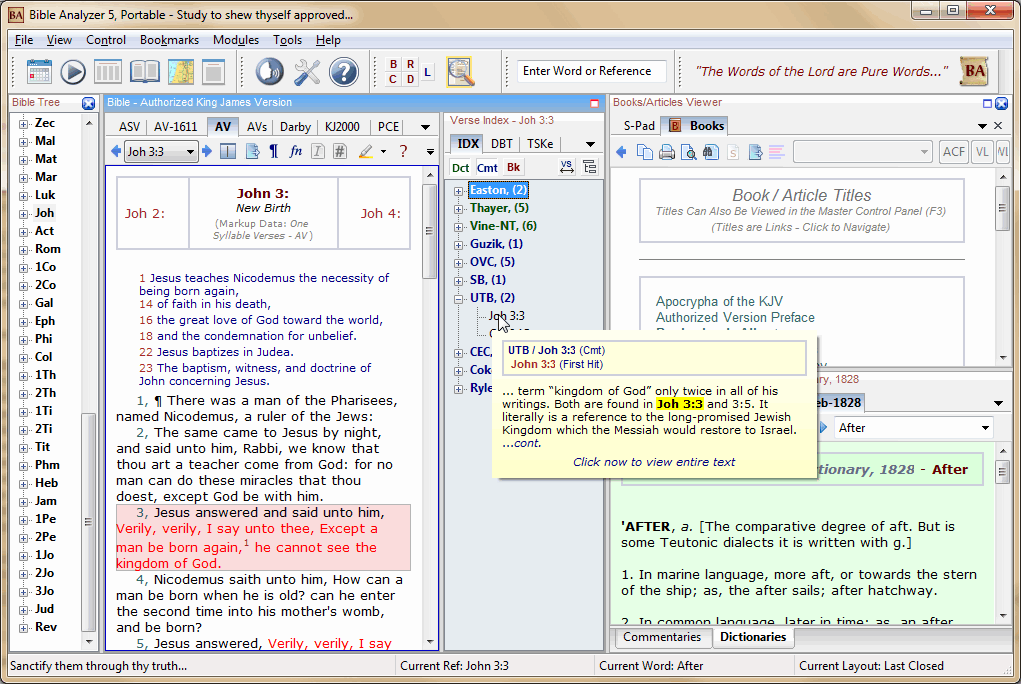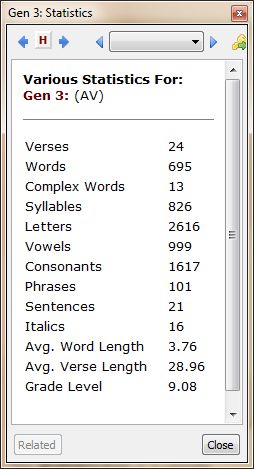 Click here to visit the author's website.
Continue below to download this file.