Always scroll to the bottom of the page for the main download link.
We don't believe in fake/misleading download buttons and tricks. The link is always in the same place.
---

Open Hardware Monitor v0.9.6

The Open Hardware Monitor is a free open source software that monitors temperature sensors, fan speeds, voltages, load and clock speeds of a computer.

The Open Hardware Monitor supports most hardware monitoring chips found on todays mainboards. The CPU temperature can be monitored by reading the core temperature sensors of Intel and AMD processors. The sensors of ATI and Nvidia video cards as well as SMART hard drive temperature can be displayed. The monitored values can be displayed in the main window, in a customizable desktop gadget, or in the system tray. The free Open Hardware Monitor software runs on 32-bit and 64-bit Microsoft Windows XP / Vista / 7 / 8 / 8.1 / 10.

Supported Hardware

CPU core sensors
Intel Core 2, Core i3/i5/i7, Atom, Sandy Bridge, Ivy Bridge, Haswell, Broadwell, Silvermont, Skylake, Kaby Lake, Airmont, Goldmont, Goldmont Plus, Cannon Lake, Ice Lake, Tremont, Tiger Lake
AMD K8 (0Fh family), K10 (10h, 11h family), Llano (12h family), Fusion (14h family), Bulldozer (15h family), Jaguar (16h family), Puma (16h family), Ryzen (17h family)
Mainboard sensors
ITE IT8620E, IT8628E, IT8655E, IT8665E, IT8686E, IT8688E, IT8705F, IT8712F, IT8716F, IT8718F, IT8720F, IT8721F, IT8726F, IT8728F, IT8771E, IT8772E, IT8792E/IT8795E
Fintek F71808E, F71858, F71862, F71868AD, F71869, F71869A, F71882, F71889ED, F71889AD, F71889F
Nuvoton NCT6102D, NCT6106D, NCT6771F, NCT6772F, NCT6775F, NCT6776F, NCT6779D, NCT6791D, NCT6792D, NCT6792D-A, NCT6793D, NCT6795D, NCT6796D, NCT6796D-R, NCT6797D, NCT6798D
Winbond W83627DHG, W83627DHG-P, W83627EHF, W83627HF, W83627THF, W83667HG, W83667HG-B, W83687THF
GPU sensors
Nvidia
AMD (ATI)
Hard drives
S.M.A.R.T. temperature sensors
SSD wear level, host reads/writes
Fan controllers
T-Balancer bigNG
Alphacool Heatmaster




Latest News
Release Version 0.9.6
December 27, 2020

Added AMD family 19h (Zen 3) CPU support.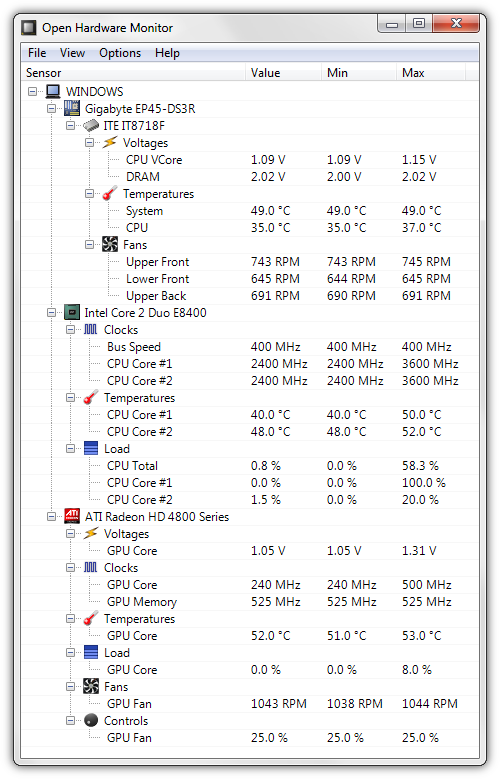 Click here to visit the author's website.
Continue below for the main download link.