Always scroll to the bottom of the page for the main download link.
We don't believe in fake/misleading download buttons and tricks. The link is always in the same place.
---

FreeMind v1.0.1 (MacOS)

FreeMind is a premier free mind-mapping software written in Java. The recent development has hopefully turned it into high productivity tool. We are proud that the operation and navigation of FreeMind is faster than that of MindManager because of one-click "fold / unfold" and "follow link" operations.

So you want to write a completely new metaphysics? Why don't you use FreeMind? You have a tool at hand that remarkably resembles the tray slips of Robert Pirsig, described in his sequel to Zen and the Art of Motorcycle Maintenance called Lila. Do you want to refactor your essays in a similar way you would refactor software? Or do you want to keep personal knowledge base, which is easy to manage? Why don't you try FreeMind? Do you want to prioritize, know where you are, where you've been and where you are heading, as Stephen Covey would advise you? Have you tried FreeMind to keep track of all the things that are needed for that?

Uses of FreeMind

Current users of FreeMind use it for the following purposes:

Keeping track of projects, including subtasks, state of subtasks and time recording
Project workplace, including links to necessary files, executables, source of information and of course information
Workplace for internet research using Google and other sources
Keeping a collection of small or middle sized notes with links on some area which expands as needed. Such a collection of notes is sometimes called knowledge base.
Essay writing and brainstorming, using colors to show which essays are open, completed, not yet started etc, using size of nodes to indicate size of essays. I don't have one map for one essay, I have one map for all essays. I move parts of some essays to other when it seems appropriate.
Keeping a small database of something with structure that is either very dynamic or not known in advance. The main disadvantage of such approach when compared to traditional database applications are poor query possibilities, but I use it that way anyway - contacts, recipes, medical records etc. You learn about the structure from the additional data items you enter. For example, different medical records use different structure and you do not have to analyze all the possible structures before you enter the first medical record.
Commented internet favorites or bookmarks, with colors and fonts having the meaning you want.

Features

Apart from other things, this release of FreeMind features:

Fully functional following of HTML links stored in the nodes, be it www links or links to local files.
From very early versions, Freemind supports folding which is its essential property.
Fast one-click navigation, including folding / unfolding on one click and following links on one click at the same time (you don't have to make choice between fast following of links and fast fold/unfold). You can move the map by dragging the map's background as well as using mouse wheel.
Undo
Smart Drag'n Drop, including the possibility to copy nodes or copy style of nodes; dragging and dropping of multiple selected nodes; dropping of texts or list of files from outside
Smart copying and pasting into, including pasting of links from HTML or structuring the pasted content on the basis of the number of leading spaces in a line; pasting of lists of selected files
Smart copying and pasting from, including plain text and RTF (MS Wordpad, MS Word, MS Outlook messages).
Export of map to HTML, with folding (see example)
Find facility, where found items are shown one by one as you do "find next", and the map is unfolded only for the current item.
Possibility to use and edit long multiline nodes; even with newlines
Possibility to decorate nodes with built-in icons, colors and different fonts.
Low costs of risk of switching away to another mind mapping tool, because FreeMind stores maps in XML format. If you have a lot of maps created by FreeMind and you want to switch to another program, writing a conversion program should be easy, especially if that program features Visual Basic scripting facility. Christoph Rissner describes in his article at IICM site his implementation of data exchange between FreeMind and MindManager.
File mode enables you to browse the files on your computer, seeing the folder structure as mind map.

Weak spots include:

The support of pictures in nodes is in preliminary stage. When you want to carry a map around with you, you have to take care that you take the image files with you.
FreeMind is basically one user application. Although users can in principle work on the same map, there is only preliminary locking mechanism to prevent conflicts, at the time, switched off by default.
In rare cases, following of HTML links in the web browser does not work on some computers; the same holds for opening local files.
Limited support for fancy graphics.

Credits

Up to version 0.4, FreeMind was developed by Jörg Müller. Jörg has not only started the project, he has also done a very good registration on Open Directory and designed the architecture that is still in use today.

The versions 0.5 and 0.6 have been developed by Daniel Polansky.

The credit for version 0.6.5 goes mainly to Petr Novak of Brno, with smaller contribution of Daniel Polansky.

The credit for version 0.6.7 goes mainly to Dimitri Polivaev and Christian Foltin, with smaller contribution of Daniel Polansky.

The credit for version 0.7.0 goes mainly to Christian Foltin, with smaller contribution from Bob Alexander, Alex Dukal, Andrew Iggleden, Takeshi Kakeda, Dimitri Polivaev, Daniel Polansky, Knud Riishøjgård and others.

Version 0.7.1 is a bug fix of version 0.7.0 including auto-save with contributions by Christian Foltin, Daniel Polansky and a patch by Dimitri Polivaev.

The credit for version 0.8.0 goes mainly to Christian Foltin and Dimitri Polivaev, with smaller contribution from Daniel Polansky and others, including translators.

The credit for version 0.9.0 goes mainly to Christian Foltin, Dimitry Polivaev, and Daniel Polansky. Other key contributors include translators, bug reporters, and Linux packager Eric Lavarde.

According to Jörg Müller, various smaller contributions are due to Sebastian Fischmeister - misc patches, Jean-Luc Deladriere - french support, Jared Rhine - no longer used perl script freemind2html, Richard Krutisch - author of MAK. Hauke Helmers - the images, Rainer Janssen - time and Jost Schenck - author of MyMap.


FreeMind is written in Java, so it will run on almost any system with a Java runtime environment. Get Java here.

Changes made in FreeMind 1.0.1
===============================
Fixed: Bug 1181 Folding symbol is invisible on black background
Fixed persistence of "complete cloning" across cut/paste.
Fixed save of notes, when containing tabs
Clones can be deactivated by menu
* Fixed #1178 [Shared map] Nodes are lost when moving them through drag & drop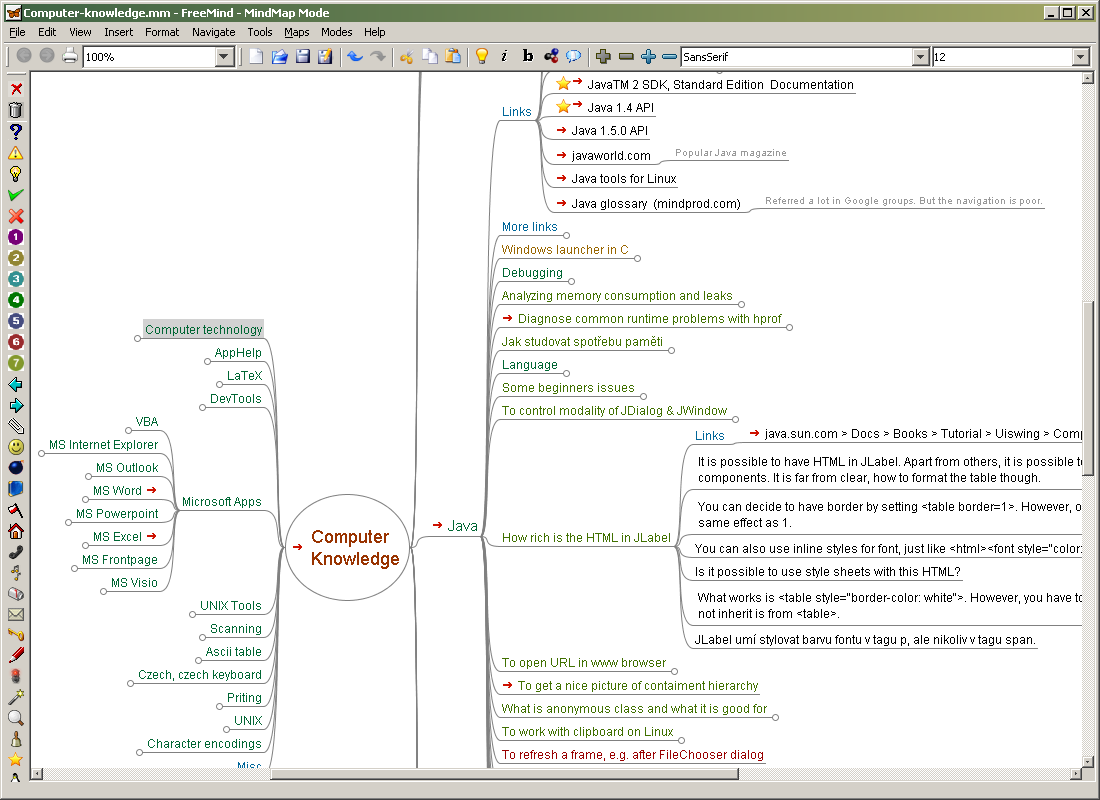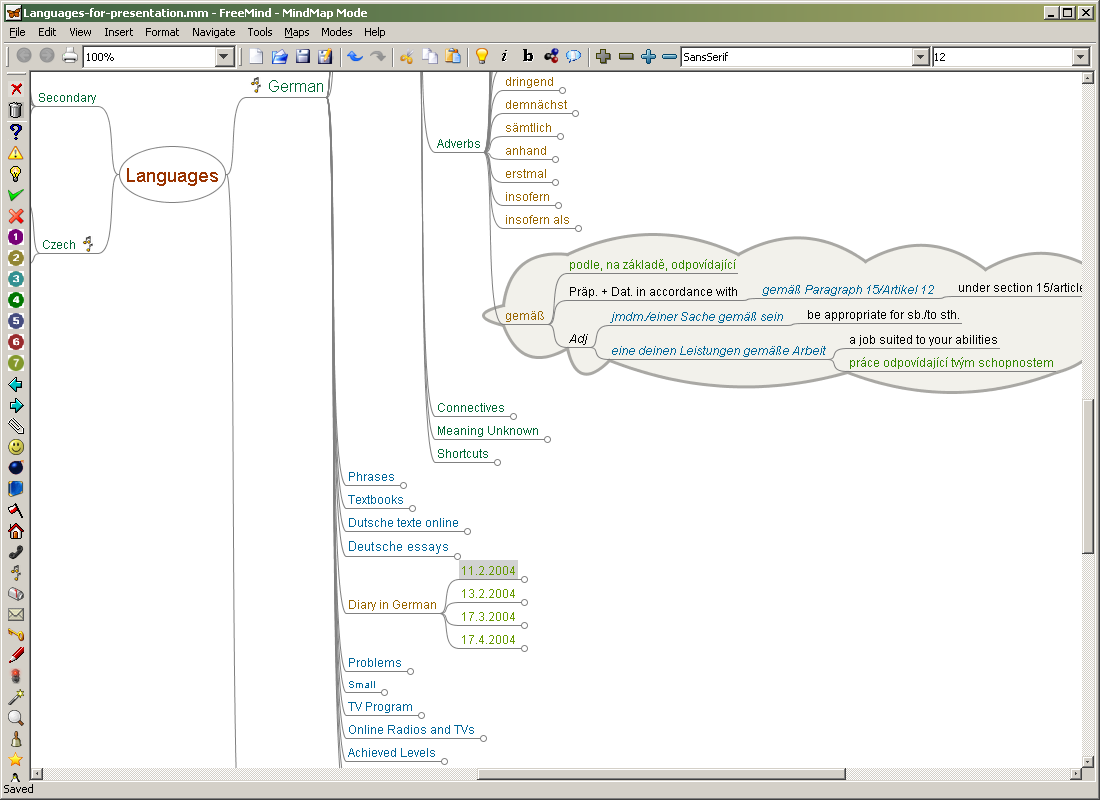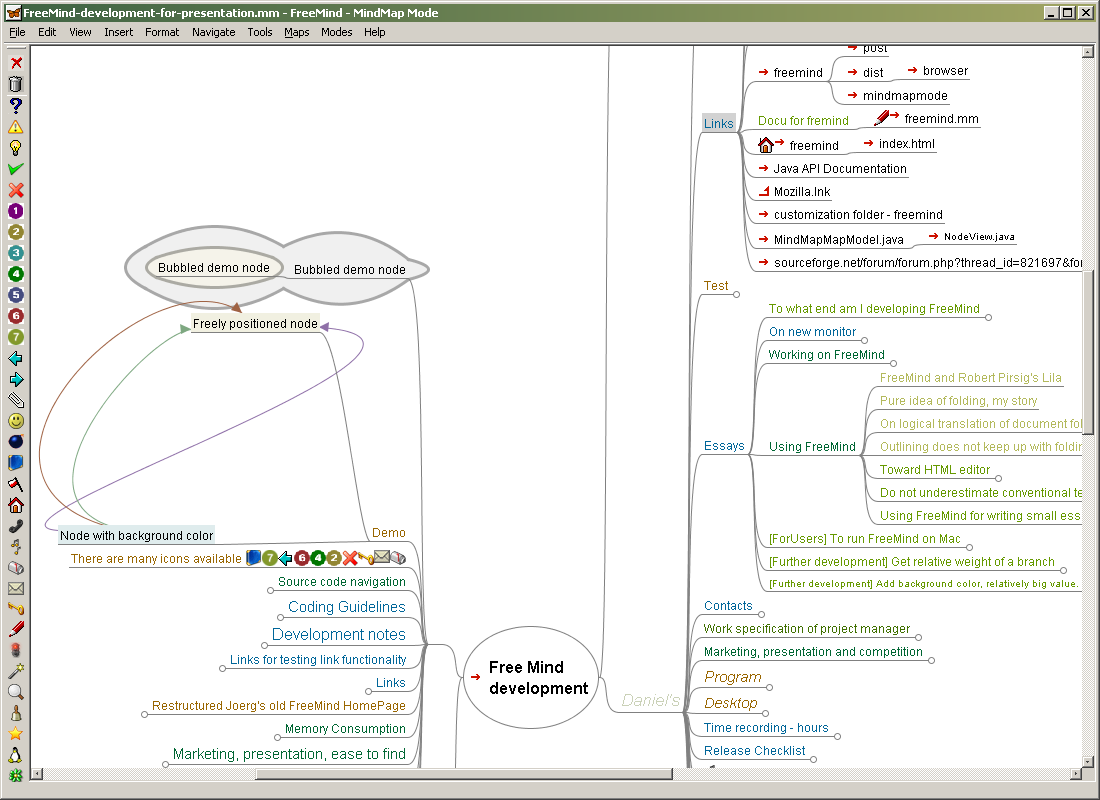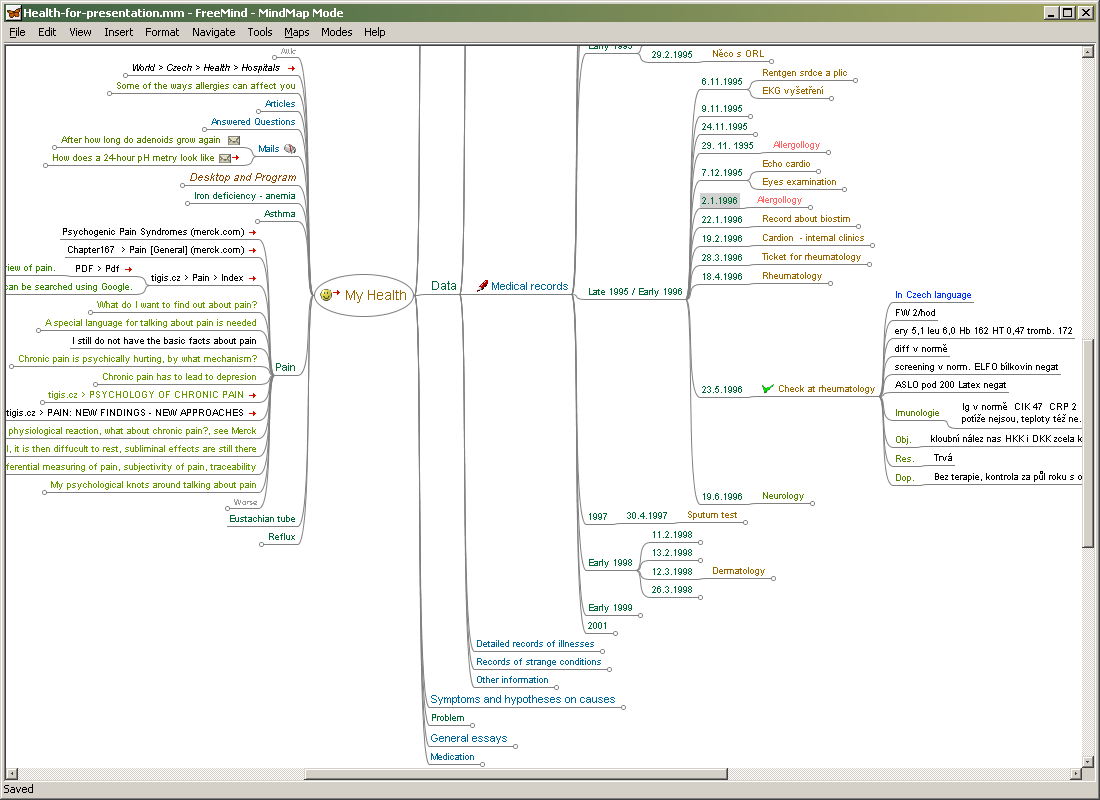 Click here to visit the author's website.
Continue below for the main download link.