Always scroll to the bottom of the page for the download link.
We don't believe in fake/misleading download buttons and tricks. The link is always in the same place.
---

dnGrep v3.0.0.0

Allows you to search across files with easy-to-read results.

Search through text files, Word and Excel documents, PDFs, and archives using text, regular expression, XPath, and phonetic queries. dnGrep includes search-and-replace, whole-file preview, right-click search in File Explorer, and much more.

Features:

Search across text files, Word, Excel and PowerPoint documents, and PDFs

Search for files in archives - zip, 7z, rar, jar, and many more

Search using text, regular expressions (regex), XPath, and phonetics

Many search filter options

Search-and-replace, including undo

Whole-file preview

Right-click to search in File Explorer

Move/copy/delete result files

Open line results in a custom editor, like Notepad++

Bookmark search patterns for later use

Try out complex searches in the Test window

Save search results

Light and Dark themes

Translations in several languages

Much more!

Runs on:

Windows 7, 8, 10, 11 or Windows Server

Requires:

.NET 4.6.2 or higher.

Changes in this release (from the author):

After 500 builds of the 2.9 release, it seemed like a good time to change to 3.0.

Code signing: the big news with this release is that dnGrep releases are now signed with a code signing certificate provided by SignPath.io, certificate by SignPath Foundation. A big thank-you to SignPath for their support of open-source software.

Starting with this 3.0 release, you will no longer get the "Unknown Publisher" warning from Windows. However, at least initially, you will see and almost identical Microsoft Defender SmartScreen warning for an "unrecognized app". Click the "More info" link, you should see the publisher as SignPath Foundation (if you don't see SignPath as the publisher, don't install it), and then you can click the "Run anyway" button. With the code signing certificate, the application has to gain reputation before this warning is not shown any more (i.e. installed by a threshold number of users, there is no official documentation on how this works exactly). And since the application reputation is associated with the certificate, this process will be repeated in three years when the certificate is renewed.

The dnGrep install kits and the application binary files are signed. The signed files mean the code you see in GitHub is the code built on AppVeyor, scanned for malware, and signed on SignPath. Code signing is applied only to dnGrep project code in the dnGrep GitHub repository release branch and built on AppVeyor. The dnGrep install kit contains third-party libraries used by dnGrep, which may or may not be signed.

Other changes:

The Chinese (Traditional) translation has been added. Other translations have been updated, thank-you to all the translators. See here if you want contribute to the translations.

Issue #612 PowerPoint search: the OpenXML plug-in has been enhanced to also search in PowerPoint files.

Issue #614 Validation color: the validation messages for Regular expressions, XPath and Byte search patterns have been colored on dnGrep's main window, as there are on the test window.

Issue #615 Byte search test expression: the Test window has been enhanced to include testing Byte patterns.

Issue #616 Bookmark sections: the dnGrep bookmark feature has been enhanced to allow disabling parts of the bookmark. Over time the number of properties stored in the bookmark as grown, and previously all bookmark properties are applied when the bookmark is used. With this change, the bookmark has been split into three sections of file source, file filters, and content search. By default, all three sections are enabled. But you can edit each bookmark to enable or disable each of the three sections.

Issue #617 Icon refresh: the dnGrep application icon and images have been updated thanks to a contribution from @Mr-Administrator

Lastly, I am planning update the .NET build version used by dnGrep to .NET 4.8, which has long term support on all versions of Windows. Most users are probably already have the .NET 4.8 runtime installed, but if you think this will be a problem for you, please comment using the Join Discussion button below.
Checksum information

Name: dnGREP.3.0.0.x64.msi
SHA256: ca60e9df4605b72c6c1af009fb2301a163cb437e100361707c758ee5041a2f4b

Name: dnGREP.3.0.0.x86.msi
SHA256: 2fc311e6b835052e7aecaa9a2fc70c249a3773d4537206dad3b4f448222a2a65

Free code signing provided by SignPath.io, certificate by SignPath Foundation.


Main Screen: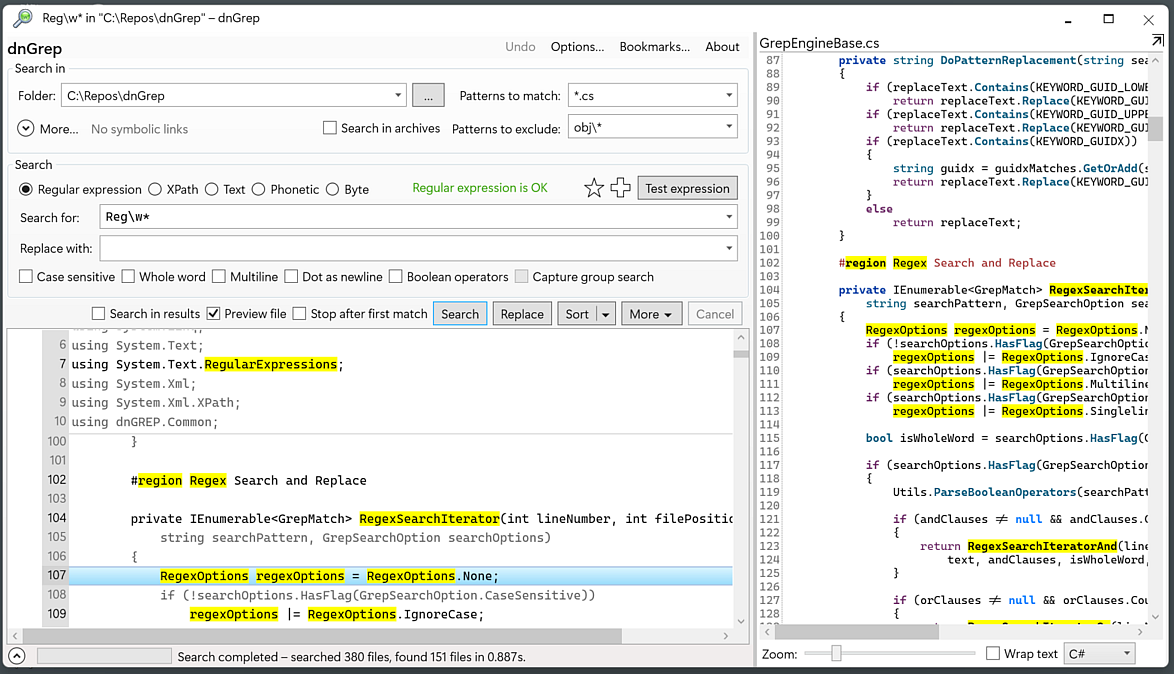 Options: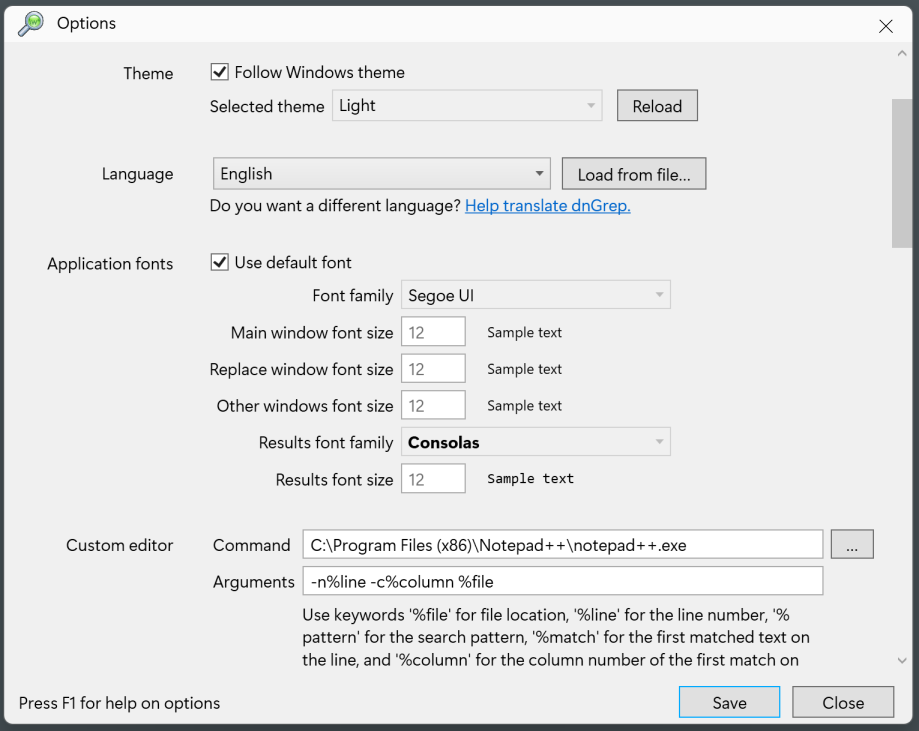 Start from Windows File Explorer:









This download is for the 64bit version. If you need the 32bit version, download here.


Click here to visit the author's website.
Continue below to download this file.