Always scroll to the bottom of the page for the download link.
We don't believe in fake/misleading download buttons and tricks. The link is always in the same place.
---

RSS Guard v3.7.1

RSS Guard is simple (yet powerful) feed reader. It is able to fetch the most known feed formats, including RSS/RDF and ATOM. RSS Guard is developed on top of the Qt library. Supports Windows Vista and higher.

RSS Guard is written in C++. It is pretty fast even with tons of messages loaded. The core features are:

support for online feed synchronization via plugins,
Tiny Tiny RSS (from RSS Guard 3.0.0),
ownCloud News (from RSS Guard 3.1.0),
Inoreader (from RSS Guard 3.5.0),
Gmail with e-mail sending (incoming).
multiplatformity,
support for all feed formats,
simple internal Chromium-based web viewer (or alternative version with simpler and more lightweight internal viewer),
simplicity,
import/export of feeds to/from OPML 2.0,
downloader with own tab and support for up to 6 parallel downloads,
message filter with regular expressions,
very fast parallelized feed updates,
feed metadata fetching including icons,
no crazy dependencies,
ability to cleanup internal message database with various options,
ability to tweak columns in displayed list of messages,
enhanced feed auto-updating with separate time intervals,
multiple data backend support,
SQLite (in-memory DBs too),
MySQL.
ability to specify target database by its name (MySQL backend),
"portable" mode support with clever auto-detection,
feed categorization,
drap-n-drop for feed list,
automatic checking for updates,
full support of podcasts (both RSS & ATOM),
ability to backup/restore database or settings,
fully-featured recycle bin,
can be controlled via keyboard,
feed authentication (BASIC),
handles tons of messages & feeds,
sweet look & feel,
fully adjustable toolbars (changeable buttons and style),
ability to check for updates on all platforms + self-updating on Windows,
hideable main menu, toolbars and list headers,
Feanza-based default icon themes,
fully skinnable user interface + ability to create your own skins,
newspaper view,
support for feed:// URI scheme,
ability to hide list of feeds/categories,
open-source development model based on GNU GPL license, version 3,
tabbed interface,
desktop integration via tray icon,
localizations to some languages,
Qt library is the only dependency,
open-source development model and friendly author waiting for your feedback,
no ads, no hidden costs.


This download is for the Windows 64bit version.
If you need the MacOS 64bit version, download here.
If you need the Linux 64bit version, download here.




Use 7-Zip 32bit or 7-Zip 64bit to unzip this file.



Changes:
3.7.1
Added:
▪ Gmail plugin is now able to send e-mail messages and also reply to them.
▪ Branch arrows in feeds list can now be displayed.
▪ Changes in read/important field in a message from a message filter are now synced
back to online services. (#258)
▪ Filterin mechanism now accepts constants named "MSG_ACCEPT" and "MSG_IGNORE"
which can be used instead of hardcoded values "1" and "2".

Fixed/changed:
▪ Message previewers now more correctly convert ASCII newlines to HTML line breaks
to ensure better readability of message contents.
▪ Localizations updated.
▪ Accented characters now correctly decoded for Inoreader. (#268)
▪ Fixed decoding of attachment URLs in messages.
▪ Gmail API usage migrated to correct "batch" endpoints.
▪ Crash in message filters window. (bug #257)
▪ Some files were not downloaded correctly via internal downloader (bug #256)
▪ OAuth handler was rewritten and is now able to listen on arbitrary destination port.
▪ C++ 11 code base refactorings.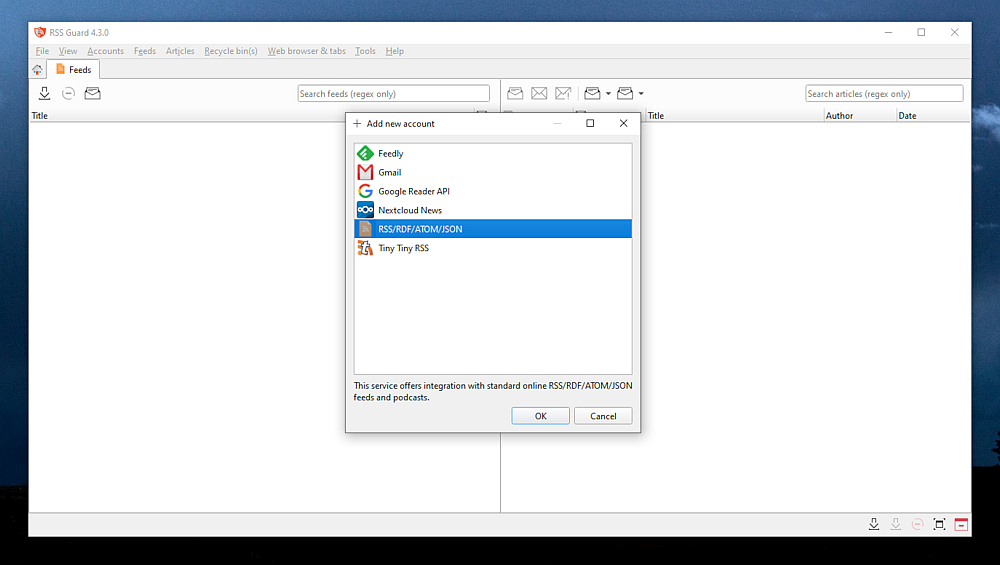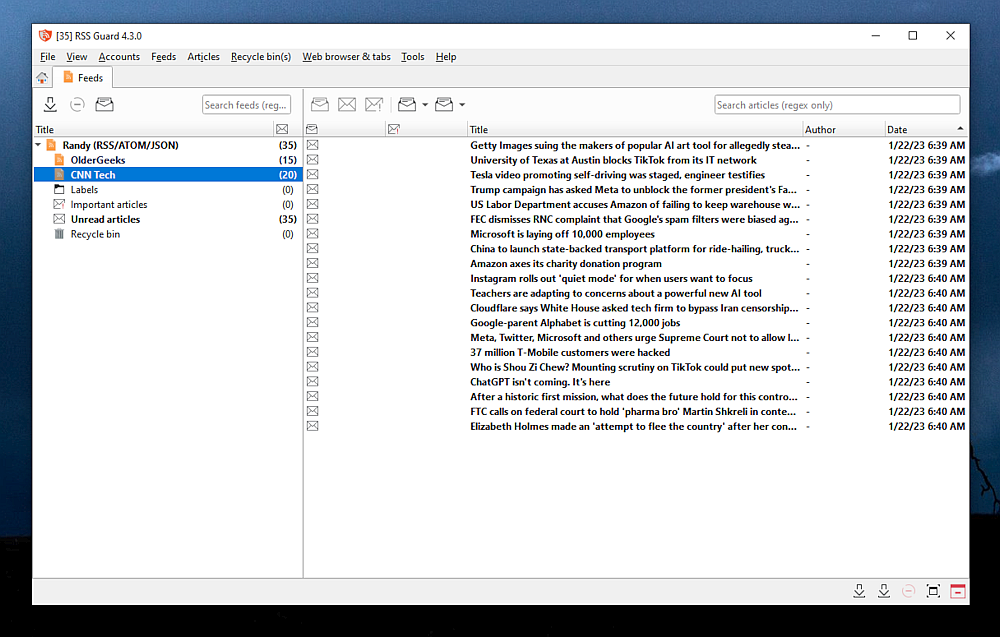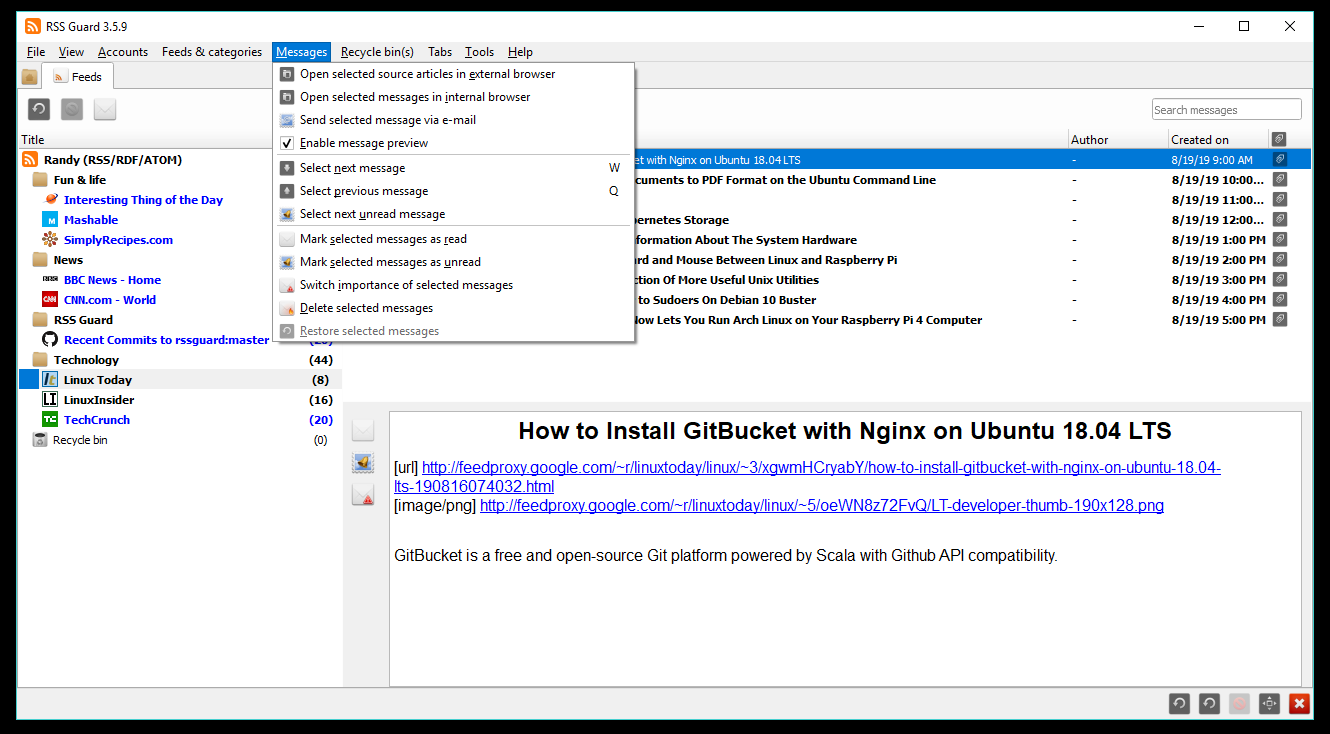 Click here to visit the author's website.
Continue below to download this file.