Always scroll to the bottom of the page for the download link.
We don't believe in fake/misleading download buttons and tricks. The link is always in the same place.
---

RSS Guard v3.9.0

RSS Guard is simple (yet powerful) feed reader. It is able to fetch the most known feed formats, including RSS/RDF and ATOM. RSS Guard is developed on top of the Qt library. Supports Windows Vista and higher.

RSS Guard is written in C++. It is pretty fast even with tons of messages loaded. The core features are:

support for online feed synchronization via plugins,
Tiny Tiny RSS (from RSS Guard 3.0.0),
ownCloud News (from RSS Guard 3.1.0),
Inoreader (from RSS Guard 3.5.0),
Gmail with e-mail sending (incoming).
multiplatformity,
support for all feed formats,
simple internal Chromium-based web viewer (or alternative version with simpler and more lightweight internal viewer),
simplicity,
import/export of feeds to/from OPML 2.0,
downloader with own tab and support for up to 6 parallel downloads,
message filter with regular expressions,
very fast parallelized feed updates,
feed metadata fetching including icons,
no crazy dependencies,
ability to cleanup internal message database with various options,
ability to tweak columns in displayed list of messages,
enhanced feed auto-updating with separate time intervals,
multiple data backend support,
SQLite (in-memory DBs too),
MySQL.
ability to specify target database by its name (MySQL backend),
"portable" mode support with clever auto-detection,
feed categorization,
drap-n-drop for feed list,
automatic checking for updates,
full support of podcasts (both RSS & ATOM),
ability to backup/restore database or settings,
fully-featured recycle bin,
can be controlled via keyboard,
feed authentication (BASIC),
handles tons of messages & feeds,
sweet look & feel,
fully adjustable toolbars (changeable buttons and style),
ability to check for updates on all platforms + self-updating on Windows,
hideable main menu, toolbars and list headers,
Feanza-based default icon themes,
fully skinnable user interface + ability to create your own skins,
newspaper view,
support for feed:// URI scheme,
ability to hide list of feeds/categories,
open-source development model based on GNU GPL license, version 3,
tabbed interface,
desktop integration via tray icon,
localizations to some languages,
Qt library is the only dependency,
open-source development model and friendly author waiting for your feedback,
no ads, no hidden costs.


This download is for the Windows 64bit version.
If you need the MacOS 64bit version, download here.
If you need the Linux 64bit version, download here.




Use 7-Zip 32bit or 7-Zip 64bit to unzip this file.



Changes:
3.9.0

Added:

Feedly support. (#105)
https://github.com/martinrotter/rssguard/blob/master/resources/docs/Documentation.md#feedly
Google Reader API support, tested with many services like The Old Reader, Bazqux, Reedah, FreshRSS. (#349)
https://github.com/martinrotter/rssguard/blob/master/resources/docs/Documentation.md#google-reader-api
Liferea-like Website scraping and feed post-processing. (#265)
https://github.com/martinrotter/rssguard/blob/master/resources/docs/Feed-formats.md#websites-scraping-and-related-advanced-features
Internal web browser now offers a button which opens loaded webpage in external web browser. (#320)
Per account proxy support. (#334)
RSS Guard ported to OS/2 (ArcaOS, eComStation).
Display feed's icon in "is read" message list column. This is switchable in settings. (#346)
User now can sort via "id" column in a numeric way in message list. (#348)
Minimum interval for feed auto-updates is now 1 minute, not 3 minutes like before. (#355)
Added some new localizations, "pt_BR" and others. Thank you, translators, for your hard work.

Fixed/changed:

This CHANGELOG is now written in Markdown.
Simplified "account" dialogs.
Use DuckDuckGo online favicon source as fallback when fetching feed icons. (#363)
Properly disable adding/editing/deleting of synchronized tags/labels on some accounts.
RSS Guard can now be added to "favorites" on Linux/Gnome. (#340)
Remove "feed auto-update started" notification.
Some improvements of network behavior in Inoreader plugin.
OAuth listeners now has default post "14488".
Fix some deployment issues on Windows. (#337)
Follow HTTP/301 redirection more properly for some feeds. (#341)
Fixed some weird behaviors of OAuth listener.
All dirty account's not synchronized data are now synchronized when editing account.
All console output now sent to "std:err". Also new "-n" switch to disable all console outputs.
Some refactoring for deployment process, build packages now have all names according to RSS Guard installers naming convention.
Some major refinements for AdBlock which now has:
fixed of adding of custom rules,
better UX in some dialogs,
fully working site-wide blocking with proper error pages,
working element hiding rules,
removed some redundant and obsolete code.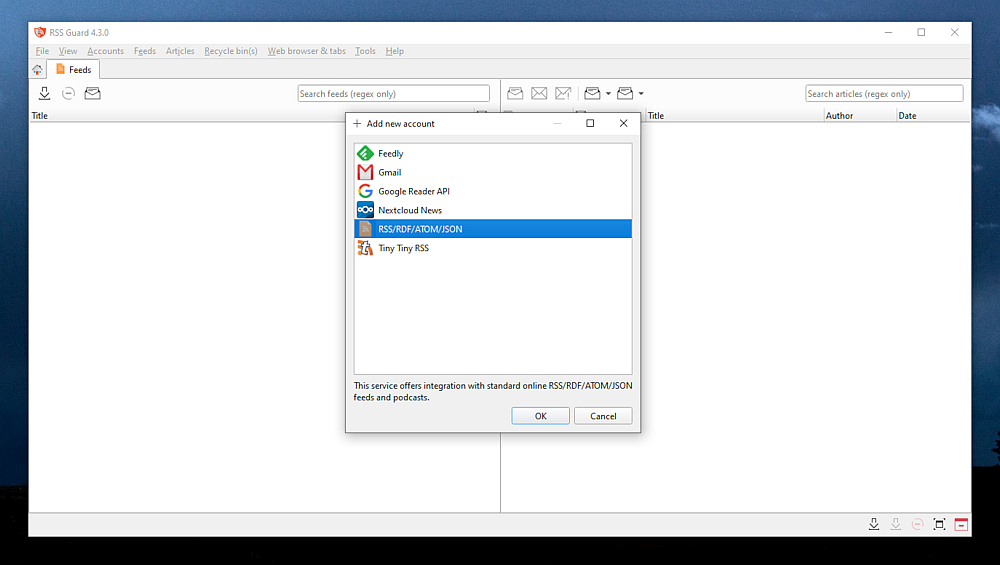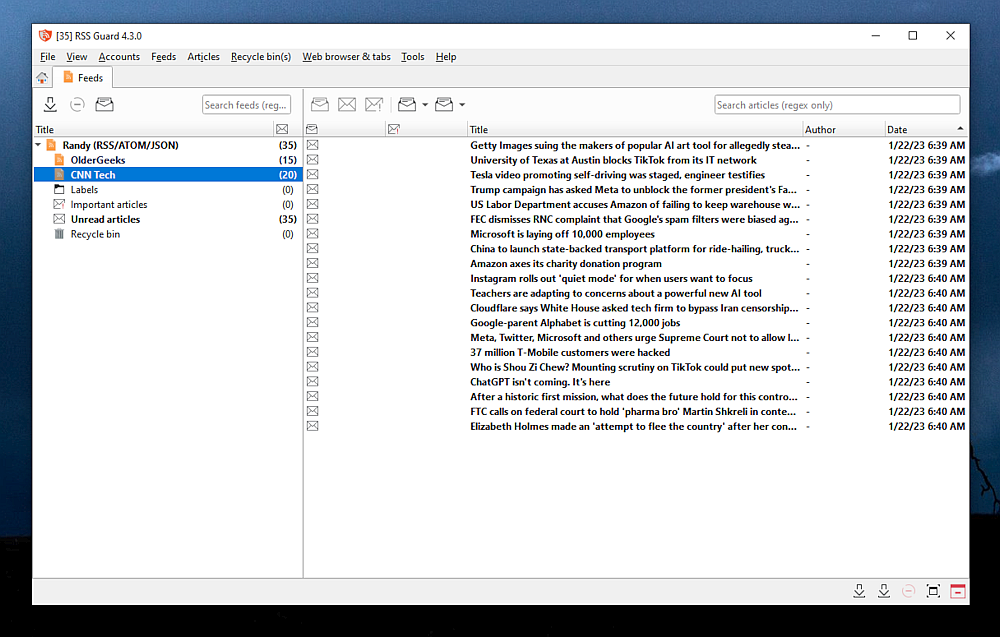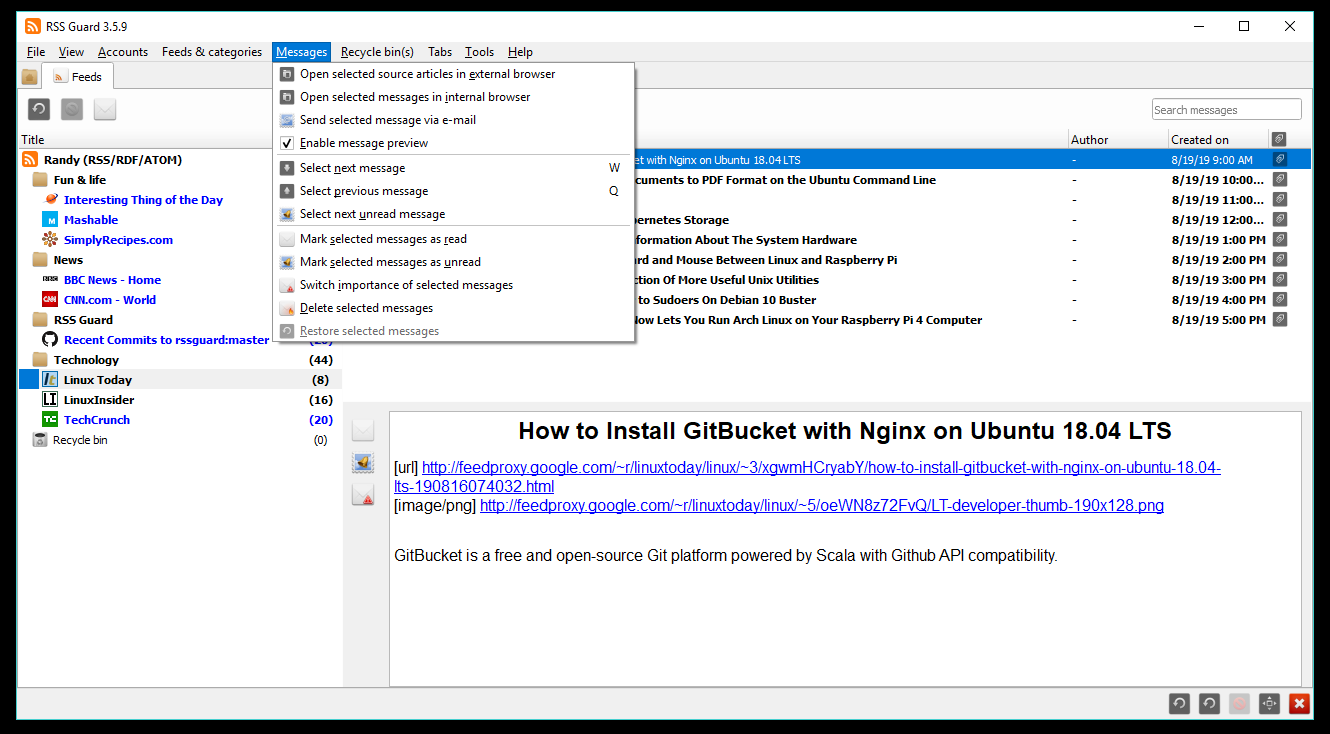 Click here to visit the author's website.
Continue below to download this file.